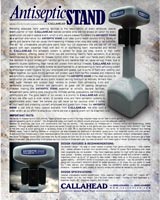 This 60" tall unbreakable polyethylene stand holds four (4) dispensers that are just 43" off the ground. Each dispenser is filled with disinfecting foam that kills 99.9% of germs and bacteria.
The Antiseptic Stand is the ideal solution for construction job sites and any public location serving food, such as festivals and farmer's markets, as well as protecting children in schools and on playgrounds.
---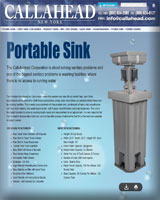 The Portable Sink has four hand washing stations, each complete with paper towel holders, soap dispensers, and hands-free foot pump faucets.
With no need for water connections, the Portable Sink will deliver exceptional sanitary protection for construction job sites and special events for multiple users at the same time.
---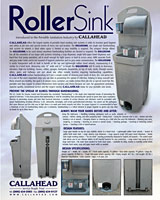 The Roller Sink is a single user handwashing system that is ideal when space is limited, or easy mobility is required. The Roller Sink is easily transported with its built in handle at the top and sturdy rubber tread wheels.
Ideal for construction job sites, work places and special events the Roller Sink is equipped with soap and paper towel dispensers, as well as a foot pump for hand free washing.
---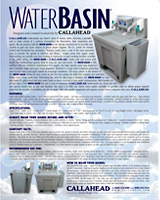 The Water Basin is a vanity style washing station that is fully outfitted with two molded-in maintenance-free spigots, two high capacity spray soap dispensers, and a lockable single fold paper towel dispenser.
With handles on all four sides, this unit is easy to maneuver and is recommended for construction job sites, special events, playgrounds or any public venue.
---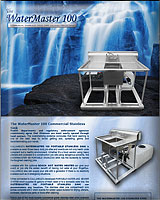 This is one of the most durable commercial grade stainless steel sinks available in the field. The WaterMaster 100 features a large single basin with a stainless steel faucet, and large 50 gallon water tanks.
Also included are an inline water filter, plus automatic water shutoff when the fresh water supply runs out.
---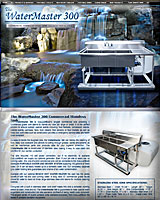 The WaterMaster 300 is CALLAHEAD's largest commercial sink providing 3 commercial grade sink basins to handle any size job large or small.
Designed with a built in stainless steel work shelf makes this sink a complete working station to wash, rinse and dry. The WaterMaster 300 is guaranteed to make special event organizers and construction job site operators confident of being health code compliant.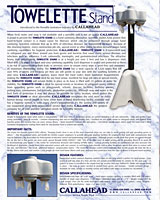 The Towelette Stand is a convenient way to safeguard job sites and special events from germs and bacteria, and is a simple way to keep hands clean when water is not available.
Each towelette kills 99.9% of germs on contact including E.coli and salmonella. The gentle, fast-acting and quick drying sanitary solution also contains aloe vera to moisturize.
---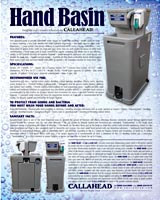 The HAND BASIN is CALLAHEAD's versatile stand-alone hand washing system which is the perfect solution for smaller job sites or special events, or when limited space is available.
The HAND BASIN system offers all the features necessary for sanitary hand washing in a compact unit complete with soap and paper towel dispensers, as well as a foot pump for hands free washing.
---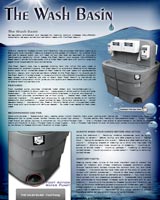 The Portable Wash Basin is recommended to accompany any portable toilet rental to ensure proper hygiene for construction job sites, parties, or any special event.
The Portable Wash Basin features a foot operated pump which provides an immediate water stream and hands-free washing clearance for hand to elbow washing. Convenient paper towel and antibacterial soap dispensers are mounted on this portable sink.
---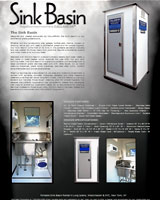 The Sink Basin® is a spacious portable unit enclosed with a large commercial grade stainless steel sink with Delta faucet, Go Jo hand cleaning dispenser, paper towel dispenser, and more!
The Sink Basin is ideal for those heavy duty construction job sites and special events that require a commercial quality sink that is portable with no need for water lines.
---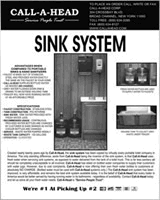 The Sink System features a faucet made from stainless steel and provides water exactly the same as the faucet in your home.
CALLAHEAD's "invented and designed" Portable Sink System supplies fresh water to this homelike sink, with both separate fresh and gray water tanks. Ideal for job site trailers, with no water lines required.
---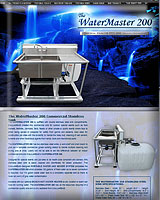 Designed for special events and job sites to be health code compliant and sanitary, this stainless steel sink is easily cleaned and disinfected for added protection.
Provides 100 gallons of fresh water, so no sewer connection is required. Our 115 gallon waste water tank is a completely separate tank so there is never any worry of grey water contamination.
Call-A-Head™ at 1-800-634-2085 has redefined the standard of excellence in the portable sink industry. Whether you need to rent a sink or washbasin short term or long term, Callahead has the right solution for your needs in Long Island & NYC, New York including the five boroughs of Manhattan, Brooklyn, Queens, Bronx, Staten Island as well as Nassau County and Suffolk County in Long Island and Westchester County in New York. Your special event or construction job site will have a high level of cleanliness and satisfaction with the facilities you provide when having a portable sink washbasin available.
---