---

The SAFETY STAND is a CALLAHEAD antibacterial stand delivering two products in one essential rental. CALLAHEAD's SAFETY STAND supplies two antibacterial dispensers that will stand out in any public location. The SAFETY STAND is designed and manufactured by CALLAHEAD to deliver sanitary protection against germs as well as add to the safety equipment regularly seen on construction jobs. Offering hand sanitizing capabilities is a necessity for a healthy environment. Construction sites, office buildings, airports, transportation centers, medical facilities, restaurants, food trucks, sporting events, and every public area require hand sanitizing capabilities to maintain a healthy environment and eliminate the spread of germ causing illnesses. Portable sinks are not always an option for every location. The SAFETY STAND allows even remote locations to have hospital grade hand sanitizing capabilities for long-term and short-term rental needs. The SAFETY STAND is a public health solution to kill 99.9% of germs and bacteria that can cause life-threatening illnesses when handwashing sinks are not an option.
The SAFETY STAND is a bright orange color and constructed of durable low density polyethylene. It has a reflective fluorescent orange, yellow and white signage to match safety equipment at the job site adding to its benefit for crew and public safety. This design also makes it hard to miss to promote use for a healthier environment. The top of the antiseptic SAFETY STAND has an oversized handle with comfort grip. The handle can be used to easily move the stand to any location by hand, or with a lifting hoist to transport the SAFETY STAND up, down, or across to place inside buildings, tunnels, bridges and barges. Because the SAFETY STAND is in such high demand, the opening is also commonly used to utilize a chain, rope of other locking system to secure it at a desired location to avoid vandalism or theft. The base of the stand is 30lbs and made of recycled rubber for durability and counterweight to keep it from falling over. Our CALLAHEAD Safety Light can also be installed on the SAFETY STAND as an additional safety measure for evening jobs and will light up automatically in the evening or when there is inclement weather. Our Safety Light on the SAFETY STAND is highly recommended for road, highway, bridge, tunnel and other high traffic construction jobs. The Safety Light is also useful for nighttime events, parking lots, garages, train stations and bus stops to make it more visual and promote use.
Two antibacterial dispensers are mounted on each side of the SAFETY STAND. Each dispenser contains 800ml of hospital grade antiseptic gel. CALLAHEAD's hand sanitizer gel kills over 99.9% of germs and contains vitamin E. Users will receive .544 grams of hospital grade hand sanitizer at each pump delivering approximately 1,296 uses per dispenser. With CALLAHEAD's SAFETY STAND you receive two dispensers to provide jobsites, office buildings and shopping malls a total of approximately 2,562 uses before refills are necessary. The dispensers have a clear acrylic refill indicator for convenience. CALLAHEAD offers refill service daily, weekly, monthly or on-call when needed.
In today's society hand sanitizing capabilities have become increasingly necessary as we have become more educated with the health benefits of antibacterial gels. Colds, flu's, Coronavirus, H1N1, COVID-19, SARS, E-Coli, Salmonella, and other common illnesses are often spread by the transfer of germs through touch and hand to hand contact. You can significantly reduce the risk of illness by washing your hands or using hand sanitizers frequently throughout the day. CALLAHEAD's SAFETY STAND is convenient for any location and easy to use to achieve proper hand sanitizing. The antiseptic gel provided and refilled by CALLAHEAD, kills 99.9% of germs and bacteria that can cause serious illnesses.
The SAFETY STAND is not only for construction job sites it is for any public setting. Germs are easily transmitted from frequently touched surfaces such as door knobs and handles, handrails, elevator buttons, and light switches. Bacteria and viruses can stay on metal, plastic and cardboard for as long as several days. Frequently touched surfaces can quickly spread viruses by your hands touching any contaminated surface. The SAFETY STAND is the perfect solution to help ensure a healthy environment for every jobsite, office or government building, shopping center, grocery store, train station, bus stop, airport, taxi stand, parking garage, hospital, medical office, park, beach, restaurant and any public area. The SAFETY STAND placed at door entrances and exits can help eliminate the spread of germs. Placing the SAFETY STAND by office and building elevators and escalators will standout with its reflective design to enhance public use for a safer environment. This is the ideal solution for store entry and exit areas, check-out stands and cashier stations, ticket and transportation centers, outdoor food trucks, restaurant entry and exit doors, medical buildings and hospitals, outside public restrooms, or any high traffic location for the public's hygienic protection. Adding the SAFETY STAND to any office, public venue or establishment delivers peace of mind knowing extra precautions are being taken for a healthier environment.
The SAFETY STAND is a necessity for emergency locations, disaster areas, pop-up hospital, medical facilities, doctors' offices, hurricane relief locations, and any emergency situation. First responders and medical staff require hand sanitizing to eliminate the spread of germs while serving the public. Hand sanitizing is strongly recommended by the Center for Disease Control (CDC) for everyone every time you use the restroom, cough, sneeze, before and after eating, preparing food, and should be done periodically throughout the day to help avoid contact with harmful germs and bacteria that can cause serious illness.
Publications by The Center for Disease Control (CDC) and The Occupational Safety and Health Act (OSHA) conclude that handwashing is proven protection from the spread of many serious illnesses. Presented with this information confirms handwashing or sanitizing equipment is essential for every business, construction job site, public setting, and special event. Just a pump of gel and rub your hands together, our quick drying sanitizer will protect users from harmful diseases and infections that are commonly spread through hand-to-hand contact. CALLAHEAD, along with the CDC recommends that hand sanitizers or handwashing facilities are a requirement for every business and public venue such as, construction job sites, food venues, supermarkets, office buildings, sporting facilities, arenas, beaches, parks, parties, farmer's markets, carnivals, playgrounds, schools, daycare facilities, marathons, fundraisers etc.
The SAFETY STAND rental is available for same-day delivery. CALLAHEAD services all of New York City's five boroughs of Manhattan, Brooklyn, Queens, the Bronx and Staten Island, Westchester County and all of Nassau and Suffolk Counties Long Island to Montauk Point.
The safety Stand by CALLAHEAD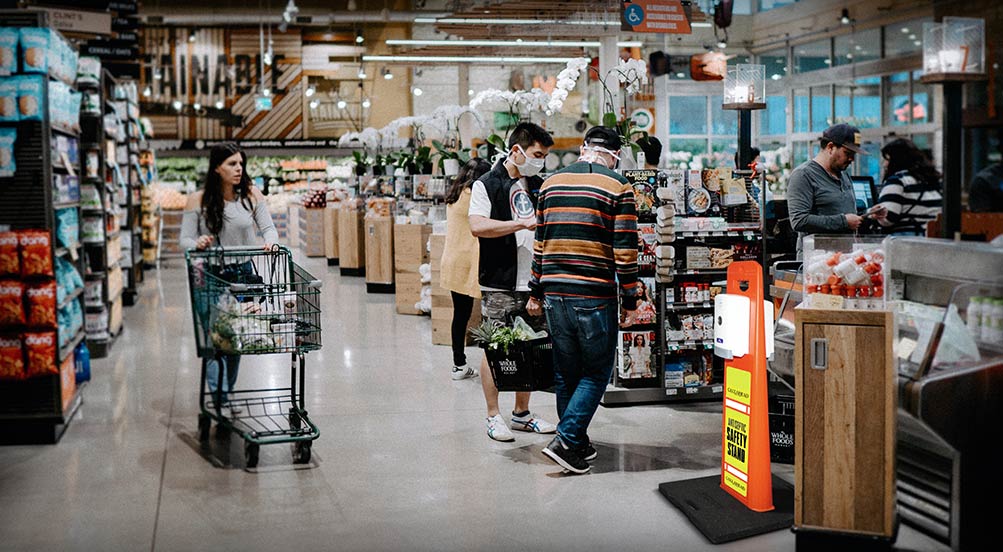 BENEFITS OF OUR safety ANTISEPTIC STAND:
More accessible than sinks • Safety equipment and antibacterial stand with two dispensers in one rental • Reduce bacterial counts on hands • Requires less time than hand washing • Acts quickly to kill microorganisms on hand • Less irritating to skin than soap and water • No sink, no water, no rinse, no towel & no mess • Meets OSHA and Health Department hand cleansing requirements • Soothing rich emollients such as Vitamin E help to keep hands soft even after repeated use
HAND SANITIZER TECHNIQUE:
1. Make sure all organic matter is removed from hands. All visible organic matter (for example: dirt) should be removed from hands prior to applying waterless hand sanitizer. 2. Apply a dime sized amount of waterless hand sanitizer to the palm of one hand or use a waterless hand sanitizer wipe. 3. Rub hands together covering all surfaces of hands and fingers. 4. Rub until waterless hand sanitizer is absorbed.

Antiseptic Safety Stand is Perfect for Lobbies and Common Areas

High visibility, high impact stand with handle for portability

Heavy duty, non-slip rubber base prevents moving or tipping

Dual mounted hand sanitizer dispensers - over 2,500 uses between refills

FLUORESCENT ORANGE, YELLOW AND WHITE SIGNAGE MATCHES SAFETY EQUIPMENT

HIGHLY RECOMMENDED FOR CONSTRUCTION SITES AND HIGH TRAFFIC AREAS

Weatherproof Design for Indoor/Outdoor Placement

Antiseptic Safety Stand is Essential for Food Service and Restaurants

IMPORTANT SAFETY AND HEALTH FACTS:
The Center for Disease Control (CDC) affirms, "Keeping hands clean is one of the most important steps we can take to avoid getting sick and spreading germs to others." • The Occupational Safety and Health Act (OSHA) require employers to provide adequate washing facilities for employees that work with contaminants that may be harmful. • The Association for professionals in Infection Control and Epidemiology (APCI) position, "Although people usually think that germs are spread through the air, the fact is that germs are most easily spread through HAND CONTACT." AND "One of the best ways to avoid getting sick or spreading illness is to wash OR to decontaminate your hands." • The Center for Construction Research and Training (CPWR) states, "Lack of cleaning facilities on construction job sites increases the likelihood of dermatitis, caustic burns from extended contact with wet cement, or acid burns from muriatic acid or other hazardous agents that come in contact with the skin, and infection." The result, additional workers" compensation claims. • The Center for Disease Control (CDC) estimates that 36,000 people die from the flu or flu-like illness each year, and another 5,000 people die from food borne illness each year. And your best protection from this type of illness is frequent hand washing.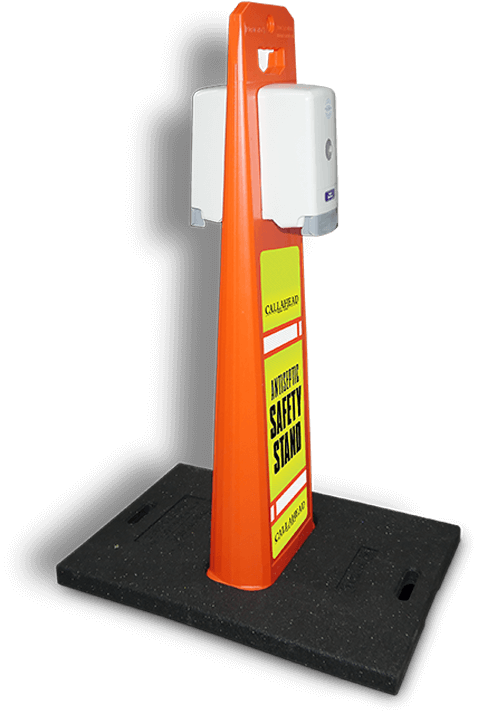 safety ANTISEPTIC STAND DESIGN FEATURES AND SPECIFICATIONS:
Height – 44.5" • Base Width- 20.25" W x 28.25" L x 2" H • Weight –35lbs • Constructed of durable low density polyethylene • Bright orange color and reflective design to match safety equipment • Reflective fluorescent CALLAHEAD signage • 30lb recycled rubber base • Comfort grip opening or easy carry or to use with a lifting hoist, rope, security chain etc. to transport or for security to prevent theft or movement from selected location • Two 800 ml hospital grade dispensers • Each dispenser holds 27 fluid ounces of hospital grade hand sanitizer to kill 99.9% of germ causing illnesses • Two filled dispensers provides approximately 2,592 uses • Each dispenser has a large push button design for easy operation • Dispensers have regulated push tube system allowing for approximately 1,300 single shot uses each • Sealed dispenser to assure no contamination of antiseptic gel • No soap or water needed to kill 99.9% of germs and bacteria that can cause serious illness • Maintained 100% by CALLAHEAD with antiseptic gel refilled daily, weekly, monthly or upon request • Available rental daily, weekly, or monthly
For public health and safety every construction site, business, employer, government agency, public park, and special event require hand sanitizing capabilities but do not the time or staff to maintain hand sanitizing systems. CALLAHEAD resolves the problem with dozens of hand sanitizing options to fit every situation to ensure a healthy world environment for superior hygienic protection that will be appreciated by the public. CALLAHEAD has been in business since 1976 providing our customers with confidence in our commitment of delivering only the highest quality equipment and service available. When you want service and equipment you can trust you can rely on CALLAHEAD for all of your portable sanitation needs.