1. Delivery and Installation
---
When it comes to running CALLAHEAD in our inherit goal to be perfect, we have detailed quality control systems in place for every aspect of our operations. Whether it is answering the phone in our office, delivering and setting up our equipment, weekly service or equipment removal from any location every CALLAHEAD employee is trained to ensure all of our customers receive professional and courteous service along with the greatest portable sanitation equipment available.
Knowledge of how our equipment is installed as well as its operation are key factors in customer confidence and satisfaction no matter what industry, which is what makes CALLAHEAD the greatest in the field of portable sanitation. We believe every great company operates in this fashion such as, General Electric (GE). GE is known for educating both employees and customers about their operations, products and services and of course their quality.
This detailed information about the installation of our porcelain toilet system will emphasize that CALLAHEAD is the best choice for your job site trailer.

Our porcelain systems delivery and installation will begin with a CALLAHEAD box truck arriving at your job site to unload your equipment which includes your holding tanks, pumps, porcelain toilet etc. Our uniformed installation technician will initiate the installation with the waste water tank and fresh water tank that will be placed either along the backside of the trailer directly under the restroom area or right along side of the restroom area.
Once the tanks are put in their proper location he will then mount onto a skid the automatic fresh water pump and place it directly in-between the two tanks.
At this point the technician will need to go into the office trailer to remove the porcelain toilet already located in your trailers restroom so he may replace it with the CALLAHEAD porcelain toilet system you have selected. Our porcelain toilet will already be bolted up to a base plate with a toilet flange installed at the bottom of the toilet. The technician will put the porcelain toilet into the proper position above the 3 inch waste pipe opening and bolt the toilet base plate down with four lag bolts to ensure the porcelain toilet is firmly secured in its place.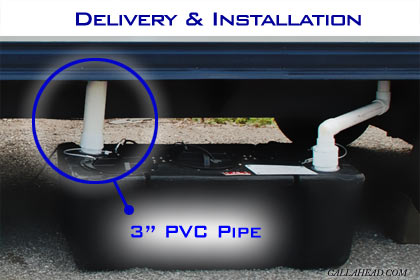 The technician now must return to beneath the trailer to install a 3 inch PVC pipe into the toilet flange right through the floor of the trailer. You will now have a porcelain toilet bolted to the floor of the trailer with the 3 inch PVC pipe sticking out of the bottom of your trailer.
The technician lines up one of the waste tanks 3 inch openings with the 3 inch pipe to the trailer floor hooking up the 3 inch pipe to the tank with a fitting. The goal is to have a 3 inch waste pipe to go from the toilet bowl to the waste tank with a straight drop and absolutely no turns in the pipe. This straight drop is required to prevent toilet clogs and back-ups.
Next, the technician will need to go back inside your trailer to install a ½ inch chrome nipple through the floor which will also have a ½ inch chrome water valve like you would see in a typical home bathroom.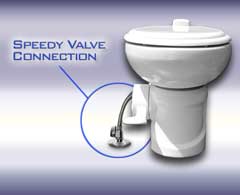 Once the chrome water valve is in place next to the toilet bowl, the technician then hooks up a ½ inch stainless braided hose (speedy connector) which will extend from the chrome valve to the toilet bowl water line.
Your porcelain toilet bowl is now ready for constant water pressure. The technician now hooks up a 1 inch PVC pipe to the intake part of the water pump with a PVC adapter. The pipe goes over the fresh water tank, receives an elbow fitting then goes thru the fresh water tank equipment cover right to the bottom of the tank. He will then hook up a check valve-water strainer (foot valve) to an elbow fitting which is connected to the PVC pipe. This allows the foot valve to lay horizontally on the bottom of the fresh water tank.
A flow switch is now installed inside the fresh water tank which is connected to the vertical pipe. It is essentially just a plastic floating bob that is hooked up to a traditional extension cord. The bob is equipped with an internal switch and floats on top of the water and will drop as the water drops. This changes the position of the internal switch which in turn will shut off the electric. This is a very important feature since it will not allow the pump to run and overheat if the fresh water tank runs out of water. It is now time to hook up the exhaust side of the fresh water pump to the chrome nipple that comes through the trailer floor.
The installation technician will take a 1 inch PVC pipe and hook it up to the pump with a fitting that runs under the trailer to the nipple. This will be the fresh water feed to the toilet bowl. He then installs tank heaters into both the waste tank and the fresh water tank. The heaters go through the equipment covers and lay at the bottom of the tank. The technician plugs the heaters into an outlet under the trailer or he will bring the extension cords through the trailer floor to the closest outlets available.
The next important addition to CALLAHEAD's porcelain toilet system is the installation of our overflow alarm system. The technician will hook up a sensor unit to the waste tank and installs an alarm inside the trailers restroom which will notify you of the waste tank being close to full capacity. This was created to prevent overflows of your porcelain toilet system, although this alarm is much more important with domestic running water.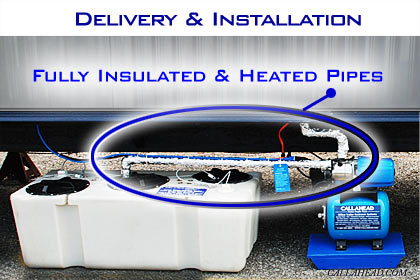 The following step of the installation process is the installation of heat tape and insulation wrap on all the PVC lines to prevent freeze-ups. The technician does this by running heat tape up and down both sides of the PVC pipes. He will secure the heat tape with electrical tape, plugs the heat tape into the outlets under or inside the trailer and then wraps all the PVC pipes with an insulation wrap. This process is known as our Winterization package.
The technician will now need to examine the breaker panel to figure out which breakers control which outlets. He will make sure the equipment amperage is below the breakers capability and then mark the breakers used with the CALLAHEAD equipment sticker. In the majority of cases two breakers will be required utilizing 20 to 40 amps depending on the time of year.
Now it is time for the technician to fill the fresh water tank with water, prime the pump with water and plug in the pump's electrical cord. He will then enter the restroom trailer and flush the toilet bowl several times to fill it with water and make sure it is flushing properly. The technician will then check that the pump is turning on and off and make sure the entire system is free from leaks. If the pump is working properly, there are no leaks and the toilet bowl is flushing correctly the technician has completed the installation of your porcelain toilet system.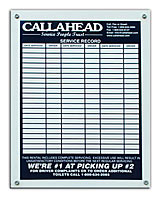 It is now time for the technician to install a flat white metal plate right above the holding tanks at approximately the 5 foot mark on the outside wall of the office trailer along with the application of the CALLAHEAD sign-in sticker to the metal plate.
The sign-in plate is signed every time a service technician visits your site to service your system.
Finally, the technician will install a 6" x 5" engraved plaque with all of CALLAHEAD's contact information. The plaque's text is engraved in silver with a faded navy background and has a chiseled appearance.
This beautiful work of art is installed right above your toilet bowl inside your trailers restroom so you have easy access to our main office's contact information if you are ever in need of our assistance.
Once the installation and set up of your porcelain system is complete, the technician will completely clean up all areas affected by his work at your job site. All of CALLAHEAD's technicians arrive in full CALLAHEAD uniform and will complete his work in a polite, respectful and courteous manner. Our porcelain systems can be installed within 24 hours of placing your order with the average installation taking between 2 to 4 hours to complete.
Since 1986 CALLAHEAD has kept the details of this porcelain toilet system completely confidential as our competitors for decades have tried to imitate our design. However, we feel sharing the in-depth details to our porcelain toilet system will give our clients the confidence they desire and deserve when choosing a porcelain toilet system for their trailer's restroom. CALLAHEAD's goal has and always will be to supply our customers with the best equipment and service in the industry.
Our Porcelain Toilet Systems are the greatest in the field or we would not have thousands installed in office trailers all throughout New York and growing daily. We consistently work to develop and advance our system which has kept us way ahead of all others. It is undeniable that we have the most advanced porcelain toilet system in the industry.
3. Consistency and Quality
---
CALLAHEAD has developed an excellent inspection system for our porcelain systems to ensure every customer's equipment is set up flawlessly.
---
Once your equipment is delivered and installed by one of our professional installation technicians we will send a uniformed CALLAHEAD inspector to your jobsite in one of our signature VW Buggies.
Consistency is one of the most important elements to a company's success, a products success and the success of any service. It is very difficult to create perfect consistency in a corporation because it completely goes against the laws of physics and human nature. Time after time nature builds then destroys, man builds then destroys and at times they work together.
For example, there is 60 days of beautiful weather and during this time man may fix, build or clean and then a storm comes and destroys what man has accomplished. This is very similar to how business operates. Natural forces opposing each other to where perfect consistency is very difficult to achieve or you could even say impossible (remember we believe perfection exists).
A Quick Note on Our Perfection Theory:
One of CALLAHEAD's Account Executives went out on maternity leave for a couple of months and had a baby girl. Upon returning to work she strongly debated our perfection theory with me. I asked her to argue all her points and that I promise once she was done I would have her agree with my perfection theory with just one sentence. Once she was finished I looked at her and asked, "Is your baby girl perfect?" She stood up with a look of shock and then smiled and replied, "You are absolutely right perfection does exist."
At CALLAHEAD we've learned the best way to create consistency is to have a backup system for all of our systems. This is an extremely difficult task, however to be a great company it must be done. A few examples of CALLAHEAD's backup systems are:
For every 4 route drivers we have one extra driver;
for every 4 trucks there is one extra truck;
for every piece of equipment in the field we keep matching equipment in our yards;
if we need 10 Account Executives, we would have 15;
if we need 15 phone lines we would have 25 and so on.
As you can see to be a great company that believes in being perfect, it is very expensive, but is truly the only way to be the best. Multiplying the systems above and beyond the company's needs is critical to secure great service and equipment to the customer with the highest level of consistency. A perfectly run company mimics a machine, as machines do not operate inconsistently. Therefore a business must be as consistent as possible, especially to succeed in a company's inherit goal which is to survive.
Business is essentially war where the strong and consistent survive and the weak and inconsistent perish. For example, Warren Buffet an American investor, industrialist and philanthropist who is widely regarded as one of the most successful investors in the world. Mr. Buffet has been going to work every day for over 60 years with his businesses and career built on his consistency. Would Warren Buffet ever invest in an inconsistent company? The same with the Big Mac, if every Big Mac wasn't exactly the same, McDonald's would not be the business it is today.
Another element to great consistency in business is quality.
Quality creates consistency and consistency creates quality.
The higher quality will elevate the consistency but it must be quality thru and thru from the company's equipment and products to its people and operations.
All employees should have the mindset of buy the best, be the best and sell the best. This mentality creates a consistency which is pretty close to perfect. As with CALLAHEAD having thousands of pieces of equipment on the street we can end the business day regularly without one single complaint. This is the CALLAHEAD way that has been achieved because of our continued consistency and quality.
CALLAHEAD's Many Examples of Consistency Include:
Every driver is in full uniform.
All CALLAHEAD trucks are the same brand and style.
Our office is open Monday through Friday from 7AM to 7PM and every Saturday from 9AM to 5PM consistently.
All routes get done on the same day of the week.
Our equipment is available for same day delivery.
Our trucks are washed every work day.
The phones in the office are always answered on the first ring during office hours.
Each Account Executive uses the same tools to educate and sell to our customers and prospects.
Our service technicians are taught to clean the equipment the same way every time.
The list of how we emulate consistency as a company goes on and on.
However, it is very important that we don't confuse the promotion of consistency with the concept of change. A great company must change faster than the rest of the industry. That change becomes habit and then consistent. Consistency is the final phase of change. Just as necessity is the final phase of luxury.
5. Inspection System
---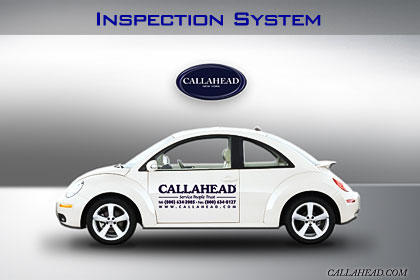 CALLAHEAD has developed an excellent inspection system for our porcelain systems to ensure every customer's equipment is set up flawlessly. Once your equipment is delivered and installed by one of our professional installation technicians we will send a uniformed CALLAHEAD inspector to your jobsite in one of our signature VW Buggies.
Fully equipped with a pad, pen and camera, the inspector will take detailed notes on the quality of work completed at your site. Next, the inspector will take photos in every possible angle of all the equipment delivered and installed by the installation technician.
Once the inspection is completed, the inspector will return to the CALLAHEAD office where we will examine his notes against his photos to check if there are any possible improvements to be made on the installation. If by chance there are improvements needed, the installation technician will be given explicate details of the changes necessary utilizing the notes and photos taken by the inspector and return to your site to complete the job. Upon completion of all required changes, we will have our inspector return to the jobsite to verify all the improvements by again taking detailed notes and photos. At the point of completion of the installation of our perfected porcelain, water and sewer systems, all of the notes and photos will be put into the clients file for future reference if needed.
Most improvements on an installation may include, better placement of equipment, cleanliness of the job, electrical and plumbing lines neater and fastened more securely to walls and equipment etc.
At CALLAHEAD we are clearly perfectionists or we would not have thousands of sites with our equipment. We have been under the same ownership since we came into business and believe,
"Perfection is a matter of opinion, therefore it exists."
Perfection is simply doing things you don't have to do which is also the concept that made Disney one of the world's greatest companies and is how CALLAHEAD operates on a daily basis.
At CALLAHEAD we want our customers to be as confident in our systems as we are so we also send our professional inspectors on demand of the customer to go over the installation, service and operation questions etc.
CALLAHEAD realizes in the portable sanitation industry you must have company inspectors to remain a perfectionist company and ensure we always have the greatest systems and equipment in the field.
7. CALLAHEAD Plaque and Brand
---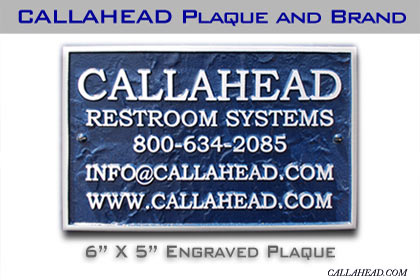 The CALLAHEAD brand has continued throughout the decades to represent a sign of excellence that is required by our customers. Employers and employees alike appreciate the greatness the CALLAHEAD brand represents. Which is why we install with every one of our Porcelain Toilet Systems, our CALLAHEAD engraved plaque.
This 6" x 5" aluminum plaque is engraved with all of CALLHEAD's contact information. Its text is in silver with a navy blue background and chiseled appearance which is a true work of art. The CALLAHEAD plaque is installed directly above your toilet bowl in the trailer's bathroom, giving users easy access to our office's contact information.
We believe as our devoted clients do, that this plaque represents a sign of excellence. Depicting to your employees that you care about their restroom facilities by providing them the quality they deserve. Anyone can hire a company with a toilet and a waste tank, but great companies will select CALLAHEAD. The plaque will make the statement, "You are the Best!"
Taking care of your employees and showing them you care about their needs will be sure to bring you a significant return. It is a fact, if you take care of your employees they will be a more dedicated and harder worker for your company. Perfecting our equipment, service and systems is what has made us the only brand all great companies go to for their portable sanitation needs.
9. Winterization Process
---
The CALLAHEAD Winterization Package is by far the best in the industry.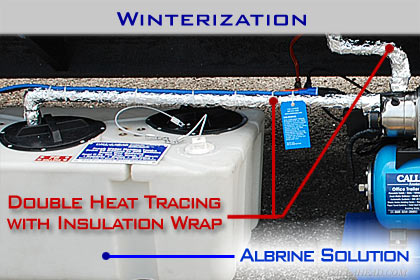 With thousands of systems out in the field CALLAHEAD's water and sewer systems continue to go year after year with absolutely no freeze-ups at all, which is an amazing stat. We would not make such a bold statement so confidently and proudly if it were not true. Developing and evolving the Winterization Package since 1986 is how we perfected this process.
We feel it is important for our customers to understand fully how we have accomplished such success with our Winterization Package to give you not only knowledge of how our systems work but also provide our clients confidence when choosing CALLAHEAD. We realize this will also give our competitors the blueprints to our creation however, we are certain as the developers of this Winterization Package that nothing can match the original (e.g. If KFC gave every chicken house its recipe they still couldn't be KFC).
To begin our winterization process, the first thing we do to eliminate freeze-ups is to treat the water. We do this by melting perfectly clean salt with the water at an amazing ratio of 2½ lbs of salt to 1 gallon of water. When the salt is completely melted you will have a strong albrine solution that will keep the water from freezing to about 6 degrees Fahrenheit, which is a very good start but not good enough.
After the water is initially treated, it is time to create a heating system in and around all of the contained water areas. Just like airplanes need back-up systems to stay in the air, our water Winterization Package needs many back-up systems to completely eliminate freeze-ups. With this theory in mind we double up on all the heating components and even send the electric lines to different breakers so there is less chance of freeze-ups due to loss of electric power. Inside the holding tanks we place two electric heaters that lay at the bottom of the tank with built in thermostats. These heaters will keep the tank water temperature well above the freezing point.
We then use heat tracing along the plumbing lines from the fresh water tanks to the pump and follow the pump to the restroom floor of the trailer. Two lengths of heat trace are then used to go up and down and along both sides of the plumbing pipes.
Finally, we wrap up all plumbing lines from the tank to the pump all the way through to the trailer floor with an insulation wrap to complete the Winterization Package installation. The secret to our success is our numerous back-up systems put into place at every installation.
We have been developing and evolving this process since 1986 and as a result, freeze-ups at CALLAHEAD do not exist.
11. Automatic Fresh Water Pump
---
When CALLAHEAD began creating our Porcelain Systems back in 1986 our goal was to create a system that is exactly like a porcelain toilet system in your house if not, better. From the beginning we realized for us to construct the greatest water and sewer system it was essential to generate equivalent or greater water pressure than that of a home sewer system.
At CALLAHEAD we believe in doing more than what is necessary, so we chose a very overwhelming pump to create 50 pounds of water pressure to achieve our goal.
When we considered that the average house has 40 pounds of water pressure or less, we knew we were off to a very good start to accomplish our objective.
Our Automatic Fresh Water Pump is made of stainless steel, has a one horse power motor with a motor speed of 3400 RPM, uses 110 volt electric and pumps an amazing 900 gallons of water per hour.
The purpose of this pump is to have a continuous 50 pounds of water pressure go to your toilet for exceptional flushing and operation.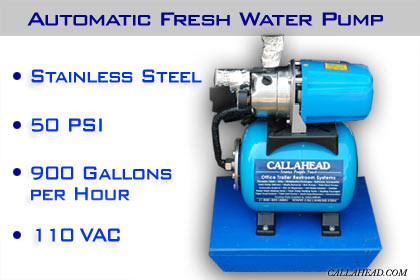 At installation, CALLAHEAD's uniformed technician will install the water pump on a small custom skid outside the trailer directly in-between the waste tank and fresh water tank.
Schedule 40 PVC plumbing lines are used to and from the pump which is heat traced on both sides of the pipe and wrapped with insulation to prevent freezing during the winter months.
The electric line is brought under the trailer and plugged into the exterior outlet or brought through the floor of the trailer to an outlet (also see Winterization Package).
Our technician will then mark the breaker box with a sticker stating that the breaker is being used for the automatic fresh water pump.
At CALLAHEAD we accept nothing less than perfection in every aspect of our business down to the smallest detail. It is evident that CALLAHEAD's Automatic Fresh Water Pump is the ideal pump for these systems as thousands of already satisfied clients would agree making our porcelain systems the greatest in the industry.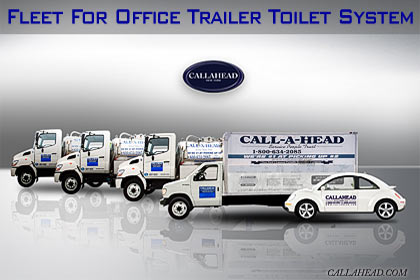 There is no doubt that CALLAHEAD has the newest, cleanest and most reliable trucks in the portable sanitation industry. We purchase our vehicles brand new and have them customized to specifically handle CALLAHEAD operations. All of our vehicles stay in service for a maximum of 3 years or 90,000 miles before we sell them to other portable sanitation companies throughout the country.
We have over 60 vehicles on the road day in and day out not only representing the CALLAHEAD brand but servicing our cu stomer's equipment so it is a must for our vehicles to be in perfect condition at all times.
Having a fleet of brand new, perfectly clean and fully maintained vehicles at our equipment sites not only represents CALLAHEAD but our client's choice in portable sanitation equipment. Every one of our vehicles is fully equipped with GPS navigation systems which we update daily with each service technician's personal route.
When CALLAHEAD delivers, installs, inspects, maintains, services and repairs your porcelain system you will have 4 different CALLAHEAD signature vehicles come to service your site , 3 trucks and 1 Volkswagen Beetle (VW Buggy).
The first vehicle to arrive at your site is our shiny stainless steel signature delivery box truck transporting all the equipment to your site for installation. Our box truck will be driven by our uniformed installation technician delivering and installing your equipment.

A second vehicle to visit your job site will be CALLAHEAD's signature VW Buggy. Our white with navy blue signage VW Buggy will be driven to your site by our uniformed inspector who will be there to ensure your installation was completed perfectly.

A third vehicle to visit your job site is the CALLAHEAD fresh water delivery truck driven by our uniformed service technician. Our fresh water delivery truck has only one purpose, to deliver fresh water. Each of our fresh water delivery trucks have an enclosed stainless steel tank in which the fresh water is transported to your site and is clearly marked "Fresh Water Delivery" and has never carried anything but fresh water in its tank. Because CALLAHEAD purchases all of our vehicles brand new we can make this statement.

A fourth vehicle that will arrive at your job site will be our signature waste tank truck which is the most commonly seen of the CALLAHEAD fleet. Our stainless steel waste tank truck will be driven by a uniformed service technician with its purpose to clean out the waste from your waste tank.
CALLAHEAD's service technicians and inspectors will arrive in CALLAHEAD vehicles that are in like new condition, cleaned daily and serviced regularly. You will never see an old, dirty or beat up CALLAHEAD vehicle ever drive up to your jobsite or on the road for that matter.
At CALLAHEAD we are proud of the company we continue to build and it is important to us that our customers are proud to do business with CALLAHEAD. We understand that our equipment and vehicles on your jobsite not only represents CALLAHEAD but also our customers. It is our goal to give our customers the ability to say, "We have the best portable sanitation company on our site." We want our customers to say this proudly and confidently with no hesitation.
END OF CONTRACTOR'S PORCELAIN TOILET SYSTEM