---
Film and movie productions are common throughout New York City, Long Island, and Westchester, and restrooms are a necessity at every filming location. CALLAHEAD, New York's largest and most trusted portable restroom company, is the #1 choice in portable sanitation for cast and crew.From large movie productions with hundreds on set to television and small commercial shoots, CALLAHEAD always delivers the best equipment in the industry with hospital grade cleaning service.Our expert sales specialists will evaluate every aspect of your restroom need from the location, number of cast and crew on-site, hours of production, and any special requests to provide the best equipment and service for your budget and location. CALLAHEAD also understands that the film industry often requires long filming days and nights, and the unexpected is common. Since 1976 CALLAHEAD has delivered luxury restroom trailers, portable toilets, security guard booths and portable sinks and showers to New York movie, television, and commercial sets with professionalism and stress-free service, even when the unexpected occurs. Only CALLAHEAD has the experience and commitment to work with your schedule to ensure your film crew has clean and comfortable portable sanitation equipment.
---
A few of the FILM and MOVIE PRODUCTION Recommendations include:
Portable restroom trailers such as the SANDSTONE offers twelve clean and spacious restroom stations for large movie sets. The BEDROCK Restroom Trailer is also a favorite for smaller film productions or use for talent, and senior production staff's private use on large sets.
A favored portable toilet on film sets is the FULL-SERVICE HEAD to give cast and crew a flushing toilet, handwashing sink and trash receptacle in one rental. The BLUE WATER Portable Toilet is also an excellent choice for filming locations near water such as beaches and marinas due to is blue color and design. The GREEN HEAD design makes is perfect in suburban and country settings. The WATER BASIN by CALLAHEAD will provide hand washing sinks at remote locations to eliminate the spread of germs and the ideal addition to any portable toilet.
As for security, CALLAHEAD's designed and manufactured A16, A25, and A48 Security Booths are the best portable guard booths in the industry. Available in three sizes and various colors to deliver thermostat heat, electric, lockable doors, and windows, for comfort and protection during any security detail that looks impressive on-site. It is also a perfect rental for mobile office space.
CALLAHEAD operates only in New York so you will receive hands-on immediate service that only a local company can provide. CALLAHEAD always delivers the world's best portable sanitation equipment with unmatched service to every New York filming location. For over forty years we have continued to advance our equipment and perfect our hospital grade cleaning service to make CALLAHEAD second to none for every film location.
Inspired and Recommended by

CALLAHEAD ~ 1.800.634.2085
PORTABLE TOILETS:
THE BLUE AND WHITE CONSTRUCTION FLUSH
---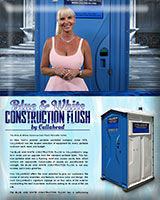 The BLUE AND WHITE CONSTRUCTION FLUSH is CALLAHEAD's long-term rental and an upgrade from the standard portable toilet. This full-size portable toilet has a flushing toilet and closed cavity tank which workers will appreciate.
Constructed of double ply polyethylene for strength, the BLUE AND WHITE CONSTRUCTION FLUSH is not only durable, but it looks great too.
THE CONSTRUCTION WASH & FLUSH
---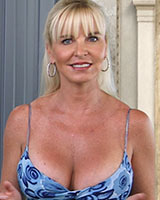 CALLAHEAD's CONSTRUCTION WASH AND FLUSH portable toilet allows any job site to have two units in one, eliminating the need for a separate portable toilet and sink system.
Employees will appreciate not only the flushable toilet, but the ability to protect themselves from hazardous materials, as well as spreading and receiving germs while in the field.
THE BLUE WATER PORTABLE TOILET
---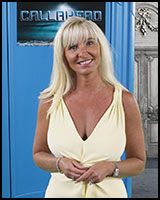 The BLUE HEAD is our Royal Blue colored standard portable toilet to rent that provides portable outdoor restroom facilities to the jobsite. Its design of clean fresh water will also give an uplifting look to your location.
The roomy interior has a full sized toilet seat and non-splash urinal. This durable port a potty is virtually indestructible. The BLUE HEAD is another of our traditional portable toilet rentals that provides function, design, and the highest quality at an affordable price.
THE GREEN HEAD PORTABLE TOILET
---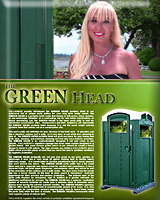 The GREEN HEAD is a self-contained portable toilet that adds a beautiful landscaped look to any jobsite. Blending in at new home construction sites or any park like setting because of its color.
This portable toilet is perfectly designed along with its extra-large holding tank for heavy usage. A standard toilet bowl, separate urinal, double toilet paper dispenser, mirror, and shelf are just some of the conveniences of our nature lover's forest green portapotty.
"We're Surrounding The World With Creative Ideas & Concepts of Tomorrow."
THE FULL SERVICE HEAD
---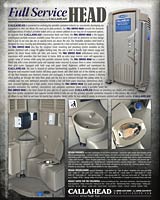 For comfort, convenience, and complete sanitation when using a portable toilet, the FULL SERVICE HEAD is the ideal choice for your job site or special event.
Completely outfitted with a trash receptacle, paper towel holder, and a sink with foot-pump running water; this unit is built to handle high volume usage, and is perfect for those heavy traffic job sites and events.
THE ROYAL BLUE TOILET
SPECIAL EVENT PORTA POTTY RENTAL
---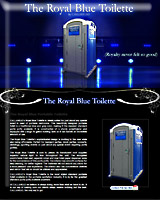 The ROYAL BLUE TOILET is the best standard portable toilet in New York that is also an affordable price to rent.
This basic portable toilet is anything but basic, as it can handle large crowds and an incredible amount of bathroom use. This special event porta potty is the most inexpensive of all of our short term porta potty rentals, but we spared no expense on the development of this portable toilet.
THE REGAL BERRY
SPECIAL EVENT PORTABLE TOILET RENTAL
---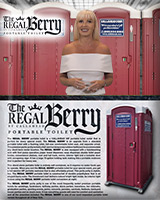 The REGAL BERRY is a VIP porta potty which is a step up from a standard portable toilet. This is a self contained stand alone port a potty that operates as a full service portable restroom with no water connections required.
The REGAL BERRY portable toilet is a great outdoor portable toilet to rent for crowds big or small. The special event premium porta potty is a temporary port a potty that is an affordable price to rent for weddings, house parties or community events.
---
Inspired and Recommended by

CALLAHEAD ~ 1.800.634.2085
---
SECURITY GUARD BOOTHS:
THE A48 PORTABLE SECURITY GUARD BOOTH
---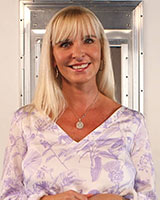 The A48 SECURITY BOOTH boasts plenty of room for one to four security guards. It also has space for a table, chair, and file cabinet to operate as a productive portable workspace on the job site.
The A48's architectural design and quality construction is extraordinary. The A48 SECURITY BOOTH was built using only premium heavy-duty materials and high-density polyethylene marine grade plastic.
A25 PORTABLE SECURITY GUARD BOOTH
---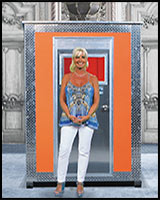 The A25 SECURITY BOOTH is a CALLAHEAD exclusively designed extra-large guard booth that will deliver value to any location. This is the ideal rental for security or ticket booth requirements. Built using high density polyethylene marine grade plastic, aluminum clad and five different metals provide the utmost in security as well as an architecture that looks spectacular. This oversized 25 square foot guard booth is equipped with a lockable door, operable screened and lockable windows, and a Braun thermostat heater. The ample interior delivers plenty of space for a table, chair and cabinet for an efficient tour of duty.
A16 PORTABLE SECURITY GUARD BOOTH
---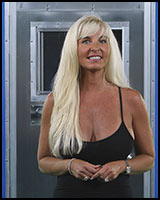 The A16 SECURITY BOOTH was designed and created by CALLAHEAD for upscale security and ticket booth locations. This guard booth is architecturally designed using high density polyethylene marine grade plastic, aluminum clad and five different metals to add sophistication and value to any location.
This 16 square foot upscale security booth has a lockable door, 3 operable screened lockable windows and a Braun thermostat heater. Boasting plenty of room for a security guard, table and chair for comfort during every tour of duty.
"To Mirror Greatness, You Must Stand In Front Of It"
---
Inspired and Recommended by

CALLAHEAD ~ 1.800.634.2085
---
PORTABLE HAND WASHING SINKS:
THE PORTABLE WASHBASIN
---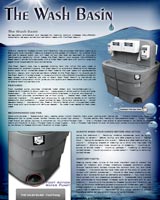 The Portable Wash Basin is recommended to accompany any portable toilet rental to ensure proper hygiene for construction job sites, parties, or any special event.
The Portable Wash Basin features a foot operated pump which provides an immediate water stream and hands-free washing clearance for hand to elbow washing. Convenient paper towel and antibacterial soap dispensers are mounted on this portable sink.
THE WATER BASIN
---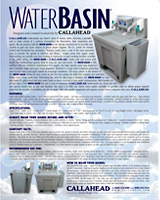 The Water Basin is a vanity style washing station that is fully outfitted with two molded-in maintenance-free spigots, two high capacity spray soap dispensers, and a lockable single fold paper towel dispenser.
With handles on all four sides, this unit is easy to maneuver and is recommended for construction job sites, special events, playgrounds or any public venue.
MISSION STATEMENT

"To Develop And Evolve A Human Necessity."
THE HAND BASIN
---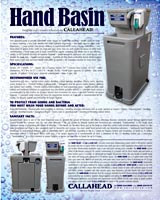 The HAND BASIN is CALLAHEAD's versatile stand-alone hand washing system which is the perfect solution for smaller job sites or special events, or when limited space is available.
The HAND BASIN system offers all the features necessary for sanitary hand washing in a compact unit complete with soap and paper towel dispensers, as well as a foot pump for hands free washing.
THE ROLLER SINK
---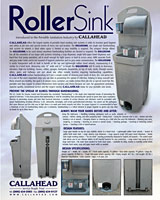 The Roller Sink is a single user handwashing system that is ideal when space is limited, or easy mobility is required. The Roller Sink is easily transported with its built in handle at the top and sturdy rubber tread wheels.
Ideal for construction job sites, work places and special events the Roller Sink is equipped with soap and paper towel dispensers, as well as a foot pump for hand free washing.
THE SHOWERHEAD 16
---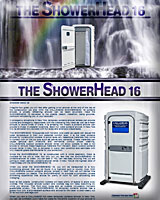 The SHOWERHEAD 16 is an outdoor portable shower rental to provide the luxury of taking a hot water shower whenever and where ever you desire. It is the perfect outdoor shower rental for emergency locations, pools and beaches, construction sites, and sport fields. It can hook up to a simple garden hose and can even be used with salt water for an unlimited water supply. With hot and cold water capabilities that you control, and lockable door for guaranteed privacy, a refreshing shower can be taken just about anywhere.
---
Inspired and Recommended by

CALLAHEAD ~ 1.800.634.2085
---