.CALL-div { display: inline; } #pics-div-print { page-break-before:always; position:absolute; overflow: visible; display: none; background-position: center; } #pics-div-print-2 { position:absolute; left:50px; top:840px; position:absolute; overflow: hidden; display: inline; background-position: left; background-repeat:no-repeat; } #logo-div {top: 140px;} #heading1 {top: 270px;} #main-pic-div {top: 120px;left:545px;} #text-div2 {top: 910px;left:545px;} #text-div3 {top: 310px;} #text-div4 {top: 1300px;} #pics-div {display: none;} #pics-div2 {display: none;} #text-div1 {display: none;} #bot-nav {display: none;} #top-nav {display: none;} #download-div {display: none;} #text-div4 { page-break-before:always top:1750px; }
PORTABLE SHOWERS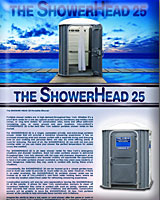 The SHOWERHEAD 25 is a large outdoor portable shower that provides both hot and cold running water, shower curtain and separate dressing area. Lockable doors and occupancy sign assures complete privacy. With plenty of room to shower and change, it is more luxurious than a shower found in a gym. Used with a simple garden hose or salt water, users will feel refreshed after use. This is an ideal outdoor portable shower rental for both long term and shower term needs.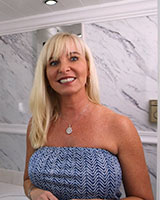 When you are looking for state-of-the-art portable sanitation equipment unavailable anywhere else, combined with service you can trust, CALLAHEAD is the only company that delivers. The WATERFALL Shower Head adds to CALLAHEAD's long list of innovations. This is a customized full-service bathroom that looks and operates just like a home bathroom and the only of its kind in the industry. Equipped with a shower, porcelain flush toilet, vanity sink and homelike design yet, completely mobile and self-contained.



---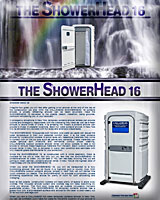 The SHOWERHEAD 16 is an outdoor portable shower rental to provide the luxury of taking a hot water shower whenever and where ever you desire. It is the perfect outdoor shower rental for emergency locations, pools and beaches, construction sites, and sport fields. It can hook up to a simple garden hose and can even be used with salt water for an unlimited water supply. With hot and cold water capabilities that you control, and lockable door for guaranteed privacy, a refreshing shower can be taken just about anywhere.
---
THE SHOWERHEAD 16 & 25 ~ by CALLAHEAD ~ 1.800.634.2085
×
CALLAHEAD at 1-800-634-2085 exemplifies the highest quality of equipment and services in the industry. Our outdoor portable showers deliver our standard of excellence with every portable shower rental in New York. CALLAHEAD portable showers can be rented for long-term or short-term needs throughout New York City and Long Island including all five boroughs of Manhattan, Brooklyn, Queens, Bronx, Staten Island, Nassau County, Suffolk County, and all Westchester County. Whether it is an emergency or disaster location, sporting event, beach or pool location, bathroom remodeling, camp grounds, or construction job site, users will be confident of cleanliness and be grateful you rented a CALLAHEAD outdoor portable shower for their personal use and sanitary protection.