Portable shower rentals are in high demand throughout New York. Whether it's a short term rental for a one day special event such as marathons and military boot camps, or long term rentals for construction sites, home and office bathroom remodeling jobs, or camp ground and park locations, CALLAHEAD's is the best New York outdoor portable shower rental on the market.
The is a single, completely private, and extra-large portable shower rental that will provide a homelike showering experience. It has an enclosed showering area and shower curtain with a separate drying and dressing area so your clothing and personal items will stay dry while offering plenty of room for dressing. The best of all, the has both hot and cold running water so you can make your shower the perfect temperature for added luxury and comfort.
The is an ideal shower rental for New York's emergency situations and disaster locations. Each hot water portable shower is delivered throughout New York fully stocked with full soap and shampoo dispensers at no extra cost. First responders and disaster victims will appreciate the opportunity to have a hot water portable shower available so they may clean away bacteria or other dangerous materials they may come in contact with during these crisis situations.
Conveniently, the can be hooked up to a simple garden hose, pool or even sea water to provide as much water as you need. However, if there is no water available, the portable shower rental can be hooked up to one of CALLAHEAD's own fresh water holding tanks where we provide any location clean fresh water for refreshing showering experience.
Construction workers will also be very appreciative having the at the jobsite. It allows for New York construction workers to clean off hazardous materials they come in contact with such as paints, cements, and other solvents that cause serious skin irritations and dermatitis. Construction workers will be grateful to have the New York portable shower at the jobsite to help eliminate these harmful skin irritations.
Imagine the ability to take a hot, warm or cold shower after the game or swim in the pool or ocean. CALLAHEAD's is commonly rented near pool and beach locations too. It provides New Yorkers the opportunity to take a refreshing shower after a long hot day at the beach. It is also idea for private backyards used as a private shower cabana to eliminate guests and family members from walking sand and dirt through your home.

THE
CALLAHEAD's outdoor portable shower rental lets us deliver the luxury of a hot water portable shower wherever you desire.
The outdoor portable shower has an extremely large interior so there is plenty of room to store bulky clothes and towels while still having the ability to maneuver freely when changing and showering.
The , like all of CALLAHEAD's equipment, is professionally delivered to your location in brand new condition. It is cleaned and sanitized with only hospital grade disinfectants by trained service technicians so you will see and feel that this portable shower is clean.
THE RECOMMENDED USES
Construction Job Sites • Emergency Situations • Water Shut Offs • Camp Grounds • Beach Locations • Pool Areas • Home Remodeling Jobs • Bathroom Remodeling • Sporting Event Locations • Marathons • Boot Camp Locations • Military Locations • Marinas • Disaster Relief Locations • Contracting Jobs • Private Backyards • Beach Clubs • Long-term outdoor shower rentals New York • Short-term outdoor shower rentals New York • Any location in need of outdoor portable showers facilities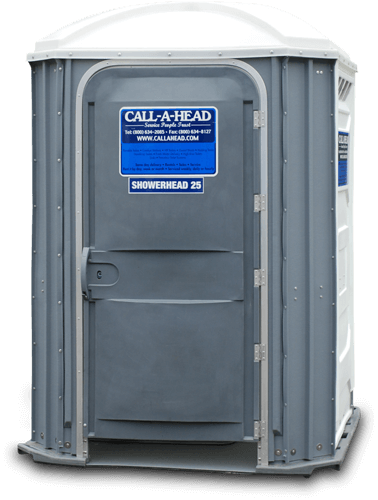 Since 1977 CALLAHEAD has been the leader in supplying portable sanitation equipment to New York City's five boroughs of Brooklyn, Manhattan, Queens, Bronx and Staten Island, all of Long Island's Nassau and Suffolk Counties, and all of Westchester County. The portable shower rental will provide you the same quality and standard only CALLAHEAD can provide. Professionalism, experience, and dedication to our customers are what make CALLAHEAD New York outdoor portable shower rentals the best showers available.