SECURITY HEAD
---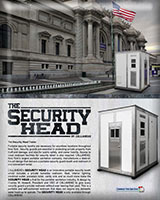 CALLAHEAD's SECURITY HEAD is an innovative portable security booth which includes a private homelike restroom.
Heat, interior lighting, electrical outlet, porcelain toilet, vanity sink and so much more make the SECURITY HEAD a first for the portable sanitation industry.
A design by Charles W. Howard, President and CEO of CALLAHEAD to give every security guard a private restroom without ever leaving their post. This is a portable and self-contained restroom that does not require any domestic water hook-up to operate.