Personal Portashed
CALLAHEAD works continuously to provide you with new products, options & services. We are committed to supplying you with the best portable units available. Perfecting yet another one of our own creations, CALLAHEAD introduces The Personal Portashed.
Designed & fabricated much like CALLAHEAD's Portashed 48 & Portashed 25, The Personal Portashed is made to accommodate your individual needs. The Personal Portashed is produced from only the highest quality products, with strong & durable aluminum & fiberglass construction built to last a lifetime. Complete with heat, lights & electric, the Personal Portashed exceeds any and all expectations required of a utility storage unit. Its all gel-coat fiberglass & aluminum surfaces make for easy cleaning with absolutely no corrosion, and its bright white color gives off a spacious, clean feeling.
The Personal Portashed is topped with a single mold fiberglass roof, creating a completely weather tight shed. The Personal Portashed keeps your expensive tools and equipment closest to where you need them, while keeping them perfectly stored & secured.
The Personal Portashed comes fully equipped with a commercial steel fireproof door & a 5-point CALLAHEAD locking system, offering maximum protection for your valuable assets. For your convenience, with just one quick phone call, The Personal Portashed can be easily relocated & can follow the workers as the project progresses.
When you need secure, portable & personal storage, The Personal Portashed is the ideal solution. Work sites are a reflection on your company & are seen by customers, inspectors & the general public. A work site with CALLAHEAD products on it will enhance your company's image. Rely on the company who provides only the best: CALLAHEAD!
DESIGN SPECIFICATIONS:
• CONSTRUCTION - FIBERGLASS • FINISH - SHINY WHITE GEL COAT • DIMENSIONS - 57"W X 87"H X 56"D • DOOR OPENING - 28" X 71" • WEIGHT - 450 LBS. • FOOTPRINT - 4' X 4' • DOOR - HEAVY DUTY COMMERCIAL STEEL • SPRING LOADED HINGES • THREE 14"DX42"W SHELVES • THREE 8"DX38"W SHELVES • 5 POINT CALLAHEAD LOCKING SYSTEM • INDOOR & OUTDOOR LOCKS • BORAN ELECTRIC AUTOMATIC HEATER (1500 WATT) • 110 VOLT LIGHT • NON SKID FLOOR • 110 VOLT POWER CONNECTION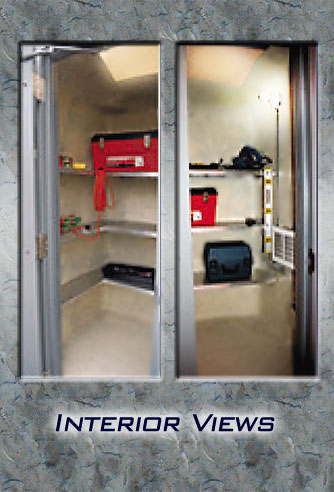 DESIGN FEATURES:
FIREPROOF STEEL DOOR (WITH HEAVY DUTY SPRING)
RAIN GUTTER OVER DOOR
ELECTRIC HEATER
6 ALUMINUM DIAMOND PLATE SHELVES
CALLAHEAD SIGNAGE MARK OF EXCELLENCE
PORCELAIN LIGHT FIXTURE (110 VOLT)
GELCOATED LIGHTWEIGHT FIBERGLASS
COMPLETELY WEATHER TIGHT
FOUR PLUG ELECTRICAL OUTLET
HEAVY DUTY DOOR CLOSER
NO ODOR ABSORPTION
ENGINEERED FOR NATURAL LIGHT
WELL VENTILATED
IDEALLY SUITED FOR THE FOLLOWING:
• EXCESS RETAIL INVENTORY • CONSTRUCTION WORKER SHANTY • COMMERCIAL STORAGE • SPORTS EQUIPMENT • STORAGE FOR TOOLS & CONSTRUCTION EQUIPMENT • RESIDENTIAL YARD STORAGE • PARTY SUPPLIES • SCHOOL SUPPLIES • OUTDOOR EVENTS • FUNDRAISERS • BEACH STORAGE • STORAGE FOR CARNIVALS • REMODELING • PLAYGROUND GEAR • STORAGE FOR BAZAARS • PARK & BEACH EQUIPMENT