PORTABLE TOILETS in New York
THE BEST PORTABLE TOILET & SANITATION COMPANY IN NEW YORK
---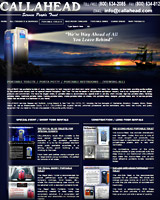 CALLAHEAD has been the leader in providing New York with superior portable sanitation equipment for nearly four decades.
We offer the largest variety of portable toilet rentals, restroom trailer rentals, luxury bathroom trailer rentals, high rise mobile port a potty rentals for apartment or building construction, ADA compliant and handicap portable toilet rentals. We also offer security guard booth rentals, storage shed rentals, portable sink rentals, mobile utility sink rentals, portable antibacterial station rentals, porcelain toilet systems for office trailers, fresh water holding tank rentals, waste water holding tank rentals and fresh water delivery.
SEE ALL OUR PORTABLE TOILETS AVAILABLE FOR NY!
New York has been renting CALLAHEAD's porta potties, sinks, sheds and services for their construction sites, contractor sites, road and highway construction sites, new home construction, building construction, contractor sites and emergency, hurricane or disaster relief situations. We also service Long Island's Nassau and Suffolk county's special events including weddings, parties, marathons, fund raisers, carnivals, street fairs, festivals, parks, concert events, food venues, farmers markets, sporting events, house parties and block parties.
All of our portable sanitation products are available for hire; whether your temporary rental needs are short-term or long term, and whether you need them in Manhattan or Montauk, or any location in between, as well as Westchester county, N.Y. CALLAHEAD can provide you with same day delivery when an immediate delivery of your toilet, sink or guard shed rental is required. Simply call our Toll-Free number (800.634.2085) to speak with one of our friendly customer service representatives!
CALLAHEAD services all equipment a standard of once per week cleaning. Optional servicing is available, from 1 to 7 days a week, for every portable toilet, restroom trailer and porcelain toilet system for office trailers. CALLAHEAD's porta johns, portable bathrooms and restroom trailers are the cleanest, most sanitary, highest quality and overall best portable sanitation equipment available in New York: New York City (Manhattan, Brooklyn, Bronx, Queens, Staten Island), Long Island (Nassau and Suffolk), and Westchester.