The portable toilet is a bright addition to CALLAHEAD's endless assortment of port o potty rentals. A standard self-contained porta potty to rent long term that has a clean and fresh look. And since it comes with CALLAHEAD's supreme cleaning service, your guaranteed that your portable toilet rental will stay clean and fresh.
The port a potty' s Royal Blue color is designed to give your jobsite a sparkling fresh water look. Its sleek appearance and ultra-smooth walls won' t collect dirt and dust, keeping the portable restroom cleaner longer. The porta potty' s color is truly an uplifting addition to the construction site.
The is a two-ply, cross-ribbed wall paneled port a pottie that is virtually indestructible. A double-walled roof is made to withstand the weight of heavy snow and ice. The extra-large 70 gallon holding tank will allow this outdoor portable toilet to handle heavy bathroom usage on the job site.
The has a full sized toilet seat and standard seat height for comfort. A separate non-splash urinal adds to the greater sanitary protection users will receive.
The portapotty' s extra-large, rounded interior lets construction workers who are wearing bulky tools or clothing to move freely even when the portable toilet' s door is closed. Two powerful springs holds the porta pottie' s door shut which prevents unwanted dirt from blowing inside the portable toilet to keep the outdoor portable restroom cleaner.
The has an interior door lock and an exterior occupancy sign for privacy. A dual roll toilet paper dispenser and coat and hat hook are also standard inside port a potty rental. Large wall vents and chimney stack provides a superior ventilation system to eliminate odors from previous users. The polyethylene construction and smooth interior surfaces also won' t absorb dirt or odors so each person at the job site will have a more satisfying trip to this outdoor portable toilet.
CALLAHEAD's extensive selection of portable toilets for rent, gives every one of our customers the most choices for their portable sanitation needs. We have the most variety of affordably priced porta potty rentals available anywhere. The is just one of many of our standard portable toilet to rent that provides a designer look and our superior cleaning service at an affordable price. When you rent from CALLAHEAD, you will have the largest variety of portable toilets to choose from no matter your budget.
The Is Our Royal Blue Colored Standard Portable Toilet To Rent That Provides Portable Outdoor Restroom Facilities To The Jobsite. Its Design Of Clean Fresh Water Will Also Give An Uplifting Look To Your Location.
The Roomy Interior Has A Full Sized Toilet Seat And Non-Splash Urinal. This Durable Port A Potty Is Virtually Indestructible.
The Is Another Of Our Traditional Portable Toilet Rentals That Provides Function, Design, And The Highest Quality At An Affordable Price.
THE
'S OPTIONAL ACCESSORIES TO RENT:

For added convenience, we are proud to offer the below list of optional accessory items for your porta john rental. All of CALLAHEAD's rental accessories for portable toilets were selected to give construction workers and contractors the same comforts and hygienic protection as if they were using an indoor restroom.

CALLAHEAD's portable restroom accessory items are unmatched in the portable toilet industry and include:
THE RENTAL IS IDEALLY SUITED FOR THE FOLLOWING:
Below is a list of locations and jobsites where the standard port a potty is most commonly rented and recommended for.
Construction Job Sites • Contractor Jobsites • Landscaping Jobsites • Farmers Markets • Sports Fields • Park Locations • Bathroom and Restroom Remodeling • Beach Locations • Home Remodeling • Playgrounds • Water Shut Offs • Plumbing Repair Locations • Movie, Film and Commercial Set Locations • New Home Construction and House Renovations • Truck Yards • Marinas • Car Lots • Manufacturing Plants • Bridge Construction • Road and Highway Construction • Parking Lots • Lumber Yards • Municipalities • Remote Locations • Street Construction Job Sites • Parking Garages • Emergency and Disaster Locations • Any Long-term Jobsite Location in need of Outdoor Portable Restroom Facilities
However, this basic portable toilet is an ideal rental for just about any long-term rental location where temporary porta john restroom facilities are needed.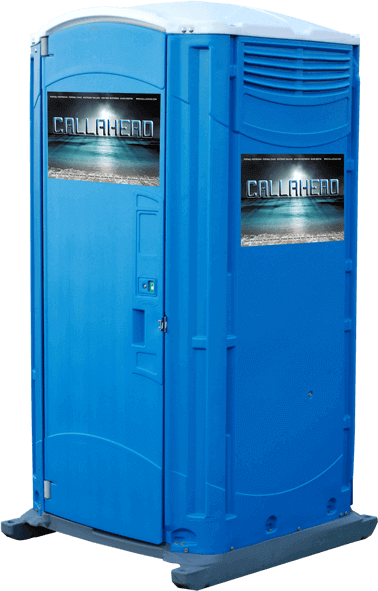 CALLAHEAD is renowned for impeccable service and equipment throughout New York. We service all of New York City' s five boroughs of Brooklyn, Manhattan, Queens, Staten Island and Bronx. We service all of Westchester as well as all of Long Island' s Nassau and Suffolk Counties to Montauk Point. Our fleet of brand new trucks is cleaned to a perfect shine each day so you can be confident that your portable toilet will be cleaned and sanitized perfectly at each service. Our training program for our delivery and service technicians is second to none in the portable sanitation industry. Our uniformed service technicians use only hospital grade disinfectants and cleaning supplies for your hygienic protection. The CALLAHEAD commitment to "Develop and Evolve a Human Necessity" is what makes our customers loyal customers. In business since 1976, it is no wonder CALLAHEAD is the leader in developing and creating the most for the portable sanitation industry than any other company in the world.
For more information about the or any of CALLAHEAD's state-of-the-art equipment, including our very own inventions, as well as the following:
CALLAHEAD's portable water and sewer system, high-rise portable toilets, luxury and short-term restroom trailers, special event portable toilets, standard port a pottys, portable handwashing sinks, porcelain toilet systems for office trailers, security guard booths, ticket booths, holding tanks, fresh water delivery, commercial portable sinks, antibacterial and hand sanitizing stations, long-term and short-term portable toilet rentals, long-term and short-term restroom trailer rentals, portable shower rentals, and portable storage shed rentals...
Please contact one of our expert sales specialists at 800-634-2085 or visit our website for full photos, details and videos of our equipment.