---

CALLAHEAD proudly introduces the to our extensive list of unique porta potties for your long term rental needs. The is a portable toilet rental that blends in with grass, trees, bushes, or any landscape. Whether on a contracting job for new home construction, or house remodeling job, the is the ideal porta potty to rent for residential construction sites. Homeowners and their neighbors will appreciate the because it is not the usual bright colored portable toilet that stands out on a construction site.
This port a potty will definitely be less obvious in the front yard. It operates just like a standard outdoor port a potty, so it very easy to use while also pleasing to look at. The will give you more for your money due to its style, function, and premium cleaning service only CALLAHEAD provides. The is so sophisticatedly designed it will add value to any jobsite. CALLAHEAD's signature signage has even been custom designed in a garden theme. We used various green colors in our artwork to create a forest design to blend in with nature. The sign reveals you rented a CALLAHEAD port a pottie which provides piece of mind that you have the best in portable sanitation for hygienic protection.
The portapotty will not only look great on any lawn, garden, or landscape it also has a very large 80 gallon holding tank to handle heavy bathroom usage. It is constructed of durable polyethylene that is easily cleaned and won't absorb any odors. The porta pottie has a full sized toilet seat and a separate non splash urinal for comfort and cleanliness. It has a covered triple roll toilet paper dispenser, convenience shelf, and mirror to add to the amenities of this outdoor port a potty rental. The door locks from the inside and has a Hover Handle on the door to allow users a "touchless" restroom experience for their privacy and sanitary protection. The exterior door of the porta potty displays an occupancy sign in addition to a gender indicator for additional confidence for privacy. The has a superior ventilation system of several installed air vents plus a chimney stack to eliminate odors quickly even during the warmer summer months. The 's spacious interior offers plenty of headroom to accommodate people of all sizes. It is also wide enough for construction workers wearing bulky tools to move freely inside the porta potty while the door is closed. The 's translucent white roof supplies plenty of natural light.
CALLAHEAD supplies the most variety in portable sanitation equipment because we recognize that no long term portable toilet rental is the same. Every construction site in New York is required to have outdoor portable restroom facilities onsite, but each one of them have differences in their requirements, budgets, and tastes.
THE DESIGN SPECIFICATIONS & FEATURES:
The following is the detailed design specifications for the New York port a john rental.
Portable Toilets Construction/Material – Twin Sheet Polyethylene
Translucent Roof
Port a Potty's Weight - 172 lbs.
Door Opening Height - 76"
Porta John's Exterior Base 43" Width x 48" Depth
Toilet Seat Height – 19.5"
Vent Stack – 4" PVC Plastic
Floor and Ceiling Air Vents
Porta Potty's Holding Tank Volume – 80 Gallons
Color – Green
If you have any additional questions regarding this port a potty's design specifications please contact us at 1-800-634-2085 to speak with a CALLAHEAD portable toilet specialist.
THE DESIGN FEATURES AND ACCESSORIES:
The following is a detailed list of the design features and accessories that come standard inside the New York porta john rental. This traditional portable toilet has all the necessary features for public restroom use with the convenience of a fully mobile short-term portable toilet rental:
Double covered paper holder filled with CALLAHEAD toilet paper • Separate non splash urinal • Translucent roof for bright natural light • Elongated comfortable toilet seat • Occupancy Sign visible to others waiting to use the port a potty • Hover Handle allows users to have a "touchless" restroom experience • Dual enclosed door springs to provide greater safety • Interior lock on port a potty's door to ensure privacy • Portable toilet has excellent ventilation to eliminate odors and creates the chimney effect • A basic portable toilet with more standard features including a mirror, shelf, and gender indicator • Spacious interior for plenty of headroom and width for people of all sizes • CALLAHEAD's designer signage signifies the highest quality and cleanest portable toilets available anywhere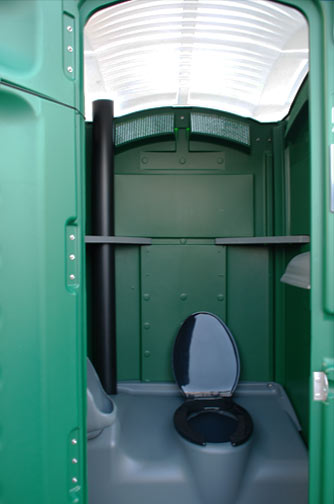 The Green Head Portable Restroom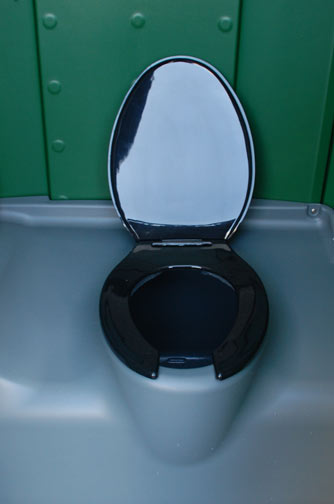 Comfortable, Elongated Toilet Seat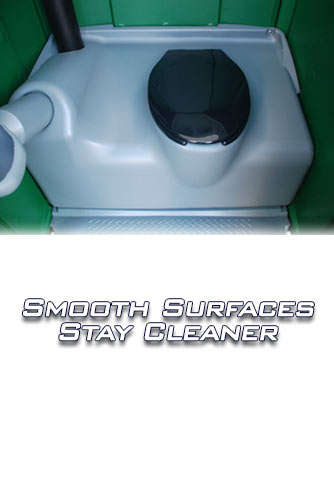 Roomy Interior with Smooth Surfaces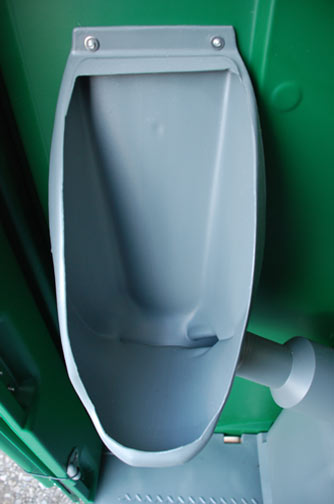 Separate Urinal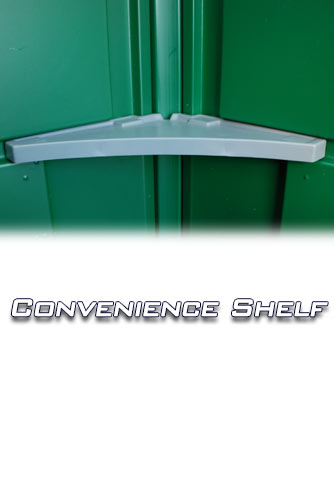 Convenience Shelf 1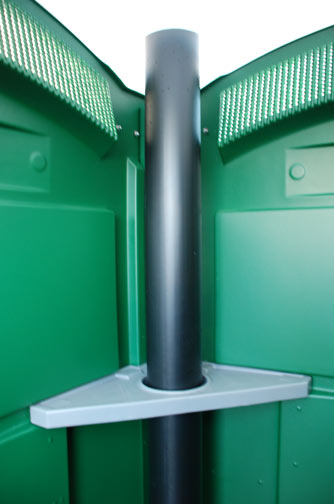 Convenience Shelf 2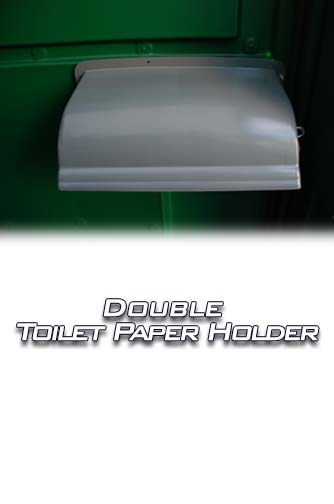 Double Toilet Paper Holder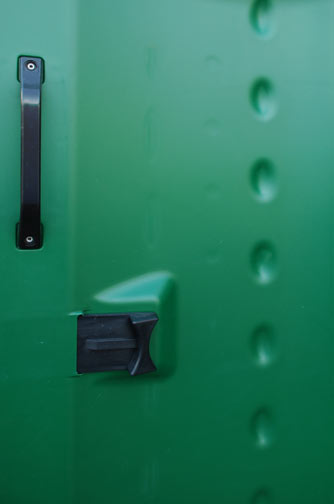 E-Z Locking Mechanism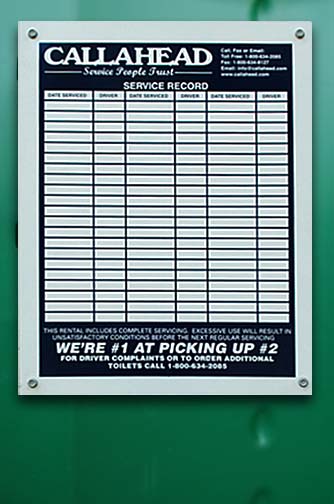 Service Record - Sign In Sheet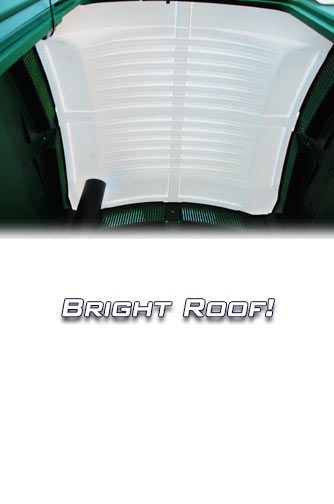 Bright Natural Light Through Roof!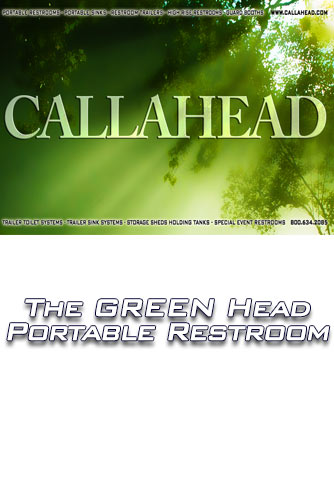 Visually Striking Signage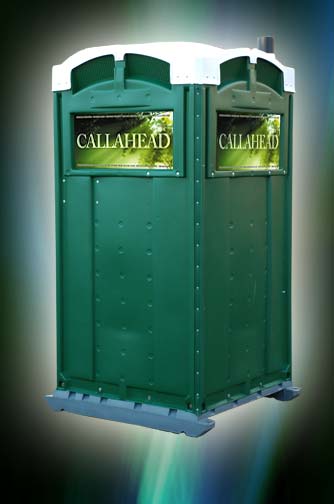 The Green Head Portable Toilet
Previous
Next

THE was designed not only to provide excellence in portable sanitation, but to blend in with the colors of nature. Private homes and residential neighborhoods will particularly choose to have a portable toilet that is less noticeable.
The is the perfect port a pottie to rent for home construction, golf courses, sport fields, playgrounds, parks, farms, and just about any location in need of outdoor portable toilets. Best of all, it won't inhibit the landscape.
THE
'S OPTIONAL ACCESSORIES TO RENT:

For added convenience, we are proud to offer the below list of optional accessory items for your porta john rental. All of CALLAHEAD's rental accessories for portable toilets were selected to give construction workers and contractors the same comforts and hygienic protection as if they were using an indoor restroom.

CALLAHEAD's portable restroom accessory items are unmatched in the portable toilet industry and include:
THE RENTAL IS IDEALLY SUITED FOR THE FOLLOWING:
Below is a list of locations and jobsites where the BLUE WATER TOILET standard port a potty is most commonly rented and recommended for.
Construction Job Sites • Contractor Jobsites • Movie and Commercial Set Locations • New Home Construction and House Renovations • Beach Locations • Park Locations • Parking Garages • Manufacturing Plants • Bridge Construction • Parking Lots • Lumber Yards • Bathroom and Restroom Remodeling • Truck Yards • Marinas • Car Lots • Municipalities • Remote Locations • Street and Road Construction Job Sites • High Rise Building and Apartment Building Construction Jobsites • Any Long-term Jobsite Location in need of Portable Restroom Facilities
However, this basic portable toilet is an ideal rental for just about any long-term rental location where temporary porta john restroom facilities are needed.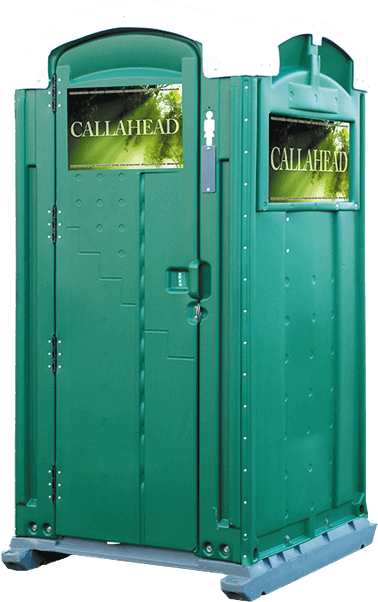 CALLAHEAD services all of New York City's five boroughs of Manhattan, Brooklyn, Queens, Bronx and Staten Island including Long Island's Nassau and Suffolk Counties all the way to Montauk Point, and all of Westchester. CALLAHEAD is known for our signature shiny clean service vehicles. We have the cleanest vehicles on the road which proves we provide the utmost in sanitation service in the field. No other company can match our trained uniformed service technicians who will sanitize and detail your porta potty to a shine at each service. We sanitize each portable toilet with hospital grade disinfectant to where you can not only see, but feel it is clean for your hygienic protection. For almost 40 years CALLAHEAD has been providing New Yorkers the best in portable sanitation equipment that is unmatched anywhere.
For more information about the or any of CALLAHEAD's state-of-the-art equipment, including our very own inventions, as well as the following:
CALLAHEAD's portable water and sewer system, high-rise portable toilets, luxury and short-term restroom trailers, special event portable toilets, standard port a pottys, portable handwashing sinks, porcelain toilet systems for office trailers, security guard booths, ticket booths, holding tanks, fresh water delivery, commercial portable sinks, antibacterial and hand sanitizing stations, long-term and short-term portable toilet rentals, long-term and short-term restroom trailer rentals, portable shower rentals, and portable storage shed rentals...
Please contact one of our expert sales specialists at 800-634-2085 or visit our website for full photos, details and videos of our equipment.