As New York's premier portable sanitation company since 1976, CALLAHEAD has the largest selection of equipment for every portable restroom want, need, and budget.
The is CALLAHEAD's long-term rental and an upgrade from the standard portable toilet. This full-size portable toilet has a flushing toilet and closed cavity tank which workers will appreciate. Constructed of double ply polyethylene for strength, the is not only durable, but it looks great too.
Only CALLAHEAD offers the most selection to give our customers the choice of not only amenities and features but also color and design. We have CALLAHEAD's signature signage on all four walls of the exterior representing the best in portable restrooms adding to its value at the job site.
The has a self-closing spring-loaded door with an interior lock to trigger the exterior occupancy sign for privacy. Once inside you will see it has a spacious interior so even construction workers wearing bulky tools can move comfortably inside the restroom. The full-size comfortable toilet seat has a foot operated flushing system for hands-free operation.
The has an enclosed holding tank and is another upgrade from a basic porta-potty. There is also a separate non-splash urinal. CALLAHEAD also offers adding any of our additional accessory options for even more upgrade features for the most sanitary trip to the restroom. Our accessories, such as our Antiseptic and Hand Towel Dispensers can be installed inside the upon request. The extra-large 70-gallon holding tank will allow for substantial bathroom use on the construction site.
CALLAHEAD's highest sanitary weekly cleaning service is included with every rental. CALLAHEAD's professional service technician will clean and sanitize the with hospital grade cleaners and disinfectants and replenish any needed supplies. Another added feature is CALLAHEAD's sign-in sheet that every CALLAHEAD technician will sign and date at each service.
We also offer any additional cleaning services that can be tailored to your specific location needs. The is delivered by a CALLAHEAD professional uniformed delivery specialist. We offer delivery and service same day as ordered to all of Queens, Manhattan, Staten Island, the Bronx, Brooklyn, Westchester, Nassau, and Suffolk Counties.
---
For those hard to reach locations, our lifting hoist can be added to allow any standard size porta-potty to be easily carried up, down or sideways by connecting to a crane at the job site.
CALLAHEAD's lifting hoist will conveniently move the for building, barge, and bridge construction sites or to any hard to reach location you may need to place a portable toilet.
THE
'S OPTIONAL ACCESSORIES TO RENT:

For added convenience, we are proud to offer the below list of optional accessory items for your porta john rental. All of CALLAHEAD's rental accessories for portable toilets were selected to give construction workers and contractors the same comforts and hygienic protection as if they were using an indoor restroom.

CALLAHEAD's portable restroom accessory items are unmatched in the portable toilet industry and include:
THE RENTAL IS IDEALLY SUITED FOR THE FOLLOWING:
Below is a list of locations and job sites where the standard port a potty is most commonly rented and recommended. However, this basic portable toilet is an ideal rental for just about any long-term rental location where temporary porta john restroom facilities are needed.
Construction Job Sites • Contractor Job Sites • Landscaping Job Sites • Bathroom and Restroom Remodeling • Road Construction • Highway Construction • Building and High-Rise Construction • Heavy-duty Construction Site • Commercial Construction • Engineering Construction • Sewer Construction • Barge Construction • Shopping Centers • Airports • Marine Construction • Tunnel Construction • Plumbing Repair Locations • Movie, Film and Commercial Set Locations • New Home Construction and House Renovations • Truck Yards • Car Lots • Manufacturing Plants • Bridge Construction • Parking Lots and Garages • Lumber Yards • Municipalities • Remote Locations • Emergency and Disaster Locations • Any Long-term Jobsite Location in need of Outdoor Portable Restroom Facilities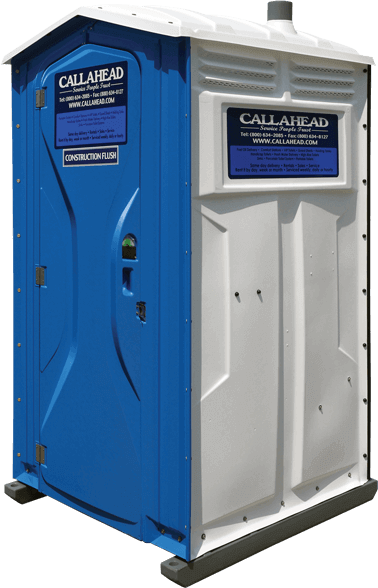 CALLAHEAD is the first in the industry to offer portable toilet selections designed only for women's use at the construction site, and is long overdue in the field. Women on the job site will feel appreciated, and comfortable using a portable toilet designed especially for them. The will deliver anxiety-free restrooms for all employees at the construction site. Only CALLAHEAD delivers the highest quality equipment and guaranteed sanitary service every time.
For more information about the or any of CALLAHEAD's state-of-the-art equipment, including our very own inventions, as well as the following:
CALLAHEAD's portable water and sewer system, high-rise portable toilets, luxury and short-term restroom trailers, special event portable toilets, standard port a pottys, portable handwashing sinks, porcelain toilet systems for office trailers, security guard booths, ticket booths, holding tanks, fresh water delivery, commercial portable sinks, antibacterial and hand sanitizing stations, long-term and short-term portable toilet rentals, long-term and short-term restroom trailer rentals, portable shower rentals, and portable storage shed rentals...
Please contact one of our expert sales specialists at 800-634-2085 or visit our website for full photos, details and videos of our equipment.