The is CALLAHEAD's 28' portable restroom trailer for long-term or short-term rental. Portable restrooms are required for New York City's construction sites, and CALLAHEAD is the preferred portable bathroom trailer rental company of construction site managers, supervisors, and general contractors.
The is also the perfect restroom trailer rental for commercial use, water shut-offs, bathroom rehabs, emergency locations, contracting jobs, government projects and seasonal locations.
The offers comfort and amenities much like that of a home bathroom. Since it is a CALLAHEAD brand, it is also the most sanitary restroom trailer in the industry.
Large construction and commercial buildings are unique. These sites involve excessive time and labor, and construction crews are often based on the building site for several months or even years. Throughout construction, clients, engineers and architects will visit a construction site to monitor its progress, and you will need to provide them with sanitary restroom facilities.
The from CALLAHEAD delivers a professional appearance, and has separate restroom facilities for both men and women. Depending on the job site and location requirements, this unique portable restroom trailer can be sectioned off to provide the women's restroom with three or five private bathroom stalls by easily closing one of two interior doors. Both doors lock on either side for ensured privacy.
The men's restroom has the option of two or four private bathroom stalls. Each bathroom stall has floor to ceiling lockable wood doors with brushed nickel door handles. The stalls are also very deep and spacious with porcelain flushing toilets and stainless steel toilet paper dispensers. The men's restroom is also equipped with two flushing urinals with privacy dividers. Both restrooms have laminate countertops with two porcelain sink basins. Chicago chrome automatic faucets provide both hot and cold running water options. A filled antibacterial soap dispenser and two stainless steel paper towel dispensers are conveniently located in both vanity areas. There is also a large 40" x 30" mirror above the vanity sinks.
You enter the conveniently marked separate men's and women's restroom facilities utilizing heavy duty wide steps with aluminum and steel frames. The stainless steel hand railings have three point support for stability. The staircases are equipped with safety lighting, and there is an exterior lighting system for evening and nighttime use. The self-closing door is equipped with CALLAHEAD's signature signage emulating the best in portable restroom trailers for peace of mind. The interior slip resistant rubber coin flooring supplies superior durability. Waterproof fluorescent 4' light fixtures go throughout the interior. There is also a skylight to provide plenty of natural light inside the restroom trailer and ceiling fan vents if desired. A flush mount thermostat fan-forced heating system will keep the warm in the freezing winter months. While the 13,500 BTU air conditioner will ensure the portable restroom trailer remains comfortable during New York's humid summer months. The 's electricity runs conveniently on a generator or standard 110 Volt outlet.
The is available for delivery throughout all of New York City's five boroughs of Brooklyn, Queens, Manhattan, Staten Island and the Bronx as well as all of Westchester County and Nassau and Suffolk Counties all the way to Montauk Point. Also available is CALLAHEAD's daily, weekly, monthly, or anything in-between hospital grade cleaning service by our professional uniformed service specialist. CALLAHEAD are the innovators of the portable restroom industry, furnishing New York's construction sites and residents with the most sanitary and advanced portable sanitation equipment since 1976.
For more information about the or any of CALLAHEAD's state-of-the-art equipment, including high-rise building porta potties, restroom trailers, VIP portable toilets, standard portable toilets, portable sinks, porcelain toilet systems for office trailers, guard sheds and ticket booth rentals, holding tanks, fresh water delivery, commercial portable sinks, portable hand washing sinks, antibacterial and hand sanitizing dispenser rentals, long-term or short-term portable toilet rentals, long-term or short-term restroom trailer rentals, portable shower rentals, and portable storage shed rentals, please contact one of our expert sales specialists at 800-634-2085 or visit our website for full photos, details and videos of our equipment for all your portable sanitation needs at www.callahead.com.
THE OPTIONAL ACCESSORIES TO RENT:
For added convenience, we are proud to offer the below list of optional accessory items for your rental. All of CALLAHEAD's rental accessories for restroom trailers were selected to provide the same comforts and hygienic protection as if your guests were using their home restroom. CALLAHEAD's portable restroom accessory items are unmatched in the industry and include:
Antiseptic Dispenser can be installed inside your rental, filled with our waterless hand sanitizer. Our waterless hand sanitizer kills 99.9% of germs and bacteria, and meets OSHA and Health Department requirements. The antiseptic dispenser is perfect for sanitary protection before and after using the restroom. The antiseptic dispenser supplies approximately 900 - 1300 uses
GoJo Hand Cleaning Dispenser can be installed inside the and filled with the #1 heavy duty GoJo hand cleaner. GoJo hand cleaner is popular among auto mechanics for its ability to easily break down grease and grime. GoJo Hand Cleaner has become popular with construction workers and contractors to remove acids, cement and other solvents from hands
Headliner Toilet Seat Cover Dispenser can be installed inside each stall of the , filled with 250 toilet seat covers so every user may have a clean, dry and sanitary toilet seat.
Headmist Time Released Air Freshener can be installed inside the that will release a clean fresh scent automatically.
Professional Uniformed Restroom Attendant is available to maintain cleanliness of the during a special event so you won't have to worry. Our trained professional portable restroom attendant will clean your restroom trailer after each use to ensure every guest is guaranteed a clean visit to the . Uniformed restroom attendants are recommended when renting portable restroom trailers for a special even with large crowds; if your special event is either dressy, formal or black tie attire, such as a wedding
Professional Hospital Grade Cleaning Service is available daily, weekly, monthly and everything in-between to clean and sanitize the restroom trailer. Our professional uniformed service technician will re-stock all necessary service items and amenities at each service.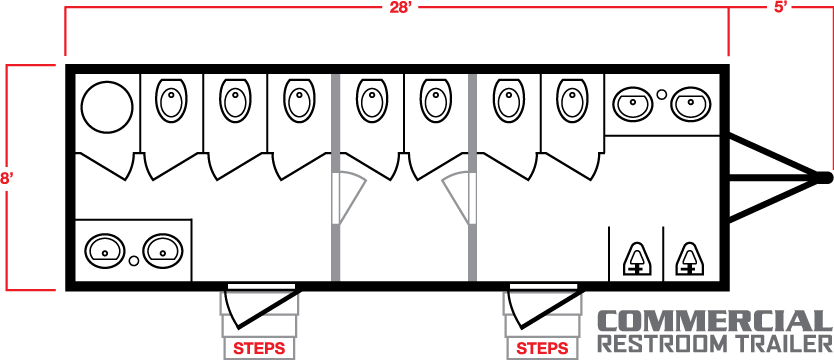 THE COMMERCIAL RESTROOM TRAILER'S DESIGN FEATURES & ACCESSORIES:
The exterior has a shiny bright white finish • Height - 12' • Overall box length - 28' • Overall length with tongue - 33' • Width 8' • Holding tank capacity - 900 gallons • 0.75" garden hose connection with pressure regulator for fresh water hookup if needed • Exterior lighting • Enter the restroom trailer via heavy duty wide steps with stainless steel frames • Aluminum handrails with three point support for strength •Staircase safety lighting • Separate marked entrance for the men's and women's restrooms • Rubber coin commercial flooring • Laminate vanity countertops • Two porcelain sink basins in both the men's and women's restrooms • Chicago automatic faucets with hot and cold running water • Installed stainless steel dispensers filled with antibacterial soap that kills 99.9% of germs and bacteria in both the men's and women's vanity areas • Wall mounted stainless steel filled two fold hand towel dispensers in both men's and women's restrooms • 40" X 30" vanity mirror with fluorescent lighting • Storage area beneath the vanity for extra supplies • Private deep and spacious bathroom stalls have flushing porcelain toilet bowls • Women's restroom has three or optional five private bathroom stalls • Men's restroom has two or optional four private bathroom stalls • Two interior double locking doors easily section off the men's and women's restrooms to add/reduce stalls in each restroom • Two flushing porcelain urinals (Men only) • Filled toilet paper dispensers are in each private bathroom stall • Flush mount fan-forced heaters and two 13,500 BTU air conditioning systems are thermostat controlled for maximum comfort • Lighting - waterproof fluorescent 4' light fixtures • Electric - runs on a generator or standard 110 volt • Sky lights for natural light • Five ceiling vents with fans for superior ventilation • Handles bathroom usage of up to 2,300 uses • Professionally set up and fully operational in approximately 30 minutes or less
IDEALLY SUITED FOR THE FOLLOWING:
Commercial Use • Long-term or Job-site rental • Construction Sites • Sporting Events • Park & Community Events • Emergencies & Disaster Locations • Remote Locations • Concerts • Marathons • Parades, Fairs, Carnivals & Bazaars • Restroom Remodeling • New Home Construction and House Renovations • High-Rise Building Construction Sites • Commercial Bathroom Renovations • Manufacturing Plants • Government Events • Truck Yards • Movie, Commercial and Photo Shoot Locations • Water Shutoffs • Special Events • Building Renovations • Contracting Job Sites • Seasonal Locations
THE COMMERCIAL RESTROOM TRAILER:
The is a CALLAHEAD long-term or short-term portable bathroom trailer rental. Ideally suited for commercial locations and special events, this restroom trailer delivers separate men's and women's facilities. The women's restroom has three or optional five fully enclosed private bathroom stalls. The men's side is equipped with two or optional four private bathroom stalls. The men's restroom also has two flushing urinals with dividers. Two porcelain sink basins, filled antibacterial soap dispenser and two hand towel dispensers at both the men's and women's vanity areas delivers a sanitary and homelike restroom experience.