The is CALLAHEAD's New York short-term portable restroom rental to accommodate any social event. The is a German made porta potty that will deliver clean and sanitary restroom facilities when you need it.
With its distinct European design and CALLAHEAD's artistic signage that was created especially for the , it also brings a European flair to any setting. This is a standard size portable restroom equipped with a full-size toilet seat, separate urinal, and dual covered toilet paper dispenser.
Because this porta potty is a CALLAHEAD brand, guests will appreciate that you have provided them with the world's best portable restroom facilities. Whether your gathering is a large catered event or an intimate social gathering, the will supply guests with privacy and comfort.
The 's spring loaded door locks from the inside and activates the exterior occupancy sign so every user feels confident of a private trip to the restroom. The has a very spacious interior along with an exterior that is sure to add style to any setting.
The exterior CALLAHEAD signage elegantly displays images of "Water Lilies" by Claude Monet and "Starry Night" by Vincent Van Gogh. Only CALLAHEAD turns a human necessity into works of art. It is just another way CALLAHEAD delivers the highest value to our customers.
The has smooth and durable polyethylene surfaces that wipe easily clean and won't absorb odors. The well-ventilated interior also eliminates any odors from previous users. A combination floor and molded-in wall vents promote a continuous air flow inside the restroom.
The well-appointed toilet seat is at the furthest point from the urinal. The urinal drains down the vent pipe to eliminate any odors from remaining inside the porta potty. These unique features ensure a pleasant trip to the portable restroom for every guest.
No matter if your event is a fancy celebration or an informal family reunion, the will bring international panache to your venue. CALLAHEAD offers additional amenity options to compliment any rental such as, our HEADLINER toilet seat covers, HEADMIST automatic air fresher, and our ANTISEPTIC dispenser.
We also have the option of a CALLAHEAD uniformed restroom attendant to keep your portable toilet in brand new condition throughout your entire event. A CALLAHEAD sales specialist will assist with any additional amenities or requests to ensure you receive the perfect equipment for your event.
THE
PORTA POTTY'S OPTIONAL ACCESSORIES TO RENT:

For added convenience, we are proud to offer the below list of optional accessory items with your . All of CALLAHEAD's rental accessories for portable toilets were selected to give users the same comforts as if they were using an indoor restroom.

CALLAHEAD's portable restroom accessory items are unmatched in the portable toilet industry, and include:
Antiseptic Dispenser can be installed inside your

filled with our waterless hand sanitizer. Our waterless hand sanitizer kills 99.9% of germs and bacteria and meets OSHA and Health Department requirements. The antiseptic dispenser is perfect for sanitary protection before and after using a porta potty. The antiseptic dispenser supplies approximately 900 – 1300 applications and is 100% maintained and refilled when needed by CALLAHEAD with its rental.
Paper Towel Dispenser can be installed inside your

porta potty rental and filled with 250 sheets of double fold paper towels. The Paper Towel Dispenser is most commonly rented with the Antiseptic Dispenser or Go Jo Hand Cleaner to clean off any dirt or solvents that are otherwise hard to remove. Paper Towel Dispenser is maintained and refilled 100% by CALLAHEAD with its rental.
Headliner Toilet Seat Covers Dispenser can be installed inside the

and is filled with 250 toilet seat covers so every user may have a clean, dry and sanitary toilet seat
Headmist Time Released Air Freshener can be installed inside the

that will release a clean fresh scent automatically.
Containment Tray is highly recommended to accompany every portable toilet rental to assist in meeting local, state, and federal run-off regulations. Any fluids that may leak from the porta potty will conveniently drain towards the rear of the tray to a pump out location for our uniformed service technician to remove when servicing the portable toilet.
Professional Uniformed Portable Restroom Attendant is available to maintain cleanliness of your portable toilet rental during your special event so you don't have to. Our trained professional portable restroom attendant will clean your porta potty rental after each user to ensure every guest is guaranteed a clean visit to the

.
Uniformed restroom attendants are recommended:
When renting a large number of porta potties;
when renting portable restroom trailers;
if you have a large number of guests and rent a small number of portable toilets;
if your special event is corporate, dressy, formal and blacktie social gatherings;
when alcohol is being consumed at your special event.
THE RENTAL IS IDEALLY SUITED FOR THE FOLLOWING:
The following is a list of special events where the New York standard porta pottie is most commonly rented.
However, this portable toilet is the perfect rental for just about any outdoor and indoor special event with limited restroom facilities or any public location where portable restroom facilities are needed.
Weddings, Bridal & Baby Showers • Bar Mitzvah's & Bat Mitzvah's • Communion and Christening Parties • Graduation Parties and Ceremonies • Bachelor and Bachelorette Parties • School, College and University Special Events & Ceremonies • Special Outdoor Ceremonies • Fundraisers, Benefits and Charity Events • Backyard Parties, Private House Parties & Barbeques • Holiday Parties • Concert Events • Family Reunions • Birthday Parties • Remote Locations • Sporting Events • Park and Community Events • Water Shutoffs • Emergency or Disaster Relief Situations • Political Events • Parades, Carnivals & Bazaars • Bathroom Remodeling • Block Parties • Marathons • Festivals • Community Events • Movie, Television and Photo Shoot Locations • Any Outdoor Event • Indoor Events with Limited Restroom Facilities Available • Beach Locations • Marinas • Restaurants, Bars and Pubs in need of additional restroom facilities • Corporate Functions and Events • Any location in need of a portable toilets.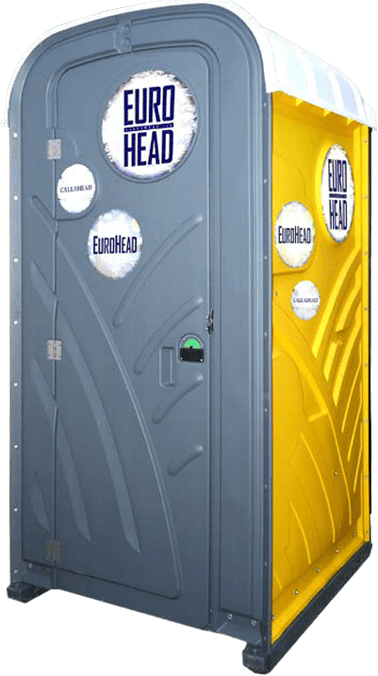 The is a portable toilet for short-term rental that will bring a European flair to your special event. Its roomy interior has a lockable door with exterior occupancy sign, full-size toilet seat, separate urinal and dual covered toilet dispenser to deliver privacy and comfort for every user.
The Claude Monet and Vincent Van Gogh inspired CALLAHEAD Euro-inspired signage adds to the artistic design of the . We combined necessity with design to make your event even more special.
Since 1976 CALLAHEAD has been delivering the greatest portable toilet facilities to New York. We take pride in ensuring every customer not only has the cleanest portable toilets but also a stress-free experience from start to finish. Only CALLAHEAD delivers our equipment in one of our clean like new delivery vehicles. Our uniformed delivery and service technicians will set up the at your location with professionalism and care.
CALLAHEAD provides same-day delivery to New York City's five boroughs of Queens, Manhattan, Brooklyn, Staten Island, and the Bronx, and all of Westchester, Nassau, and Suffolk Counties. We have the largest variety of portable toilets and restroom trailers to accommodate any event need, style, and budget.
No matter if you require one port-a-potty or hundreds of porta potties, CALLAHEAD has the experience, selection and commitment to ensure you have the best experience possible with every CALLAHEAD rental.
For more information about the or any of CALLAHEAD's state-of-the-art equipment, including our very own inventions, as well as the following:
CALLAHEAD's portable water and sewer system, high-rise portable toilets, luxury and short-term restroom trailers, special event portable toilets, standard port a pottys, portable handwashing sinks, porcelain toilet systems for office trailers, security guard booths, ticket booths, holding tanks, fresh water delivery, commercial portable sinks, antibacterial and hand sanitizing stations, long-term and short-term portable toilet rentals, long-term and short-term restroom trailer rentals, portable shower rentals, and portable storage shed rentals...
Please contact one of our expert sales specialists at 800-634-2085 or visit our website for full photos, details and videos of our equipment.