The is a 4-station restroom trailer designed with four private restrooms for guaranteed privacy for every user. This is a CALLAHEAD restroom trailer with two private women's restrooms and two private men's facilities. The interior homelike design delivers a comfortable and sanitary bathroom experience. The is for any longterm or short-term rental need. A porcelain flush toilet, handwashing sink, and vanity area are in each private restroom, along with thermostat heat and air conditioning, making the a winning solution for wherever restroom trailers are needed. Along with CALLAHEAD's hospital-grade cleaning service, innovative equipment, and nearly 50 years of experience we are unmatched in the portable sanitation industry.
The 's bright white exterior with outdoor lighting will look crisp and clean in any location and is perfect for evening use. Users can enter each of the four spacious restrooms utilizing a sturdy floating slip-proof staircase with an aluminum handrail. Each restroom door has a gender sign on the exterior for convenience. In addition, CALLAHEAD's signature signage, "CALLAHEAD Luxury Restroom Trailers", will indicate the very best restroom trailers for peace of mind for a pleasant trip to the restroom.
The can be rented both long-term and short-term. Restaurants, marinas, beaches, pools, parks, bathroom renovations, emergencies, schools, marathons, sporting events, construction, train stations, airports, special events, and seasonal locations are just a small sample of places where the is commonly rented. The interior has a home-style design with walls painted two shades of gray with white wood trim at the base, crown, 3-foot height, around the door, and mirror in each restroom.
The spacious interior of the four private restrooms include a porcelain flush toilet bowl for easy hands-free operation. The doubleroll toilet paper dispenser is wall mounted and conveniently located near the toilet seat. The vanity's stainless steel sink basin delivers hot and cold running water from the single lever auto shut-off Chicago brand faucet. The vanity area includes a mirror and wall-mounted towel dispenser. Above the mirror are modern-style sconces to add to the décor. There is also a built-in trash receptacle in the vanity to help keep the restroom clean.
All four restrooms have identical amenities inside. An internal locking system on each restroom door triggers an exterior occupancy sign for assured privacy. As an added feature, a vacant sign will illuminate to conveniently show availability when any restroom is not in use. Armstrong wide planked wood laminate flooring extends throughout all four restrooms adding to the warmth of the restroom's design. LED ceiling lighting brightens up the entire restroom. There is also storage space available below the sinks for extra supplies.
The is equipped with a thermostat heat and air conditioning system that will provide a comfortable temperature any time of year. Also, the women's and men's restrooms have a ceiling vent to eliminate odors from previous users. The conveniently runs from a generator or standard 110 Volt outlet.
A CALLAHEAD professional uniformed delivery specialist will set up the at your location. Set up will take approximately 30 minutes to be ready for use. The can be easily connected to a garden hose. If no water is available, CALLAHEAD can provide one of our freshwater systems to accompany any restroom trailer.
Cleaned and sanitized with only hospital-grade cleaners and disinfectants, CALLAHEAD delivers peace of mind that you have the most sanitary restroom trailers available anywhere. CALLAHEAD's cleaning service is second to none and available daily, weekly, monthly or tailored to your needs for long-term or short-term rentals. Our uniformed service technicians will clean and sanitize the with hospital grade cleaners and disinfectants and restock the with supplies. CALLAHEAD also offers the option of a fully uniformed restroom attendant to keep the in perfect condition throughout any event. All of CALLAHEAD's restroom attendants arrive in uniform and will ensure the stays clean and sanitary for every user
The is available for delivery throughout all of New York City's five boroughs of Brooklyn, Queens, Manhattan, Staten Island, and the Bronx, as well as all of Westchester County and Nassau and Suffolk Counties to Montauk Point.
THE OPTIONAL ACCESSORIES TO RENT:
For added convenience, we are proud to offer the below list of optional accessory items for your rental. All of CALLAHEAD's rental accessories for restroom trailers were selected to provide the same comforts and hygienic protection as if your guests were using a home restroom. CALLAHEAD's portable restroom accessory items are unmatched in the industry and include:
Antiseptic Dispenser can be installed inside your rental, filled with our waterless hand sanitizer. Our waterless hand sanitizer kills 99.9% of germs and bacteria, and meets OSHA and Health Department requirements. The antiseptic dispenser is perfect for sanitary protection before and after using the restroom. The antiseptic dispenser supplies approximately 900 - 1300 uses
The Watershed 16 / The Watershed 25 is a CALLAHEAD invention by President and CEO Charles W. Howard to deliver fresh non-potable water to any remote location. Whether you require water for long-term jobs or short-term special events a CALLAHEAD Watershed will supply the with fresh non-drinkable water when a location does not have any domestic plumbing or water supply on-site.
GoJo Hand Cleaning Dispenser can be installed inside the and filled with the #1 heavy duty GoJo hand cleaner. GoJo hand cleaner is popular among auto mechanics for its ability to easily break down grease and grime. GoJo Hand Cleaner has become popular with construction workers and contractors to remove acids, cement and other solvents from hands
Headliner Toilet Seat Cover Dispenser can be installed inside each stall of the , filled with 250 toilet seat covers so every user may have a clean, dry and sanitary toilet seat.
Headmist Time Released Air Freshener can be installed inside the and will release a clean fresh scent automatically.
Professional Uniformed Restroom Attendant is available to maintain cleanliness of the during a special event so you won't have to worry. Our trained professional portable restroom attendant will clean your restroom trailer after each use to ensure every guest is guaranteed a clean visit to the . Uniformed restroom attendants are recommended when renting portable restroom trailers for a special even with large crowds; if your special event is either dressy, formal or black tie attire, such as a wedding
Professional Hospital Grade Cleaning Service is available daily, weekly, monthly and everything in-between to clean and sanitize the . Our professional uniformed service technician will re-stock all necessary service items and amenities at each service.
THE DESIGN FEATURES AND ACCESSORIES:
The exterior has a shiny bright white finish • Height – 12' • Overall box length – 14' • Overall length with tongue – 19' 8" • Width Box - 8' 6" • Four separate restrooms with separate entrances • Two men's restrooms • Two women's restrooms • Four toilets (one in each restroom – two men's, two women's) • Four vanity sinks (one in each restroom – two men's, two women's) • ¾" garden hose connection with pressure regulator for fresh water hookup if needed • Exterior lighting • Enter the restroom trailer via heavy duty wide steps with aluminum and steel frames • Aluminum handrail with two point support for strength for each private bathroom • Wide Armstrong laminate wood floors • Vanity countertops are a faux Corian marble • Stainless steel sink in all four restrooms • Stainless steel single lever Chicago brand faucet provide hot and cold running water • Wall mounted hand towel dispenser in each restroom above the vanity • Full vanity mirror with light sconce above the mirror • A built-in trash receptacle in the vanity countertop • Storage area for extra supplies • Hands free porcelain flush toilet bowl in each of the four restrooms • Double toilet paper dispenser in each restroom • Dometic air conditioning system – 15,000 BTU • Braun fan forced toe kick heater - 750 Watt • Central music system • Lighting –LED in the ceilings and over the vanity mirrors • Electric – runs on a generator or standard 110 volt • Ceiling vents with fans for superior ventilation in each restroom • Handles bathroom usage by hundreds of people at any event • Professionally set up and fully operational in approximately 30 minutes or less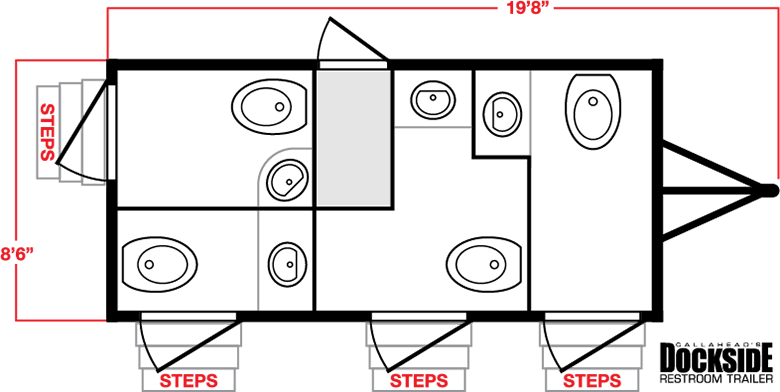 IDEALLY SUITED FOR THE FOLLOWING:
Long-term and Short-term Rental • Job Sites • Construction Sites • Contracting Jobs • Community • Arena, Stadium and Coliseum Contracting and Construction • Emergencies & Disaster Locations • Building Contracting and Construction • High-Rise Construction Sites • Water Shut Offs • Camp Grounds • Beach Locations • Pool Areas • Home Remodeling Jobs • Bathroom Remodeling and Repair • Sporting Event Locations • Marathons • Boot Camp Locations • Military Locations • Marinas • Restaurants • Seasonal • Concerts • Churches and Synagogues • Tennis Courts • Golf Courses • Football and Soccer Fields • Basketball Courts • National and Community Parks • Hockey and Stating Rinks • Beach Clubs Commercial Use • Sporting Events • Shopping Malls • Water Shut-offs • Government Projects • Manufacturing Plants • Building Bathroom Renovations • Commercial Restroom Remodeling • Schools, Colleges and Universities • Movie, Commercial and Photo Shoot Locations • Truck Yards • Weddings • Receptions • Corporate Parties • Malls and Shopping Centers • Transportation Centers • Business Functions • Concert Events • Horse Shows & Events • Awards Banquets • Fundraisers • Black-Tie Events • Film and Movie Productions • White Tie Events • Galas • Engagement Parties • Bar Mitzvahs and Bat Mitzvahs • Charity Balls • VIP Events • Bridal and Wedding Showers • Christenings & Baptisms • Baby Showers • Charity Events • Red Carpet Events • Holiday Parties • Communion Parties • Formal Parties and Events • Benefits • Birthday Party Celebrations • Graduation Ceremonies • Festivals and Fairs • Block Parties • Graduation Parties • Cocktail Parties • Holiday Parties • Celebrity Functions • White Tie Parties • Semi-Formal Parties • Award Ceremonies • Ultra Formal Events • Any Special Ceremonies • Any Short-term and Long–term location in need of restroom facilities
For more information about the or any of CALLAHEAD's state-of-the-art equipment, including our very own inventions, as well as the following:
CALLAHEAD's portable water and sewer system, high-rise portable toilets, luxury and short-term restroom trailers, special event portable toilets, standard port a pottys, portable handwashing sinks, porcelain toilet systems for office trailers, security guard booths, ticket booths, holding tanks, fresh water delivery, commercial portable sinks, antibacterial and hand sanitizing stations, long-term and short-term portable toilet rentals, long-term and short-term restroom trailer rentals, portable shower rentals, and portable storage shed rentals...
Please contact one of our expert sales specialists at 800-634-2085 or visit our website for full photos, details and videos of our equipment.