When emergencies strike CALLAHEAD's LATRINE Portable Toilet will deliver clean and sanitary restrooms to the front lines. The LATRINE is highly recommended by CALLAHEAD for emergency locations including natural or other disasters, military situations, pop-up hospitals, medical facilities, and testing locations for COVID-19. The LATRINE Portable Toilet is a CALLAHEAD brand that will accommodate any emergency or commercial job site with the cleanest portable toilets available. Disaster locations usually require same day delivery and on-demand frequent cleaning services. CALLAHEAD has been in business for over 45 years and we are the definitive experts in the industry. Our same-day delivery and around the clock cleaning services are ready to serve any New York crisis. We clean and sanitize with only hospital grade cleaners and disinfectants for the utmost sanitary conditions for your hygienic protection. CALLAHEAD is the most trusted portable toilet company in New York with the largest variety of products to serve every portable sanitation need.
The LATRINE rental promises to deliver a clean and durable portable toilet. The grey and white coloring of the LATRINE Portable Toilet will look great in any location. The LATRINE is constructed of high-density polyethylene for strength. The CALLAHEAD specialty designed signage on the exterior epitomizes the very best in portable toilet services. A comfortable, roomy interior along with high flow molded-in vent screens allow for continuous airflow to reduce odor. The interior provides a convenient coat and hat hook, corner shelf and a gender friendly hover handle. The toilet seat is positioned precisely to reduce visibility to the urinal and reduce urine odor. The back corner vent stack not only efficiently vents odor from the highest point of the tank but also creates a roomier feel.
Do not let the name of this portable toilet fool you. Yes, the LATRINE porta potty is recommended for emergency locations, and since it is also a CALLAHEAD brand you are renting the cleanest and most sanitary portable toilets in the industry. Now more than ever sanitary conditions are a must, especially with portable restrooms and potable sanitation equipment. CALLAHEAD's world renowned weekly cleaning service is provided with every long-term LATRINE rental. CALLAHEAD guarantees hospital grade cleaning and disinfecting by trained uniformed service technicians of all of our equipment upon delivery and at every cleaning service. Our hospital grade cleaners and disinfectants kills 99.9% of germs and bacterial including the coronavirus, H1N1, SARS, E.Coli, the common cold, flu and other dangerous viruses, germs and bacteria.
CALLAHEAD is a New York company serving only New York. Our team of over 250 employed New Yorkers are ready to provide you with the greatest portable toilet service anywhere. With over 125 vehicles rolling daily throughout New York City's five boroughs and all of Westchester, Nassau and Suffolk Counties you are rest assured of prompt reliable service no other portable toilet company can provide.
Once you open the spring-loaded door, you can see the LATRINE Portable Toilet has a very spacious interior. The door locks from the inside that will trigger an exterior occupancy sign for privacy. The interior of the LATRINE is extremely spacious with a full sized comfortable toilet seat. A covered double toilet paper dispenser is conveniently located near the toilet seat and filled with CALLAHEAD brand toilet paper. An extra-large open cavity 65-gallon holding tank will provide substantial bathroom use. The separate non-splash urinal is located at the furthest point from the toilet seat, something every user will appreciate. The urinal is also connected to a vent pipe that will prevent odors from lingering inside the portable toilet. A coat and hat hook on the interior of the LATRINE will provide users a place to hang their coat or tool belt. A convenience shelf is also provided to place personal items. On the interior door is a small mirror and a hover handle. The smooth interior wipes easily clean will not absorb odors.
The LATRINE also includes a chimney stack along with molded-in vent screens to provide excellent air flow and release any odors from previous users. The LATRINE's bright white translucent roof delivers bright natural light inside the portable toilet.
The LATRINE long-term portable toilet rental promises to provide the maximum value with its rental. A CALLAHEAD uniformed delivery specialist will deliver the LATRINE and place it in the location you select. CALLAHEAD's weekly cleaning service is included with every long-term rental by a trained uniformed service technician. At each cleaning service, our professional technician will arrive in one of CALLAHEAD's shiny signature tank trucks to clean and sanitize the LATRINE with only hospital grade cleaners and disinfectants plus re-stock toilet paper supplies. The technician will also sign and date the CALLAHEAD sign-in sheet installed inside every LATRINE Portable Toilet.
The LATRINE is a military and disaster relief portable toilet available for same day delivery. It is also a popular rental for construction crews. We service all of New York City's five boroughs of Manhattan, Brooklyn, Queens, the Bronx and Staten Island, Westchester County and all of Nassau and Suffolk Counties on Long Island.
The LATRINE Portable Toilet OPTIONAL ACCESSORIES TO RENT:
For added convenience, we are proud to offer the below list of optional accessory items with your LATRINE port a john rental. All of CALLAHEAD's rental accessories for portable toilets were selected to give construction workers and contractors the same comforts and hygienic protection as if they were using an indoor restroom. CALLAHEAD's portable restroom accessory items are unmatched in the portable toilet industry and include:
Antiseptic Dispenser can be installed inside your LATRINE port a san filled with our waterless hand sanitizer. Our waterless hand sanitizer kills 99.9% of germs and bacteria and meets OSHA and Health Department requirements. The antiseptic dispenser is perfect for sanitary protection before and after using a porta potty. The antiseptic dispenser supplies approximately 900 – 1300 applications and is 100% maintained and refilled when needed by CALLAHEAD with its rental • GoJo Hand Cleaning Dispenser can be installed inside the LATRINE portajohn and filled with the #1 heavy duty GoJo hand cleaner. GoJo hand cleaner is popular among auto mechanics for its ability to quickly break down grease and grime. GoJo Hand Cleaner has become popular with construction workers and contractors to remove acids, cement and other solvents from hands. 100% maintained and refilled when needed by CALLAHEAD with its rental • Paper Towel Dispenser can be installed inside your LATRINE port a potty rental and filled with 250 sheets of double fold paper towels. The Paper Towel Dispenser is most commonly rented with the Antiseptic Dispenser or Go Jo Hand Cleaner to clean off any dirt or solvents that are otherwise hard to remove. Paper Towel Dispenser is maintained and refilled 100% by CALLAHEAD with its rental • Headliner Toilet Seat Cover Dispenser can be installed inside the LATRINE portapotty filled with 250 toilet seat covers so every user may have a clean, dry and sanitary toilet seat. Headliners are refilled when needed and 100% maintained by CALLAHEAD when rented • Headmist Time Released Air Freshener can be installed inside the LATRINE port a john that will release a fresh clean scent automatically. The Headmist is refilled when needed and 100% maintained by CALLAHEAD with its rental • Containment Tray is highly recommended to accompany every portable toilet rental to assist in meeting local, state, and federal run-off regulations. Any fluids that may leak from the porta potty will conveniently drain towards the rear of the tray to a pump out location for our uniformed service technician to remove when servicing the portable toilet.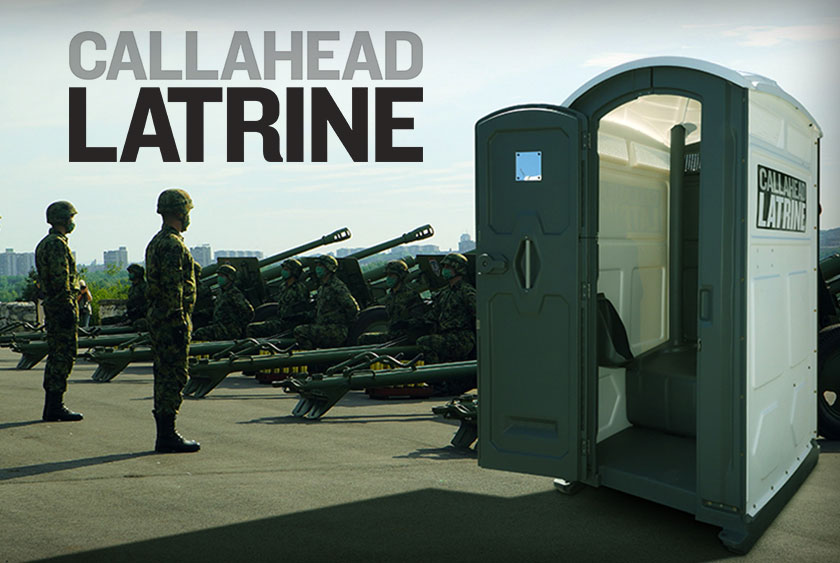 THE LATRINE PORTABLE TOILET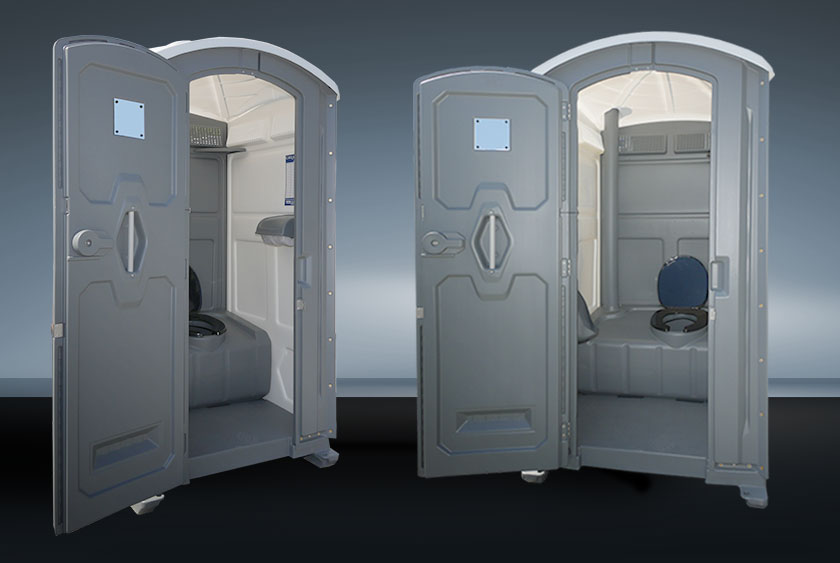 THE LATRINE IS HIGHLY RECOMMENDED FOR EMERGENCY LOCATIONS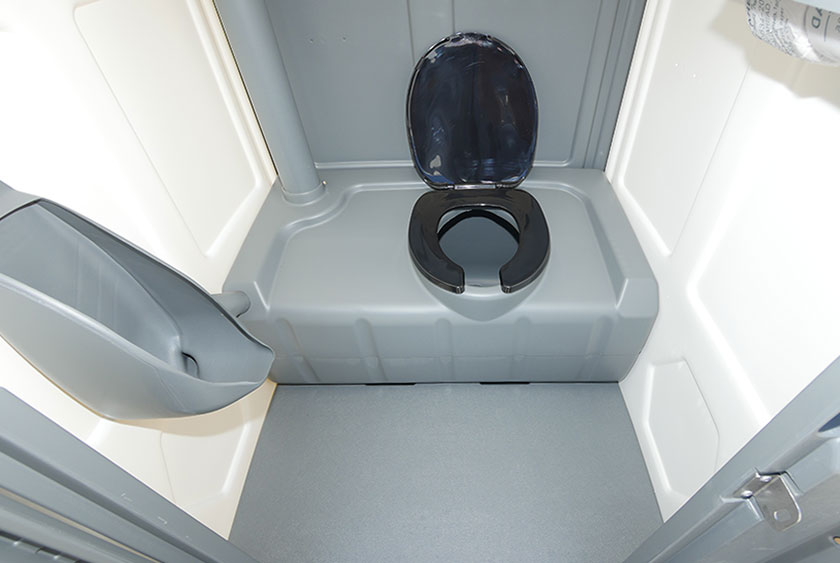 LARGE COMFORTABLE INTERIOR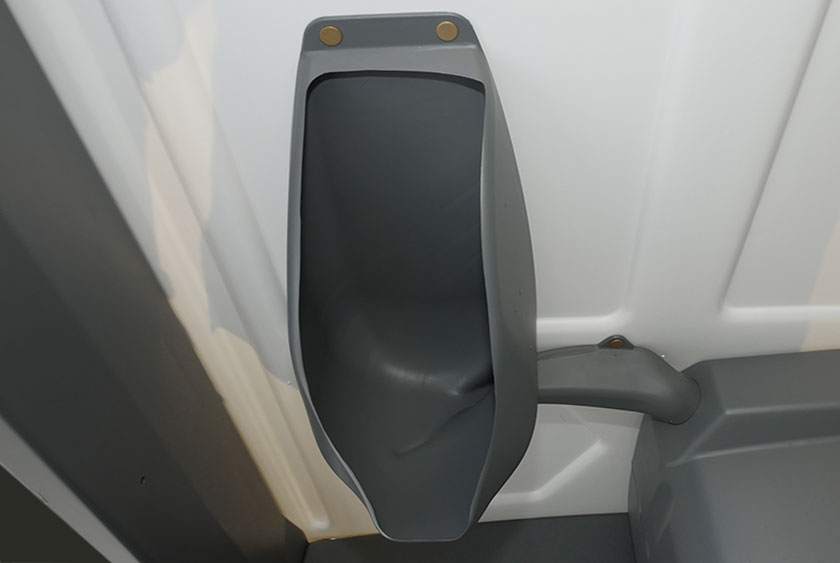 THE LATRINE HAS A SEPARATE NON-SPLASH URINAL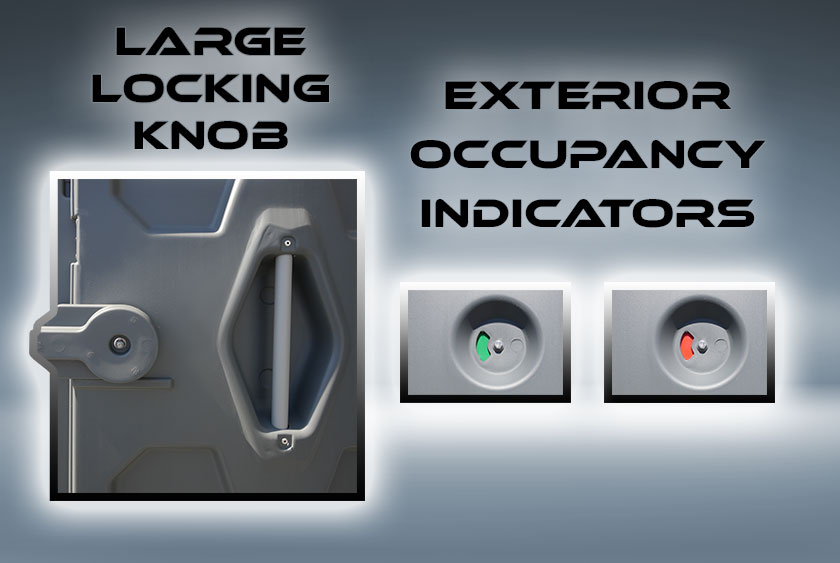 LARGE LOCKING KNOB AND HAND GRIP, WITH OUTSIDE OCCUPANCY INDICATORS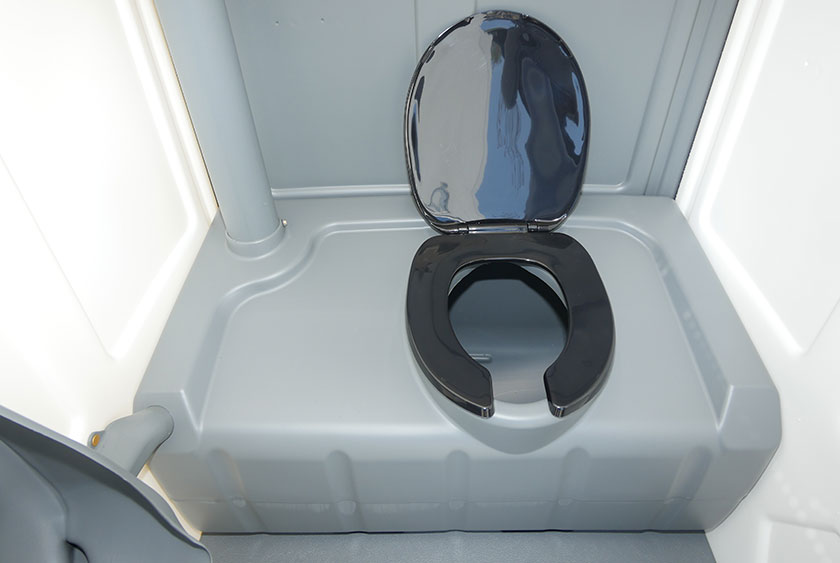 FULL SIZED TOILET SEAT FOR MAXIMUM COMFORT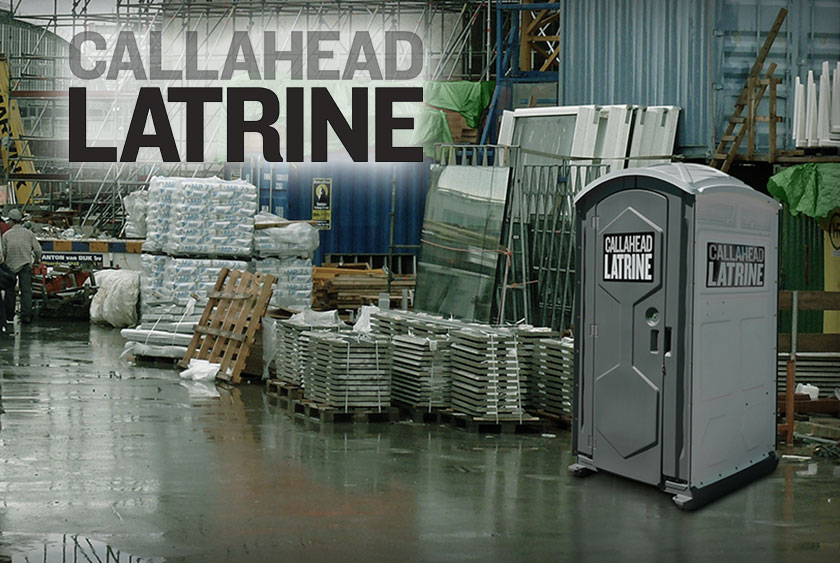 THE LATRINE PORTABLE TOILET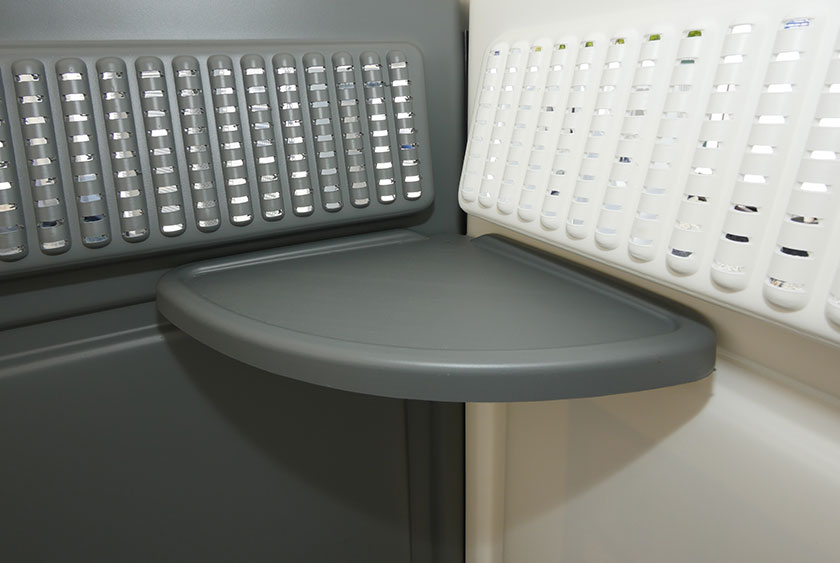 BUILT IN CONVENIENCE SHELF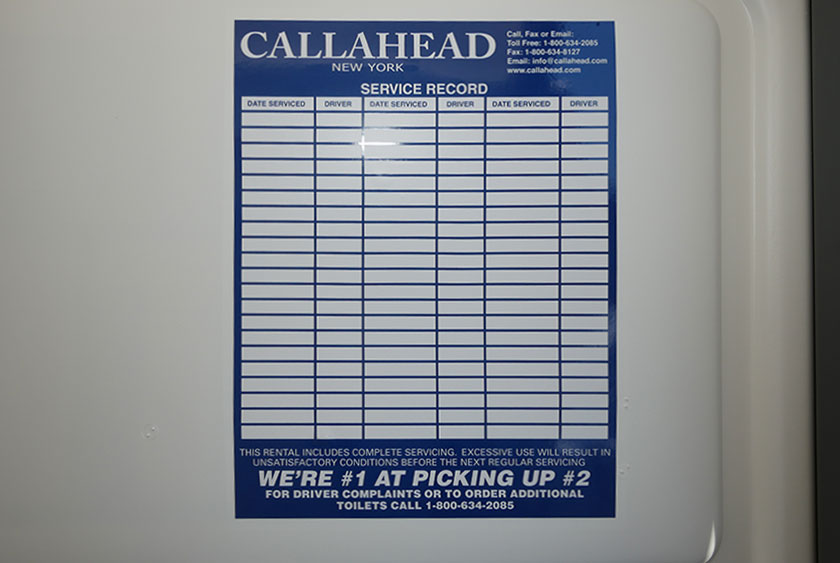 CALLAHEAD SERVICE SIGN IN SHEET PROVIDES SERVICING RECORD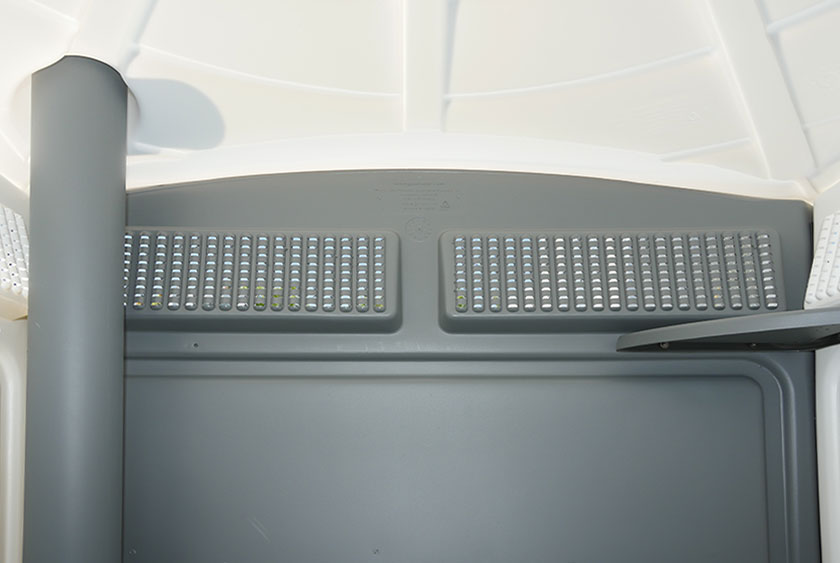 THE LATRINE IS WELL VENTILATED ON 3 SIDES
COVERED DUAL TOILET PAPER HOLDER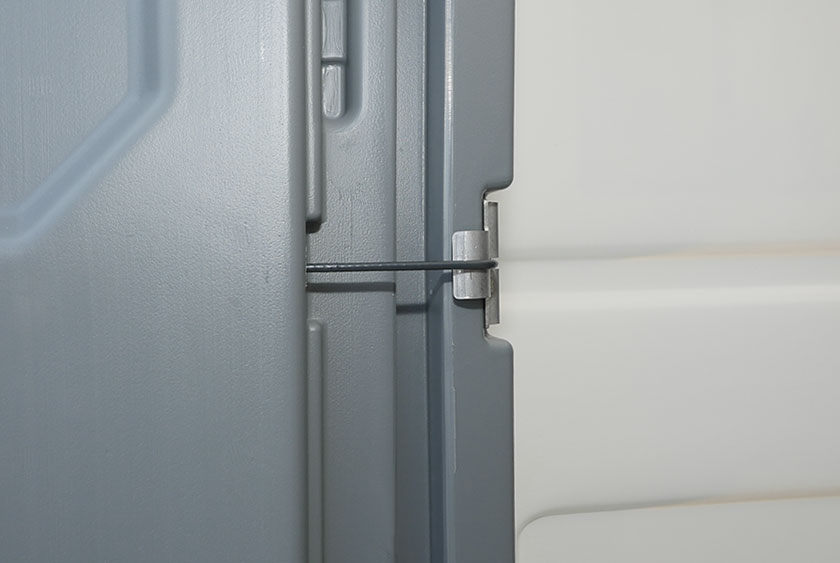 SPRING LOADED DOOR FOR PRIVACY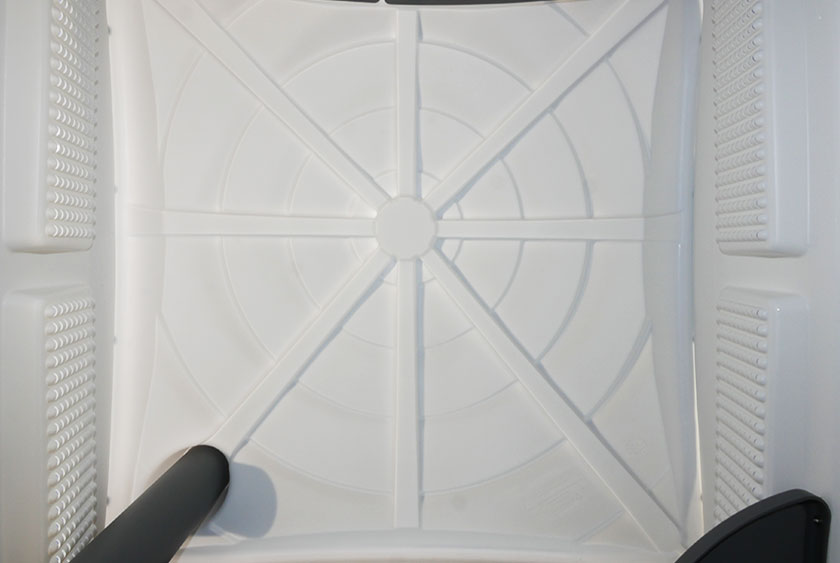 TRANSLUCENT ROOF PROVIDES NATURAL LIGHT INSIDE THE LATRINE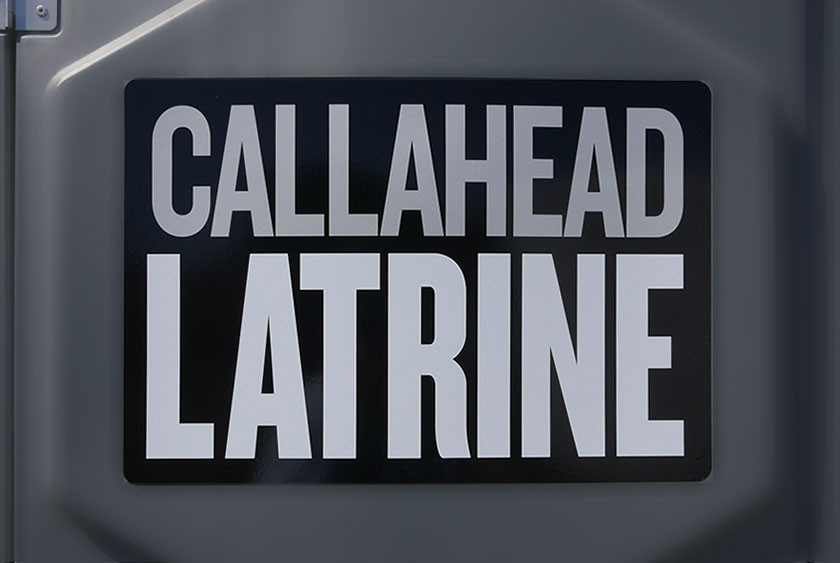 LARGE BOLD SIGNAGE CAN BE SEEN FROM A DISTANCE
Previous
Next
The LATRINE Portable Toilet DESIGN SPECIFICATIONS:
The following is the detailed design specifications for the LATRINE port a john rental. If you have any additional questions regarding this port a potty's design specifications, please contact us at 1-800-634-2085 to speak with a CALLAHEAD portable toilet specialist:
Portable Toilets Construction/Material – High-Density Polyethylene • Translucent Roof • Port a Potty's Weight - 164 lbs. • Exterior Height - 91.5" • Width: 44" • Depth: 48" • Portable Toilet's Door Opening – 73" x 24" • Portable Restroom's Floor Space – 861" • Toilet Seat Height – 18.5" • Vent Stack – 4" PVC Plastic • Porta Potty's Holding Tank Volume – 65 Gallons • Color –Grey and White
DESIGN FEATURES and ACCESSORIES:
The following is a detailed list of the design features and accessories that come standard inside the LATRINE portajohn rental. This traditional portable toilet has all the necessary features for public restroom use with the convenience of a fully mobile temporary portable toilet rental:
Door hasp • Covered double toilet paper holder filled with CALLAHEAD toilet paper • Stand over urinal with clog reducing drain tube • Translucent roof for bright natural light • Elongated comfortable toilet seat • Convenient coat hook, shelf and hover handle • Occupancy Sign visible to others waiting to use the port a potty • Door is spring loaded self-closing high density polyethylene • Interior lock on port a potty's door to ensure privacy • Molded-in vent screens • CALLAHEAD specialty brand signage displaying the highest quality and cleanest portable toilets available anywhere
IDEALLY SUITED FOR THE FOLLOWING:
Below is a list of locations and job sites where the LATRINE standard port a potty is most commonly rented and recommended. However, this basic portable toilet is an ideal rental for just about any long-term rental location where temporary porta john restroom facilities are needed.
Commercial Locations • High Rise Building, Skyscraper, and Apartment Building Construction Sites • Commercial Building Renovations and New Construction • Construction Job Sites • Contractor Job-sites • Highway Construction • Parkways • Street and Road Construction Sites • Emergency and Disaster Locations • Bridge Construction • Industrial • Airports • Tunnel Construction • Sewer Job Sites • Over Water onto Barges, Ships and Aircraft Carriers • Movie and Commercial Set Locations • New Home Construction and House Renovations • Parking Garages • Manufacturing Plants • Parking Lots • Lumber Yards • Truck Yards • Marinas • Car Lots • Municipalities • Remote Locations • Any Long-term Job-site Location in need of Portable Restroom Facilities
The LATRINE is a CALLAHEAD brand that promises to deliver the world's best portable toilet service. Our CALLAHEAD team is here to ensure New York businesses and residences receive the best experience possible with every rental. We provide portable toilets, Porta Pottys, office trailer systems, portable sinks, security guard booths, portable showers, portable water and sewer systems, and innovative systems and equipment invented by Charles W. Howard for CALLAHEAD for long-term or short-term rental and from standard to . Only CALLAHEAD has the largest variety, service, and dedication to provide the world's greatest portable sanitation rental experience for you.
---