Shop Now!
The Classic Portable Toilet - Designed and Created Exclusively by CALLAHEAD®
---
CALLAHEAD appreciates our American heritage and its classic old world style. To keep that history alive we are proud to introduce to our customers the CALLAHEAD .
CALLAHEAD has reinvented the old world wooden outhouse for those traditionalists who appreciate, as we do, the nostalgia of our American heritage. When the Pilgrims settled in America, they used outdoor bathrooms, since they had no running water or indoor plumbing. These bathrooms were called 'outhouses' or 'privies'. Our CALLAHEAD will bring you back to that American heritage with its blue stained wooden design and carved moon on the side walls of the unit. Inside this classic unit is a dark mahogany wooden toilet seat with brass hinges and a stainless steel drop tube to where the waste drops into a large 55 gallon holding tank. To keep with the feel of the tradition of our American Pioneers we have included an old fashioned wooden double toilet paper holder.
The CALLAHEAD is spacious and completely private, has brass hinges on the door and CALLAHEAD's signature navy blue signage. This has the perfect look of outhouses used by our forefathers so users will enjoy the comfort and privacy of yesterday.
The CALLAHEAD is the perfect opportunity to bring back old world style to your special event or job site. Undoubtedly the CALLAHEAD will be a conversation piece. As with all of CALLAHEAD's portable restrooms and equipment we use only the finest materials and innovative designs to create this replica of our American history and continue, "To Develop and Evolve a Human Necessity."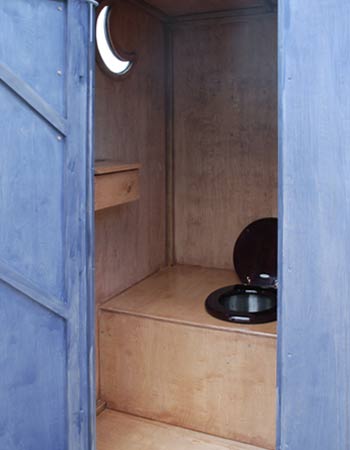 The CallAHead Classic Portable Restroom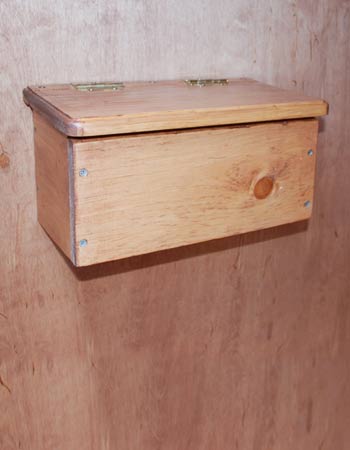 Nostalgic Toilet Paper Holder!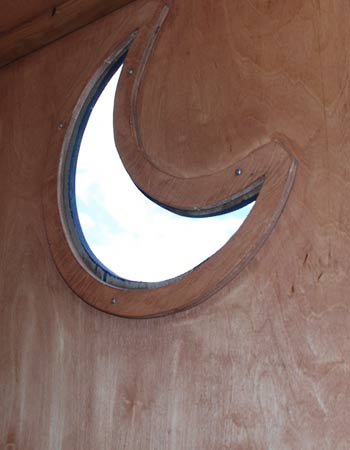 Crescent Moon Shaped Vent!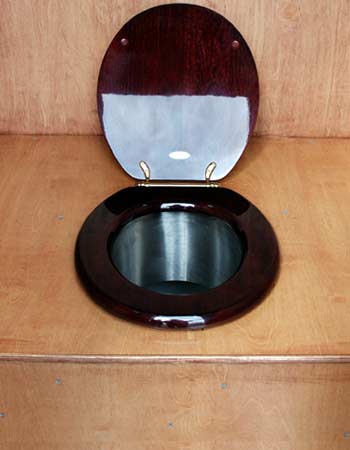 Mahogany Toilet Seat!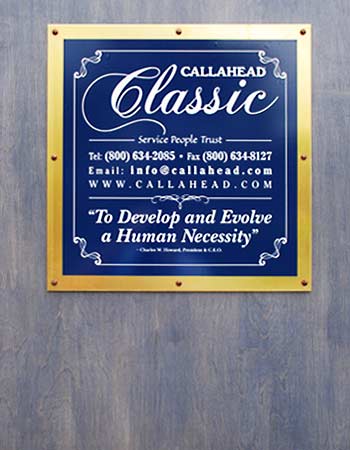 Classic Brass Sign!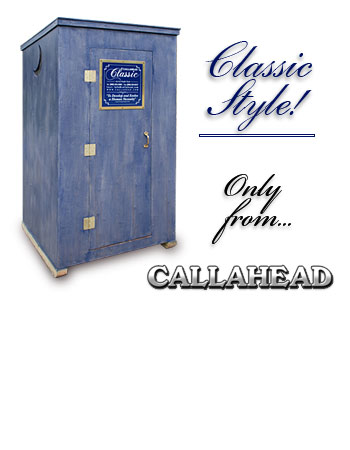 Classic Style from CALLAHEAD!
DESIGN SPECIFICATIONS:
Material: Wood • Color: Blue stain • Weight: 255 lbs • Tank capacity: 55 gallons • Ventilation: 16" Crescent moon screens • Front Height: 88" • Rear Height: 87" • Width: 46.75" • Depth: 46.75" • Door Opening: 71.75" x 24.5" • Average number of uses before service: 110 • Recommended Use: 6-8 people on an average 40 hour work week.
DESIGN FEATURES & ACCESSORIES:
Door spring loaded • Antique brass door handle • Antique brass coat and hat hook • Three antique brass hinges • Antique brass inside door lock • Antique brass door hasp • Dark mahogany cherry wood toilet seat with brass hinges • Cherry wood dual roll toilet paper holder with hinged top • Antique brass 17" x 17" front and back CALLAHEAD CLASSIC signature navy blue signage • Spacious interior • Carved crescent moons on side walls • Check list posted inside dates and signed at each service.
THE RENTAL IS IDEALLY SUITED FOR THE FOLLOWING:
Commercial Building Job Sites • New Home Construction • Beaches • Home Renovation Jobs • Road Construction • Bridge Construction • Railroad Job Sites • Sewer Job Sites • Manufacturing Plants • Parking Lots • Parking Garages • Car Lots • Truck Lots • Marinas • Lumber Yards • Concert Events • Parks • Parades