Toilet Trailers - THE TRAILAHEAD 250 RESTROOM TRAILER
×

Luxury Portable Restroom Rental
As New York State's leading provider of portable toilet trailers and facilities, CALLAHEAD is continuously creating new products to meet our customers needs. Now CALLAHEAD proudly introduces The TrailaHead 250 Bathroom Trailer.
The TrailaHead 250 is a state-of-the-art solution to jobsite sanitation. Restrooms are a necessary part of any project plan which is why The TrailaHead 250 is the ideal choice for construction sites everywhere. The TrailaHead 250 arrives on your job-site clean and ready for immediate use.
---
---
---
THE TRAILAHEAD 250 RESTROOM TRAILER FLOOR PLAN:
---
---
Design Features and Accessories of this Luxury Restroom Trailer: • The TrailaHead 250 arrives completely loaded with liquid soap, paper towels, toilet paper & empty lined trash cans • Ideal for construction sites everywhere • Exterior Handrails • Wide Steps & Large Landings • Generator (Available) • Fresh Water Delivery Tank Truck (Available) • No Need for water & electric hook-up, both can be provided by CALLAHEAD to operate trailer • Powered Ventilation • Concealed Plumbing • Designed to function consistently under and enormous amount of use • Extra Roomy Interior • Easy To Clean Surfaces
---
---
All the comfort & convenience of any public bathroom
Exhaust Fans
Flourescent Lights
Available for all Long Term Rentals
Air Conditioning With Heat
Ready for immediate delivery. Can be delivered fast & set-up even faster. Always in stock
2 Entrances & Exit Doors
At 32ft by 8ft The TrailaHead 250 is able to fit almost anywhere on the jobsite
Hot & Cold Fresh Water
Climate Controlled
Sky Lights
6 Porcelain Toilet Bowls
2 Standard Brand Porcelain Wall Hung Urinals
6 Private Toilet Stalls
Privacy Screens at Urinals
4 Sink Vanities
2 Trash Receptacles
2 Paper Towel Dispensers
2 Soap Dispensers
4 Chrome Self-Closing Faucets
Also Available with Head Attendant Service to maintain unit while in use
2 Sets of Exterior Stairs & Platforms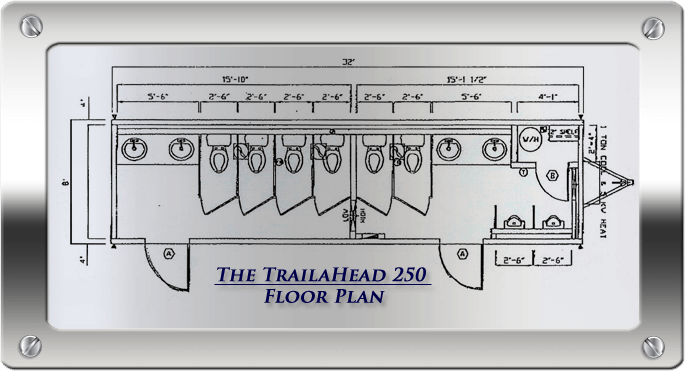 THE TRAILAHEAD 250 FEATURES:
Many people would like facilities to be as clean and comfortable as the ones in their own homes. With this in mind, CALLAHEAD designed The TrailaHead 250: to provide all the amenities of home restrooms with features that include flushing toilets, urinals, sinks & mirrors -- all in a fresh, sanitary environment.

Additionally, porcelain toilets in private stalls, partitioned urinals, heating and air-conditioning, hot and cold running water, powered ventilation and concealed plumbing make The TrailaHead 250 the perfect option when you want the very best for your job-site.

The TrailaHead 250 is the perfect restroom trailer to satisfy the needs of construction and other job sites. Your employees will appreciate the comforts that this unit offers.

At CALLAHEAD, we understand that there is a great need for clean facilities from a company that you can trust. As such, we back all of our restrooms with the best customer service in the industry!
EXPLORE THE TRAILAHEAD 250 RESTROOM TRAILER: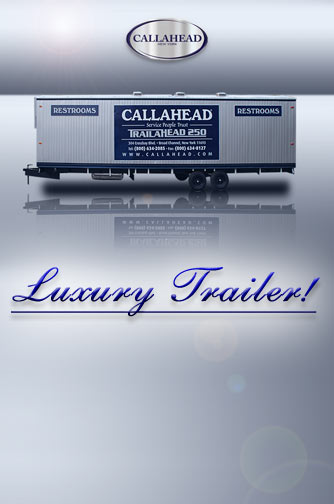 Luxury Restroom Trailer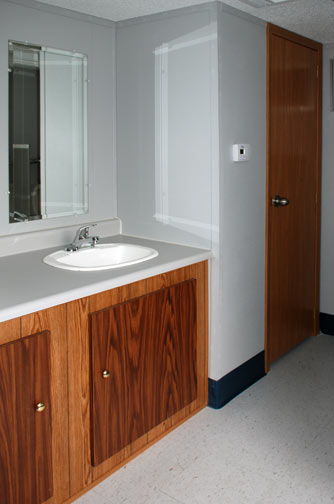 Double Sinks with Full Mirror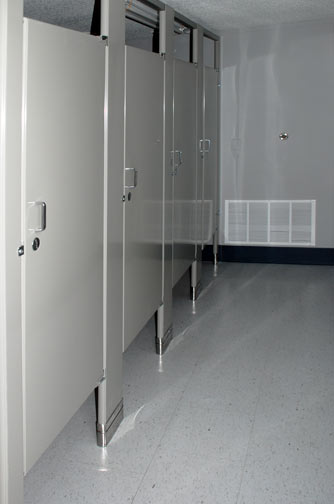 Private Toilet Stalls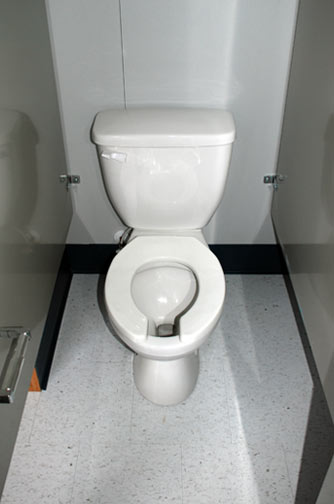 Flushing Toilet in Stall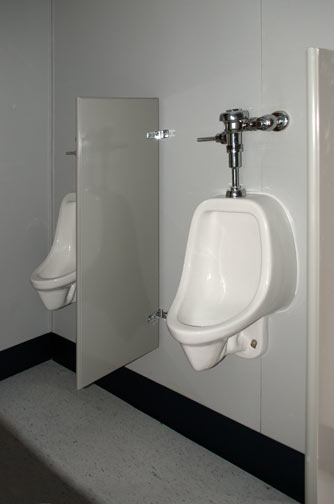 Two Separate Urinals

Abundant Hot Water!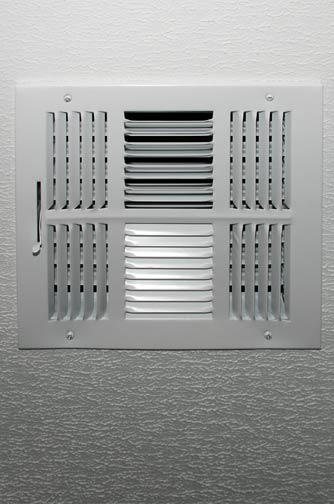 Air Conditioned, Heat & Ventilation
• LUXURY TOILET TRAILERS ARE AVAILABLE YEAR ROUND FOR LONG-TERM OR SHORT-TERM RENTALS •
• TIMELY, EFFICIENT & HYGIENIC SERVICE IS INCLUDED! •