THE is a luxury restroom trailer rental for when you want only the best bathroom facilities for your wedding or special event. THE is a CALLAHEAD exclusive that was designed by CALLAHEAD's own President and CEO, Charles W. Howard. He created a restroom trailer that mimics European bathrooms of the 19th century that were common inside mansions and castles. Quite simply, this is one of the best restroom trailers for rent.
Guests will be in awe of the "old world" charm and warm library feel once they enter this gorgeous portable restroom trailer. This is a perfect luxury restroom trailer rental for corporate functions, black-tie events, weddings or any formal gathering where business or formal attire is expected.
THE restroom trailer has separate women's and men's facilities that are exquisitely decorated with mahogany framed French paintings and custom floral arrangements as well as equipped with all the high end accessories found in luxurious catering halls.
The women's restroom is equipped with five private bathroom stalls and the men's has two spacious bathroom stalls and three waterless and odorless urinals with privacy dividers. There are two full vanity sinks with luxurious granite countertops in each and Moen automatic faucets with hot and cold running water options.
THE has a shiny champagne exterior finish with stylish outdoor lighting that will blend in beautifully with any formal setting. You enter both the men's and women's bathroom facilities utilizing the restroom trailers floating staircases with stainless steel hand railings.
Guests will be immediately impressed once they step inside and see THE 's mahogany wood Armstrong flooring. The cherry wood wainscot paneling impressively goes to the 5 foot height, followed by an elegant limestone finish that continues up to the ceiling. Decorative wall sconces and low voltage lighting is throughout the restroom trailer to add ambiance and elegance. Skylights also add a glow of natural light to the restroom as well as a ceiling vent when you desire ventilation. The dark brown and black granite countertops blend in exquisitely with the wood wainscoting and limestone finishes.
Mahogany finished trim include base moldings, wainscot molding caps, crown moldings, and corner moldings that enriches the detail through the restroom trailer. French paintings with mahogany frames illustrate an elegant restroom facility for your guests. All of the hardware within the luxury restroom trailer is an aluminum or chrome finish that blends perfectly with THE 's design, making this one of Callahead's most popular restroom trailers for rent.
The women's and men's bathroom stalls are all fully enclosed with lockable wood doors for privacy. Deep and spacious bathroom stalls each have their very own sophisticated framed art work and is equipped with Sealand porcelain toilet bowls with a spring loaded pedal flush for easy hands free flushing that also allows for easy water adjustment. Foot operated covered trash receptacles are also included in each bathroom stall for easy disposal of sanitary items or other waste not recommended for flushing. One of the women's stalls is also conveniently furnished with a stainless steel baby changing station for your guests with infants or toddlers, which will be greatly appreciated. The main floors of both the women's and men's restrooms consist of two porcelain sink basins with designer accessories such as cotton hand towels, elegant silver antibacterial soap dispensers and filled candy dishes for your guests to enjoy. A trash receptacle is conveniently placed by the sinks which will dispose trash beneath the sinks to help keep the sink area and restroom clean. A vanity mirror with its own low voltage lighting and elegant floral arrangements add to the opulence of the vanity area.
THE VIP bathroom trailer is equipped with a hot air heating system and dual air conditioner that is thermostat controlled for complete comfort all year round. Sony AM/FM/CD Player central music systems with ceiling installed speakers are available for your guest's enjoyment. Because CALLAHEAD uses only hospital grade cleaners and disinfectants, you will be rest assured of the utmost sanitary conditions. CALLAHEAD's luxury portable restroom trailer will arrive at your location by a professional uniformed delivery specialist who will set up the restroom trailer at your location in about 30 minutes. THE bathroom trailer is completely self-contained and operates with separate fresh water and waste water holding tanks. This restroom trailer is designed to handle use by hundreds of people at your special event. THE restroom trailer rental includes high end accessories used in elegant catering halls which will impress even your most discerning guests. As an added convenience, your very own personal restroom attendant is available upon request to maintain the plumbing fixtures and cleanliness of THE restroom trailer for your guests to ensure your restroom facilities stay in pristine condition throughout your big event.
THE was designed by Charles W. Howard exclusively for CALLAHEAD. His goal is to provide every CALLAHEAD customers with the most luxurious portable restrooms in the industry that are not only pleasurable to use but are also works of art. THE is available for delivery throughout all of New York City's five boroughs of Manhattan, Bronx, Queens, Staten Island, Brooklyn and all of Westchester County and Nassau and Suffolk Counties all the way to Montauk Point on Long Island. CALLAHEAD has been providing unparalleled portable restroom facilities for the portable sanitation industry since 1976.
Only CALLAHEAD has the decades of experience to provide your New York wedding or special event with highest quality equipment and guaranteed sanitary service every time. For more information about THE luxury portable restroom trailer or any of our other restroom trailers, VIP portable toilets, standard portable toilets, portable sinks, porcelain toilet systems for office trailers, guard sheds and ticket booth rentals, holding tanks, fresh water delivery, commercial grade portable sinks, portable hand washing sinks, antibacterial and hand sanitizing dispenser rentals, long-term or short-term portable toilet rentals, long-term or short-term restroom trailer rental, portable shower rentals and portable storage shed rentals please contact one of our sales specialists at 800-634-2085 or visit our website for details including full photos and videos of all of our unparalleled equipment for any portable sanitation need at www.callahead.com.
THE OXFORD LUXURY RESTROOM TRAILER'S DESIGN FEATURES & ACCESSORIES
The exterior has a shiny bright champagne finish • Height - 11' 6" • Overall box length - 26' 4" • Overall Length - 31' • Width- 8' 6" • Holding tank capacity - 1,000 gallon waste tank • 200 Gallons on-board fresh water • Exterior lighting • Enter the restroom trailer via a floating staircase with stainless steel handrail • Faux mahogany Armstrong flooring • Cherry wainscoting that goes to the 5' height • Faux elegant faux limestone finish that continues up to the ceiling • Mahogany finished trim include base moldings, wainscot molding caps, crown moldings, and corner moldings throughout • Beautiful dark brown and black granite countertops enrich the vanity area • Private and spacious bathroom stalls with flushing Sealand porcelain toilet bowls • Three Waterless and odorless urinals with privacy dividers (Men only) • Vanity mirrors over the sinks in the women's and men's restrooms • Two white porcelain hand washing sink basins that provide hot and cold running water options • The Moen brand faucets automatically shut off to conserve water usage • Two designer soap dispensers filled with antibacterial soap that kills 99.9% of germs and bacteria are provided in both the men's and women's vanity areas • Cotton hand towels and stylish trays are provided in the women's and men's restrooms • A trash receptacle is conveniently placed near the sink basins which catches trash beneath the sink area so the restroom will stay cleaner • Foot operated trash receptacles are provided in each bathroom stall • Stainless steel baby changing station is installed in one of the women's bathroom stalls • Hot air heat system and dual air conditioner that is thermostat controlled for complete comfort • A Sony AM/FM/CD Player central music system with speakers installed in the ceiling • Lighting - 2 wall sconces and low voltage lighting in the ceilings • Electric - runs on a generator or standard 110 volt outlet • All hardware is aluminum or chrome finish to go with the décor • Each restroom has a skylight for natural light • Self-contained with separate fresh water and waste water holding tanks • Handles bathroom usage by hundreds of people at any event • Professionally set up and fully operational in approximately 30 minutes or less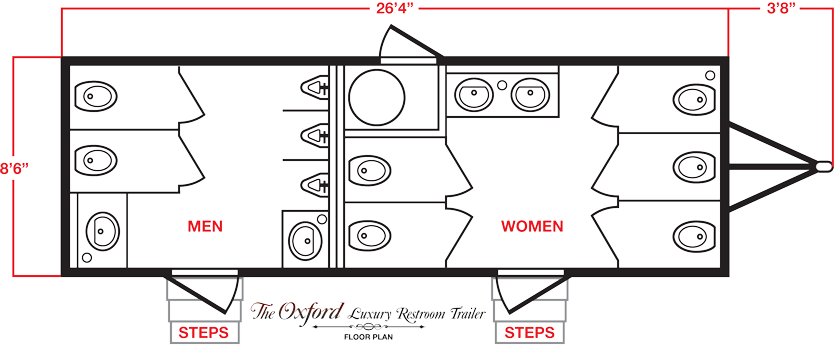 THE OXFORD LUXURY RESTROOM TRAILER - MEN'S DESIGN FEATURES & ACCESSORIES
Two fully enclosed bathroom stalls with lockable wood doors that go from floor to ceiling for complete privacy • Each bathroom stall is very deep and spacious • Every bathroom stall has Sealand porcelain toilets with a spring loaded pedal flush system so the toilet will never stay running • Hands free flushing toilet bowls • These toilet bowls automatically refill after each flush adding the appropriate amount of clean water for the next user • To add water to the toilet bowl easily lift the pedal flush until the desired amount of water is achieved • Toilet paper dispensers and trash receptacle are in each bathroom stall • Every bathroom stall is decorated with its own framed French artwork • 3 waterless urinals have a special filter system that conserves water and operates completely odor free • The urine is pulled down through a filter so there is never any odor causing issues inside the restroom trailer
THE OXFORD LUXURY RESTROOM TRAILER - WOMEN'S DESIGN FEATURES & ACCESSORIES
Five fully enclosed bathroom stalls with lockable wood doors that go from floor to ceiling for complete privacy • Each bathroom stall is very deep and spacious • One of the woman's stall is furnished with a stainless steel baby changing station • Every bathroom stall has Sealand porcelain toilets with a spring loaded pedal flush system so the toilet bowl will never stay running • Hands free flushing toilet bowls • These toilet bowls automatically refill after each flush adding the appropriate amount of clean water for the next user • To add water to the toilet bowl easily lift the pedal flush until the desired amount of water is achieved • Toilet paper dispensers and covered trash receptacle are in every bathroom stall • Each bathroom stall is decorated with its own framed French art work
MOST COMMONLY RENTED FOR
Weddings • Receptions • Corporate Parties • Business Events • Awards Banquets • Fundraisers • Black-Tie Parties • Film and Movie Productions • Gala's • Engagement Parties • Bar Mitzvahs and Bat Mitzvahs • Charity Balls • VIP Events • Bridal and Wedding Showers • Christenings and Baptisms • Baby Showers • Charity Events • Red Carpet Parties • Holiday Parties • Communion Parties • Formal Parties and Events • Benefits • Graduation Ceremonies • Graduation Parties • Cocktail Party • White Tie Parties • Semi-Formal Parties • Award Ceremonies • Ultra Formal Events • Any Special Ceremonies • Any Special Event with a large group of people will be in attendance and quality restroom trailers are needed