The is CALLAHEAD's 24-foot portable restroom trailer created especially for the commercial and industrial sectors. Charles W. Howard, CALLAHEAD's President and CEO, continues to design portable restrooms to ensure every customer can select the perfect bathroom for their needs and location. The INDUSTRIAL created for job sites such as power plants, is just one of CALLAHEAD's many specialty restroom trailers.
CALLAHEAD has the largest selection of quality portable restrooms in the industry to accommodate any situation. In fact, since 1976 CALLAHEAD has revolutionized portable restrooms. These innovations have propelled CALLAHEAD into the world's greatest portable sanitation company for New York's businesses and residents.
This 10-station restroom trailer has all the essential amenities for cleanliness and comfort. The promises to deliver ample restroom facilities with CALLAHEAD's renowned first-class service for your long-term rental needs.
The can be delivered throughout Manhattan, Queens, Bronx, Staten Island, Brooklyn, Westchester and all of Nassau and Suffolk Counties on Long Island. Separate bathroom facilities for men and women make it perfect for user privacy and comfort. The exterior lighting makes the beneficial for evening job sites too. Because the INDUSTRIAL has a thermostat heat and air conditioning system, you will have comfort inside the restroom any time of year.
The exterior's wide floating staircases with aluminum handrails provide easy access to both the women's and men's restrooms. The entry doors display CALLAHEAD's signature signage representing the best in restroom trailers. The women's restroom has five separate bathroom stalls with black cathedral arched lockable doors. Each private stall is equipped with a flush porcelain toilet, dual toilet paper dispenser, covered trash receptacle, and lockable stall door. The porcelain toilet bowl has a pedal flush for hands-free operation. The men's restroom has two private bathroom stalls with all the same features as the woman's stalls. The men's restroom also provide four Sloan porcelain waterless urinals with stylish black privacy dividers. Due to a special filter system, the urinals operate completely odor free. There is also a six-foot shelving area above the urinals for convenience.
The men's and woman's restrooms have sleek easy to clean surfaces that won't absorb any odors. The INDUSTRIAL's Corian vanity countertops have smooth stainless steel sink basins. Hot and cold running water is delivered through the sinks Chicago brand single lever faucet. Wall mounted built-in soap and hand towel dispensers are also stainless and readily available above the sinks. The integrated trash receptacle of the vanity will assist in keeping the restroom and sink area clean. A well-appointed vanity mirror is provided above the sinks, and there is even storage space beneath the sinks for extra supplies. Armstrong wide planked wood laminate flooring extends throughout both restrooms. The INDUSTRIAL's chic design will not only deliver sanitary bathroom facilities, but it will also provide value to your location.
In addition to the 's dual thermostat heating and air conditioning system, there is a fan forced heater in each restroom for guaranteed comfort during the coldest New York winter months. The restrooms ceiling installed vents offers extra ventilation when you want it. While the forty-seven LED ceiling lights throughout the restroom trailer will provide plenty of light inside. The INDUSTRIAL conveniently runs from a generator or standard 110-volt outlet.
THE
'S OPTIONAL ACCESSORIES TO RENT:

For added convenience, we are proud to offer the below list of optional accessory items for your . All of CALLAHEAD's rental accessories were selected to provide the same comforts and hygienic protection for the greatest sanitary experience. CALLAHEAD's accessory items are unmatched in the industry and include:
IDEALLY SUITED FOR THE FOLLOWING:
Long-term Rental • Job Sites • Construction Sites • Contracting Jobs • Community Construction Sites • Arena, Stadium and Coliseum Contracting and Construction • Emergencies & Disaster Locations • Apartment Building Contracting and Construction • High-Rise Building Construction Sites
Commercial Use • Sporting Events • Shopping Malls • Water Shut-offs • Government Projects • Manufacturing Plants • Building Bathroom Renovations • Commercial Restroom Remodeling • Schools, Colleges and Universities • Movie, Commercial and Photo Shoot Locations • Truck Yards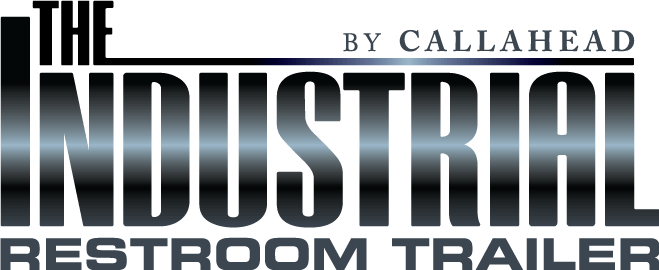 The is available for delivery throughout New York City's five boroughs of Brooklyn, Queens, Manhattan, Staten Island and the Bronx, plus all of Westchester, Nassau, and Suffolk Counties. With every CALLAHEAD long-term rental, we offer the option of our unsurpassed cleaning service for daily, weekly, monthly, or a cleaning service tailored to your request. At every cleaning, our professional uniformed service technician will arrive in CALLAHEAD's signature sparkling steel tank truck to thoroughly clean and sanitize the INDUSTRIAL with only hospital grade cleaners and disinfectants. We will also re-stock your restrooms with supplies. The long-term rental delivers a total of 10-bathroom units for men and women. Each restroom has two vanity sinks with antibacterial soap and hand towels for all of your sanitary bathroom needs. Only CALLAHEAD has decades of experience and the commitment of service to ensure your rental is cost efficient and pleasurable.
For more information about the or any of CALLAHEAD's state-of-the-art equipment, including our very own inventions, as well as the following:
CALLAHEAD's portable water and sewer system, high-rise portable toilets, luxury and short-term restroom trailers, special event portable toilets, standard port a pottys, portable handwashing sinks, porcelain toilet systems for office trailers, security guard booths, ticket booths, holding tanks, fresh water delivery, commercial portable sinks, antibacterial and hand sanitizing stations, long-term and short-term portable toilet rentals, long-term and short-term restroom trailer rentals, portable shower rentals, and portable storage shed rentals...
Please contact one of our expert sales specialists at 800-634-2085 or visit our website for full photos, details and videos of our equipment.