CALLAHEAD has been in business since 1976 inventing new systems to deliver homelike bathroom comfort using only hospital grade cleansers and sanitizers for the most sanitary conditions. The MODERN HANDICAP Restroom Trailer is a specially designed in accordance with the Americans with Disabilities Act. This is a single restroom to provide bathroom facilities for guests in wheelchairs, ECV's and walkers, require special assistance and for families with small children. The MODERN HANDICAP is single A.D.A. certified restroom trailer rental for New York's long-term locations and short-term special events. Thermostat heat and air conditioning is available to deliver all the comforts of a home restroom to provide a pleasurable trip to the bathroom.
Businesses and events are required to have certified ADA restrooms available. CALLAHEAD's MODERN HANDICAP Restroom Trailer is the answer for visitors, staff and patrons who require extra assistance, including the elderly. Guest with special needs must have A.D.A compliant restrooms at their disposal in every public setting. Wedding planners and event coordinators must not forget to provide bathroom facilities for parents with small children and the physically challenged. It is legally required for shopping malls, office buildings, and transportation centers to have wheelchair accessible bathroom facilities on-site at all times. So when bathroom renovations or repairs are needed the MODERN HANDICAP Restroom Trailer will provide clean ADA certified restroom facilities when your restroom facilities undergo repairs or renovations. Water shut-off locations are also a common rental for CALLAHEAD's MODERN HANDICAP Restroom Trailer. Concert halls, stadiums, arenas and other special event venues must supply handicap restroom facilities for the public. The MODERN HANDICAP Restroom Trailer is thermostat controlled with heat and air conditioning for year round use and comfort. The sink area includes a soap and hand towel dispenser. There is also a central music system for guest enjoyment.
The MODERN HANDICAP Restroom Trailer has a bright white exterior and outdoor lighting for evening use. The wheelchair accessible ADA compliant ramp entrance has handrails leading up to a spacious ADA compliant deck entry. The ADA compliant entry door includes CALLAHEAD's signature signage and is clearly marked for handicap use. The self-closing entry door allows for a wheelchair to easily enter the restroom. The MODERN HANDICAP Restroom Trailer ADA compliant interior offers easy maneuverability for wheelchairs, walkers, and ECV's.
The very comfortable homelike restroom design will be appreciated by everyone who uses the MODERN HANDICAP Restroom Trailer. The painted walls are a two toned grey color that include white painted wood trim throughout. The restroom trailer has interior base moldings, chair rail moldings and crown moldings. The restroom amenities are all wheelchair accessible. There is a modern style wall mounted porcelain flush toilet bowl with an ADA compliant macerating toilet system. The push button flushing systems is conveniently located. By the toilet seat are wall mounted safety handrails, a double toilet paper holder, and trash receptacle. The vanity area has a wall hung porcelain sink, and Chicago brand auto shut-off faucet with hot and cold water. The porcelain sink is opened below for wheelchair access to the sink basin. The hand towels and soap dispensers are wall mounted and easily accessible by the sink. A vanity mirror is provided above the sink.
---
The Modern HANDICAP Restroom Trailer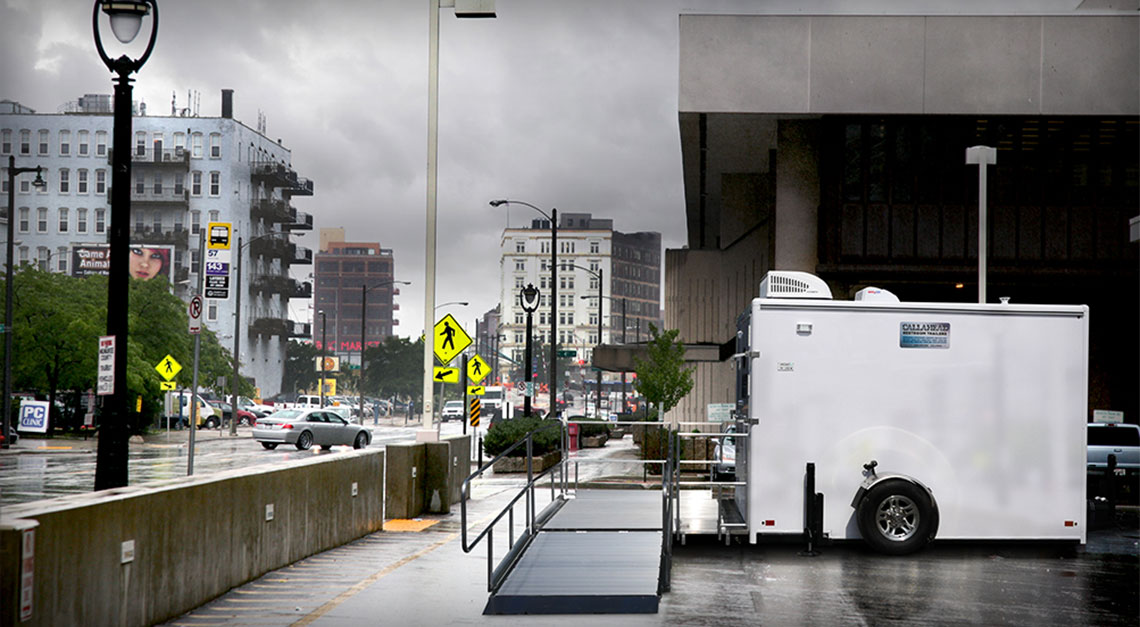 The MODERN HANDICAP Restroom Trailer has wide planked faux wood Armstrong flooring adding to the homelike design. A Dometic thermostat heat and air conditioning system will provide comfort inside the restroom all year round. A fan forced heater is also available for when you need extra warmth inside the restroom. LED high hat ceiling lights will provide plenty of light inside the restroom. Ceiling vents are available when you want additional ventilation. For convenience, the MODERN HANDICAP Restroom Trailer runs on a generator or standard 110 Volt outlet.
A CALLAHEAD professional uniformed delivery specialist will set up the MODERN HANDICAP Restroom Trailer at your location. Set up will take approximately 30 minutes. Because CALLAHEAD cleans and sanitizes all of our restrooms with only hospital grade cleaners and disinfectants, you know you will be providing the cleanest restroom trailers in the industry for your visitors, staff and guests. As an added convenience, you may also request to have a CALLAHEAD professional uniformed restroom attendant to keep the MODERN HANDICAP Restroom Trailer in perfect sanitary condition throughout your entire special event. For long-term locations, CALLAHEAD also offers our hospital-grade cleaning service and re-stocking of supplies daily, weekly, monthly or tailored to your needs.
The MODERN HANDICAP Restroom Trailer's OPTIONAL ACCESSORIES To Rent:
For added convenience, we are proud to offer the below list of optional accessory items for your MODERN HANDICAP Restroom Trailer rental. All of CALLAHEAD's rental accessories for restroom trailers were selected to provide the same comforts and hygienic protection of a homelike restroom experience. CALLAHEAD's portable restroom accessory items are unmatched in the industry and include:
Antiseptic Dispenser is installed in your MODERN HANDICAP Restroom Trailer rental, filled with our waterless hand sanitizer. Our waterless hand sanitizer kills 99.9% of germs and bacteria and meets OSHA and Health Department requirements. The antiseptic dispenser is perfect for sanitary protection before and after using the restroom. The antiseptic dispenser supplies approximately 900 - 1300 uses
Headliner Toilet Seat Cover Dispenser is installed inside each stall of the MODERN HANDICAP Restroom Trailer, filled with 250 toilet seat covers so every user may have a clean, dry and sanitary toilet seat.
Headmist Time Released Air Freshener is installed in the MODERN HANDICAP Restroom Trailer that will release a fresh, clean scent automatically.
Professional Hospital Grade Cleaning Service is available daily, weekly, monthly or a cleaning service tailored to your needs. Our professional uniformed service technician will clean, service and re stock all amenities at every service.
IDEALLY SUITED FOR THE FOLLOWING:
Mall or Shopping Center Bathroom Renovations and Repairs • Weddings • Receptions • Corporate Parties • Business Functions • Concert Events • Horse Shows & Racing Events • Fundraisers • Black-Tie Events • Film and Movie Productions • Galas • Corporate Building Bathroom Repair and Renovation • Engagement Parties • Bar Mitzvahs and Bat Mitzvahs • Charity Balls • VIP Events • Train Stations, Bus Terminals and Airports • Marinas, Beaches and Park Locations • Bridal Showers • Christenings & Baptisms • Baby Showers • Charity Events • Government Buildings • Red Carpet Events • Holiday Parties • Amusement Parks • Zoos • Museums • Schools and Universities • Sporting Events • Parades, Carnivals and Festivals • Playgrounds • Communion Parties • Formal Parties and Events • Benefits • Birthday Party Celebrations • Graduation Ceremonies • Graduation Parties • Cocktail Parties • Holiday Parties • Celebrity Events • Restaurants and Bars • Catering Halls • Semi-Formal Parties • Award Banquets • Special Ceremonies • Marathons • Any Public Venue • Any long-term and short-term special event or business that requires ADA Compliant Restroom Facilities
The MODERN HANDICAP Restroom Trailer is available for delivery throughout all of New York City's five boroughs of Brooklyn, Queens, Manhattan, Staten Island, and the Bronx as well as all of Westchester County, and Nassau and Suffolk Counties all the way to Montauk Point. CALLAHEAD is New York's largest and most trusted portable restroom company. We have been in business since 1976 creating innovations to advance the portable restroom industry. "To Develop and Evolve a Human Necessity" is not only CALLAHEAD's mission statement it is our life's work. Let CALLAHEAD deliver the world's best portable restroom experience for you.
---