THE
---
Mobile Restroom Trailer
The CALLAHEAD is an ideal mobile restroom trailer for all special events applications, as well as all construction sites.
The is affordable for everyone and includes all amenities (see list) and is by far the best looking trailer available today.
From 10 people to thousands of people, The bathroom trailer is the perfect solution. One or more trailers can be delivered fast, set up easy and simple to service.
CALLAHEAD's never ending supply and availability gives all event coordinators and construction managers an incredible amount of flexibility. Their small size and maneuverability allows for multiple trailers in various locations as opposed to one large and more expensive trailer in one location.
Having this much versatility makes CALLAHEAD's the trailer of choice!
---
Product Specifications:
3 Stations Restroom Trailer
Overall box length: 14' • Width: 8'

Length - 14' Does not include hitch

Length 15'9" Includes Hitch

Width - 8' includes stairs.

Add 3 feet for ability to enter & exit trailer.

Height - 10' 6"

Trailer Weight - 2800 Lbs
Door Size - 30" x 72"
Color - White with Blue Trim
Trailer Construction - Fiberglass
Waste Holding Tank - 300 gallons
Winter Freeze-ups prevented with electric heaters & skirting
Service - Automatic or on call
Electric - 30 Amps., 100 Volt required. (When not available, electric supplied by CALLAHEAD with a generator.)
Fresh Water hook-up required. (When not available, fresh water supplied by CALLAHEAD using 300 gallon fresh water tank & pump.
Sink Water Supplied in 5 Gallon Fresh Water Jugs hooked up to pump.
---
Exterior Design Features:
Wide Steps & Hand Rails
Outdoor Lighting
Interior DESIGN FEATURES & ACCESSORIES:
Extra roomy interior
2 Porcelain Toilets
2 Vanities

2 Mirrors
2 Porcelain Sinks
2 Stainless Steel Faucets
2 Trash Receptacles
2 Paper Towel Dispensers
2 Soap Dispensers

1 Porcelain Urinal
2 Toilet Paper Holders
2 Exhaust Fans
Stereo Sound System
Air Conditioning with Heat
Water Heaters
Sky Lights
Incandescent Lighting
Carpeted Floors
Water-proof fiberglass interior
Easy to clean surfaces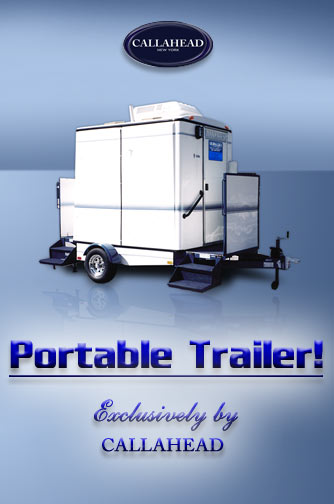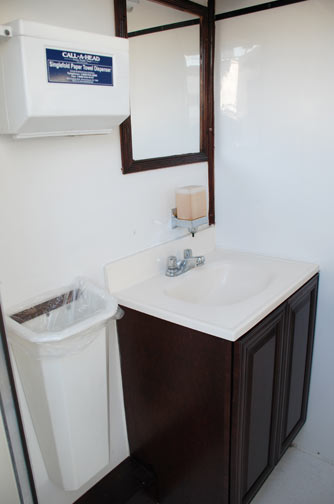 Fully Equipped Sink with Mirror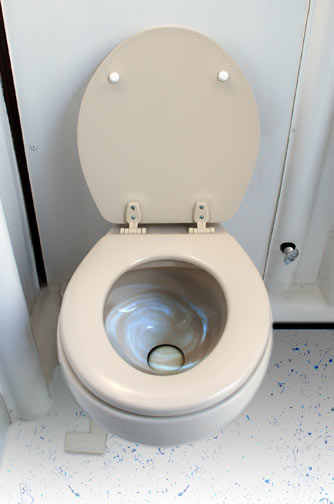 Flushing Toilets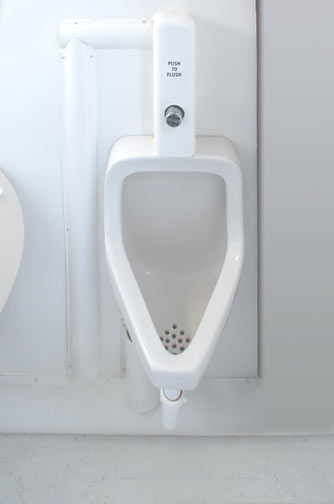 Standard Size Urinal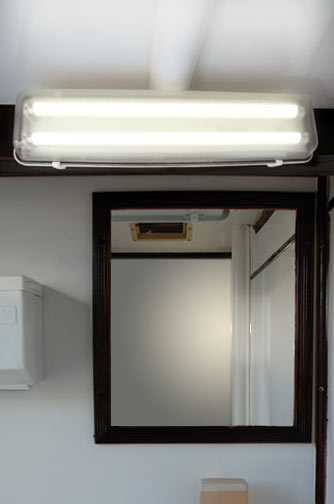 Mirror with Light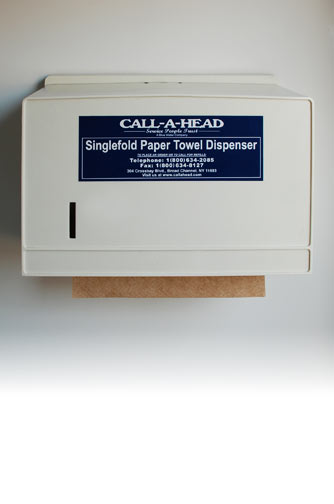 Paper Towels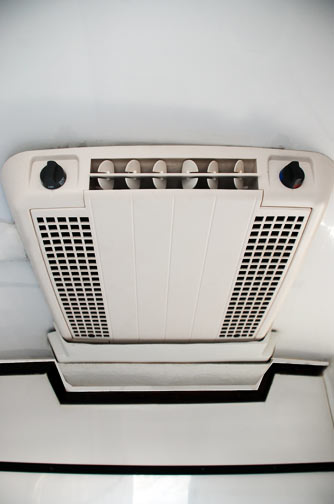 Overhead Air Conditioner
---
Women's side design features:
One private bathroom stalls
One sink vanity
Men's side design features:
One private bathroom stalls
One flushing porcelain urinals
One sink vanity
---
IDEALLY SUITED FOR THE FOLLOWING:
Short-Term or Special Event Use (300 people per 8 hours of use) • Long-term or Job-site rental. Use amount depends on amount of time & number of persons using. Must call. • Weddings & Bar Mitzvahs • Parties & Block Parties • Construction Sites • Sporting Events • Park & Community Events • Emergencies & Water Shutoffs • Remote Locations • Concerts • Running Events & Marathons • Parades, Carnivals & Bazaars • Restroom Remodeling
THE
'S OPTIONAL ACCESSORIES TO RENT:

For added convenience, we are proud to offer the below list of optional accessory items for your . All of CALLAHEAD's rental accessories were selected to provide the same comforts and hygienic protection for the greatest sanitary experience. CALLAHEAD's accessory items are unmatched in the industry and include:
The is available for delivery throughout New York City's five boroughs of Brooklyn, Queens, Manhattan, Staten Island and the Bronx, and of Westchester, Nassau, and Suffolk Counties.
CALLAHEAD also has available our hospital grade cleaning service daily, weekly, monthly, or tailored to your request. A CALLAHEAD professional uniformed service specialist will clean and sanitize the with only hospital grade cleaners and disinfectants as well as re-stock it with supplies at every service.
CALLAHEAD is New York's largest portable sanitation company. Since 1976 we have been inventing and designing the world's greatest equipment for our customers. Our dedication, innovation, and unmatched cleaning service have made CALLAHEAD the most trusted portable restroom company for all of your portable sanitation needs.
For more information about the or any of CALLAHEAD's state-of-the-art equipment, including our very own inventions, as well as the following:
CALLAHEAD's portable water and sewer system, high-rise portable toilets, luxury and short-term restroom trailers, special event portable toilets, standard port a pottys, portable handwashing sinks, porcelain toilet systems for office trailers, security guard booths, ticket booths, holding tanks, fresh water delivery, commercial portable sinks, antibacterial and hand sanitizing stations, long-term and short-term portable toilet rentals, long-term and short-term restroom trailer rentals, portable shower rentals, and portable storage shed rentals...
Please contact one of our expert sales specialists at 800-634-2085 or visit our website for full photos, details and videos of our equipment.