CALLAHEAD's is a 9-Station luxury restroom trailer for any short-term rental or special event. Guests will be impressed the . The has everything you would find inside a restroom of a five-star hotel or elegant catering hall. The women's and men's restrooms have private bathroom stalls, porcelain urinals and vanity sinks with VIP amenities. The decorated throughout with custom framed artwork making ideal for corporate events, formal weddings, fundraisers, red carpet events or any upscale function. A thermostat heat and air conditioning system guarantees a comfortable trip to the restroom year round.
The has a bright white exterior with outdoor lighting that will look great in any location. Two separate wide floating staircase entries for the women's and men's restrooms have stainless steel handrails. The self-closing spring-loaded doors have CALLAHEAD's Luxury Restroom Trailer's signature signage representing the best restroom trailers in the industry.
As soon as you enter the guests will immediately be impressed with the warm design and luxury paintings of London decorating the walls throughout. We have wood wainscoting to the 3-foot height. There are also wood base moldings, chair rail moldings, and crown moldings.
The vanity area has porcelain sinks, soap and hand towels, tissues, beautiful floral arrangement, and filled candy dish. A ceiling installed speaker, and central music system is available for guest's enjoyment. There are also wide-planked wood Armstrong floors to bring the warmth to the restrooms setting. The women's restroom has four private bathroom stalls with floor to ceiling lockable wood doors. Each stall inside the has a porcelain flush toilet, brushed nickel toilet paper holder, and a trash receptacle. The porcelain toilet bowl has a foot-pedal flush for easy hands-free operation. A ceiling vent is available when you require additional ventilation. Custom framed artwork also decorates the walls inside every bathroom stall.
The men's side inside the has two private bathroom stalls also with a porcelain flush toilet, toilet paper holder, ceiling vent, and gorgeous framed paintings. The men's restroom also includes three Sloan porcelain waterless urinals with privacy dividers. Above the urinals is a convenience shelf and elegantly framed artwork. The women's restroom has two vanity sinks, and the men's side has one. Each porcelain sink basin has Moen faucets with automatic shut-off and hot and cold water options. The has decorative, and wall mounted antibacterial soap and hand towel dispensers in the vanity area. A filled tissue holder, candy dish and floral arrangement are also available to add an elegant touch to the restrooms setting. Wood trim vanity mirrors mounted above the sinks. The vanity's built-in trash receptacle will help keep the restroom clean.
A Dometic thermostat heat and air conditioning system ensures your guests will have a comfortable trip to the restroom. For New York's colder winter months, fan-forced heaters are available in both restrooms. LED high hat ceiling lights will deliver plenty of light inside the . Electricity for the runs on a generator or standard 110-volt outlet.
Women's side design features:
Four bathroom stalls
Two porcelain sink basins
Covered trash receptacles are in every bathroom stall
Men's side design features:
Two bathroom stalls
One porcelain sink basin
Three Sloan porcelain waterless urinals with privacy dividers with a convenience shelf
---
Fully enclosed bathroom stalls with lockable wood doors that go from floor to ceiling for complete privacy
Each bathroom stall is very deep and spacious
Every bathroom stall has porcelain toilets with a spring loaded pedal flush system so the toilet bowl will never stay running
Hands free flushing toilet bowl
These toilet bowls automatically refill after each flush adding the appropriate amount of clean water for the next user
To add water to the toilet bowl easily lift the pedal flush until the desired amount of water is achieved
Each bathroom stall is decorated with its own custom framed artwork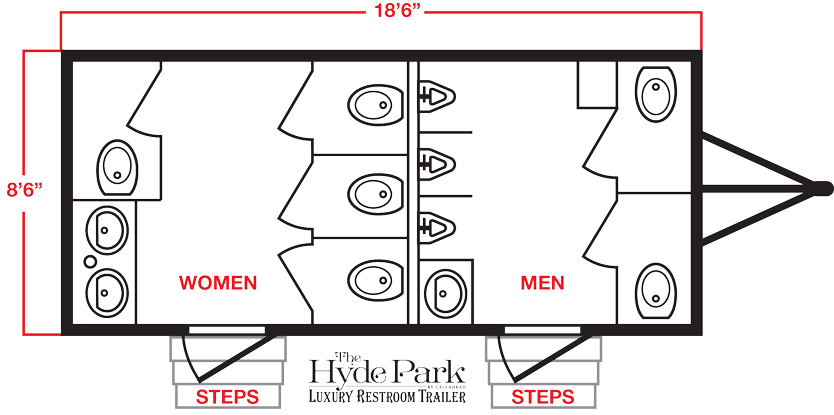 The will be professionally delivered to your location. Set-up will take approximately 30-minutes. CALLAHEAD cleans and sanitizes all of our equipment with only hospital grade cleaners and disinfectants for your sanitary protection. A CALLAHEAD uniformed restroom attendant is available to keep the in perfect condition throughout your entire event. The will deliver clean and sophisticated restroom facilities to hundreds of guests at your event. It has 9-restroom stations that provide five-star restrooms to any formal or informal social gathering. The is available for delivery throughout all of New York City's five boroughs of Brooklyn, Queens, Manhattan, Staten Island, and the Bronx as well as all of Westchester, Nassau and Suffolk Counties.
CALLAHEAD has been in business since 1976 led by President and CEO, Charles W. Howard. Mr. Howard has been inventing new products and designs to consistently advance the industry to provide our customers with the world's best portable restrooms. We are New York's largest and most trusted portable restroom company, and the only one in our industry to deliver quality and service every time.
IDEALLY SUITED FOR THE FOLLOWING:
Weddings • Receptions • Corporate Parties • Business Events • Horse Shows & Events • Sporting Events • Awards Banquets • Fundraisers • Black-Tie Events • Film and Movie Productions • Gala's • Engagement Parties • Bar Mitzvahs and Bat Mitzvahs • Charity Balls • VIP Events • Bridal and Wedding Showers • Christenings and Baptisms • Baby Showers • Charity Events • Red Carpet Events • Holiday Parties • Communion Parties • Formal Parties and Events • Benefits • Large Birthday Party Celebrations • Graduation Ceremonies • Graduation Parties • Cocktail Party • Holiday Parties • Celebrity Functions • White Tie Parties • Semi-Formal Parties • Award Ceremonies • Formal Events • Any Special Ceremonies • Any Short-Term Special Event and quality restroom trailers are needed

For more information about the or any of CALLAHEAD's state-of-the-art equipment, including our very own inventions, as well as the following:
CALLAHEAD's portable water and sewer system, high-rise portable toilets, luxury and short-term restroom trailers, special event portable toilets, standard port a pottys, portable handwashing sinks, porcelain toilet systems for office trailers, security guard booths, ticket booths, holding tanks, fresh water delivery, commercial portable sinks, antibacterial and hand sanitizing stations, long-term and short-term portable toilet rentals, long-term and short-term restroom trailer rentals, portable shower rentals, and portable storage shed rentals...
Please contact one of our expert sales specialists at 800-634-2085 or visit our website for full photos, details and videos of our equipment.