The is a CALLAHEAD VIP portable toilet rental that is perfect for every special event. The is an upgrade from a standard portable toilet with a flushing toilet, full-size comfortable toilet seat, and separate urinal. This premium porta-potty rental is a full-service temporary outdoor bathroom to accommodate any short-term rental location.
The is also equipped with a handwashing sink with foot pump operation, paper towel dispenser, soap dispenser, double toilet paper holder, convenience shelves, coat and hat hook, mirror, interior light and a lockable door with occupancy sign. It has a large 70-gallon holding tank making this a portable restroom that is perfect for heavy use.
This stand-alone portable toilet is entirely self-contained, so it requires no water hook-ups to operate. When you rent the for your special event, you get a full-service VIP portable restroom that is also affordably priced. This porta potty is stylish, too. The is constructed of durable polyethylene that is an elegant berry color. The translucent roof delivers natural bright light inside. An interior light makes using the convenient at night.
The porta potty is one of the most frequently rented premium portable toilets for weddings, fundraisers, birthday parties, block parties, marathons, bar mitzvahs, graduation parties, sporting events, parks, concerts, parades, carnivals, festivals, backyard house parties and so much more. It has everything guests will need for comfort and sanitation and all the amenities included. The is one of our most requested portable toilet rentals throughout all of New York.
Only CALLAHEAD supplies the cleanest porta potties in the portable sanitation industry always delivered to you in like-new condition. We are unmatched in our portable restroom equipment and have the best service in all of New York. Our large variety of portable toilets allows our customers the most choices for any short-term or long-term rental need.
CALLAHEAD has the largest selection of standard, premium, VIP, designer, and luxury outdoor porta-potties and restroom trailers for rent anywhere in New York. We have been renting our portable toilets throughout Nassau, Suffolk, Brooklyn, Queens, the Bronx, Westchester, Staten Island and Manhattan Counties in New York since 1976. We are experts in the portable sanitation field and provide the most reliable, and sanitary portable restroom facilities in the industry.
THE
PORTA POTTY'S OPTIONAL ACCESSORIES TO RENT:

For added convenience, we are proud to offer the below list of optional accessory items with your . All of CALLAHEAD's rental accessories for portable toilets were selected to give users the same comforts as if they were using an indoor restroom.

CALLAHEAD's portable restroom accessory items are unmatched in the portable toilet industry, and include:
Headliner Toilet Seat Covers Dispenser can be installed inside the

and is filled with 250 toilet seat covers so every user may have a clean, dry and sanitary toilet seat
Headmist Time Released Air Freshener can be installed inside the

that will release a clean fresh scent automatically.
Flowers/Floral Arrangement can be delivered with the

and recommended to be placed on one of the porta potties interior shelves.
Professional Uniformed Portable Restroom Attendant is available to maintain cleanliness of your portable toilet rental during your special event so you don't have to. Our trained professional portable restroom attendant will clean your porta potty rental after each user to ensure every guest is guaranteed a clean visit to the

.
Uniformed restroom attendants are recommended:
When renting a large number of porta potties;
when renting portable restroom trailers;
if you have a large number of guests and rent a small number of portable toilets;
if your special event is corporate, dressy, formal and blacktie social gatherings;
when alcohol is being consumed at your special event.
THE RENTAL IS IDEALLY SUITED FOR THE FOLLOWING:
The following is a list of special events that the REGAL BERRY portable toilet is most commonly rented for. However, this porta potty is a great rental for just about any outdoor special event or public venue where temporary portable restroom facilities are needed.
WBlock Parties • Weddings • Graduation Parties • Barbeques • Block Parties • Special Outdoor Ceremonies • Birthday Parties • Backyard Parties • Remote Locations • Sporting Events • School Functions • Park and Community Events • Water Shutoffs • Emergency or Disaster Relief Situations • Concerts • Street Fairs • Marathons • Parades, Carnivals & Bazaars • Bathroom Remodeling • Weddings, Bat Mitzvahs & Bar Mitzvahs • Fundraisers • Communion Parties • Bachelor and Bachelorette Parties • Bridal Showers • House Parties • Festivals • Farmers Markets • Food Venues • Indoor Events with Limited Restroom Facilities Available • Restaurants, Bars and Pubs in need of Additional Restroom Facilities • Any Outdoor Public Event in need of Portable Toilet Facilities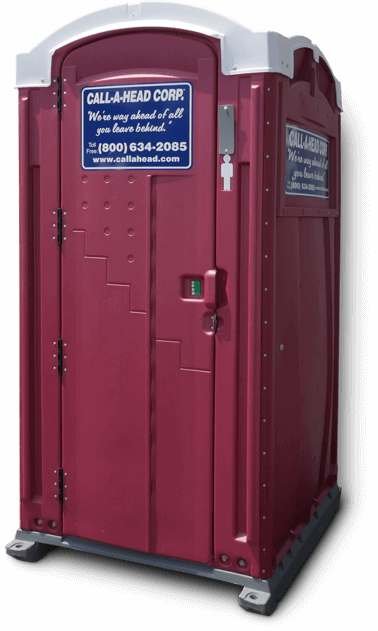 Our portable toilets are available same day as ordered throughout New York's five boroughs, including all of Westchester, Nassau and Suffolk Counties all the way to Montauk Point on Long Island, New York. A CALLAHEAD professional uniformed delivery specialist will arrive in one of our brand new delivery trucks. We believe in always doing more than what we have to, so our equipment and service is pretty close to perfect. This is a CALLAHEAD practice with every one of our portable sanitation equipment rentals. When you want a portable toilet cleaned and sanitized with only hospital grade cleaners and disinfectants, the REGAL BERRY by CALLAHEAD is sure to impress. Since 1976 CALLAHEAD has been delivering the world's best portable toilets to New York. We are the only company delivering quality equipment and sanitary service every time.