THE TRAILER PORCELAIN TOILET SYSTEM
(Page 2)
×
1- Company History

CALLAHEAD has been the leader in developing new and revolutionary equipment for the portable sanitation industry for over three decades. Our equipment sets the standard of which all others follow and desire to emulate. The most popular system competitors so desperately attempt to duplicate is the CALLAHEAD PORTABLE WATER AND SEWER SYSTEM.
This groundbreaking system was invented back in 1986 for our PORCELAIN TOILET SYSTEM by Charles W. Howard, CALLAHEAD's President and CEO. Mr. Howard, a visionary and inventor, began his career in the portable toilet industry, in 1977 building portable toilets from scratch. Since his inception into the business, he has been determined to develop his company's equipment and could foresee the imminent changes he could make to the portable sanitation industry.
The PORTABLE WATER AND SEWER SYSTEM was designed to be used within the construction industry for job site office trailers. Mr. Howard's goal was to develop a system so that office trailers could have a bathroom toilet and sewer system just like the one in your home. Prior to Mr. Howard's invention, an office trailer's restroom was essentially a toilet seat over a box inside the bathroom of the trailer. As you could imagine, restroom use was unpleasant. The CALLAHEAD system has many benefits such as, choices in porcelain toilets, odorless operation and a winterization package to eliminate freeze-ups. In addition, our flushing system supplies over 50 pounds of water pressure which is 10 pounds more pressure than the average homes bathroom.
The CALLAHEAD PORTABLE WATER AND SEWER SYSTEM can move to any location the trailer needs to be, yet you feel as though you are using a bathroom in your home. In the following pages, we will illustrate how our PORTABLE WATER AND SEWER SYSTEM is designed, installed, operated and serviced. As the original creators of the PORTABLE WATER AND SEWER SYSTEM for office trailers, we have outlined all of its operating details.
When researching office trailer toilet solutions, you will discover that CALLAHEAD is the only company in our industry to operate with the highest of standards. The details are so clear that you will see why the systems we put into place make us the leader in the industry. You will truly understand the CALLAHEAD motto, "To Develop and Evolve a Human Necessity" and recognize it is the only way we operate. The CALLAHEAD PORTABLE WATER AND SEWER SYSTEM is the perfect system for your office trailer. It will be the only system that you will ever want to use!
2 - CALLAHEAD Plaque and Brand
The CALLAHEAD brand has continued throughout the decades to represent a sign of excellence that is required by our customers. Employers and employees alike appreciate the greatness the CALLAHEAD brand represents. Which is why we install with every one of our Porcelain Toilet Systems, our CALLAHEAD engraved plaque.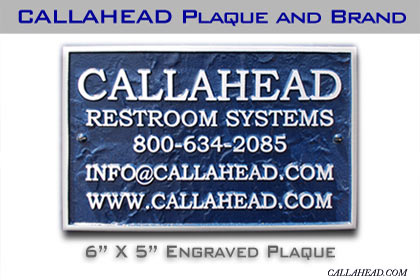 This 6" x 5" aluminum plaque is engraved with all of CALLHEAD's contact information. Its text is in silver with a navy blue background and chiseled appearance which is a true work of art. The CALLAHEAD plaque is installed directly above your toilet bowl in the trailer's bathroom, giving users easy access to our office's contact information.
We believe as our devoted clients do, that this plaque represents a sign of excellence. Depicting to your employees that you care about their restroom facilities by providing them the quality they deserve. Anyone can hire a company with a toilet and a waste tank, but great companies will select CALLAHEAD. The plaque will make the statement, "You are the Best!"