THE HOME PORCELAIN TOILET SYSTEM
(Page 7)
×
7- Inspection System (continued)
Perfection is simply doing things you don't have to do which is also the concept that made Disney one of the world's greatest companies and is how CALLAHEAD operates on a daily basis.
At CALLAHEAD we want our customers to be as confident in our systems as we are so we also send our professional inspectors on demand of the customer to go over the installation, service and operation questions etc.
CALLAHEAD realizes in the portable sanitation industry you must have company inspectors to remain a perfectionist company and ensure we always have the greatest systems and equipment in the field.
---
---
8- Fleet of Trucks and VW Buggy
There is no doubt that CALLAHEAD has the newest, cleanest and most reliable trucks in the portable sanitation industry. We purchase our vehicles brand new and have them customized to specifically handle CALLAHEAD operations. All of our vehicles stay in service for a maximum of 3 years or 90,000 miles before we sell them to other portable sanitation companies throughout the country.
We have over 60 vehicles on the road day in and day out not only representing the CALLAHEAD brand but servicing our customer's equipment so it is a must for our vehicles to be in perfect condition at all times.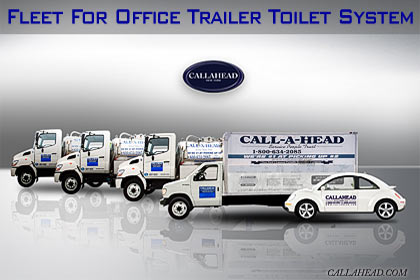 Having a fleet of brand new, perfectly clean and fully maintained vehicles at our equipment sites not only represents CALLAHEAD but our client's choice in portable sanitation equipment. Every one of our vehicles is fully equipped with GPS navigation systems which we update daily with each service technician's personal route.
When CALLAHEAD delivers, installs, inspects, maintains, services and repairs your porcelain system you will have 4 different CALLAHEAD signature vehicles come to service your site, 3 trucks and 1 Volkswagen Beetle (VW Buggy).
The first vehicle to arrive at your site is our shiny stainless steel signature delivery box truck transporting all the equipment to your site for installation. Our box truck will be driven by our uniformed installation technician delivering and installing your equipment.
A second vehicle to visit your job site will be CALLAHEAD's signature VW Buggy. Our white with navy blue signage VW Buggy will be driven to your site by our uniformed inspector who will be there to ensure your installation was completed perfectly.
A third vehicle to visit your job site is the CALLAHEAD fresh water delivery truck driven by our uniformed service technician. Our fresh water delivery truck has only one purpose, to deliver fresh water. Each of our fresh water delivery trucks have an enclosed stainless steel tank in which the fresh water is transported to your site and is clearly marked "Fresh Water Delivery" and has never carried anything but fresh water in its tank. Because CALLAHEAD purchases all of our vehicles brand new we can make this statement.
A fourth vehicle that will arrive at your job site will be our signature waste tank truck which is the most commonly seen of the CALLAHEAD fleet. Our stainless steel waste tank truck will be driven by a uniformed service technician with its purpose to clean out the waste from your waste tank.
CALLAHEAD's service technicians and inspectors will arrive in CALLAHEAD vehicles that are in like new condition, cleaned daily and serviced regularly. You will never see an old, dirty or beat up CALLAHEAD vehicle ever drive up to your jobsite or on the road for that matter.
At CALLAHEAD we are proud of the company we continue to build and it is important to us that our customers are proud to do business with CALLAHEAD. We understand that our equipment and vehicles on your jobsite not only represents CALLAHEAD but also our customers. It is our goal to give our customers the ability to say, "We have the best portable sanitation company on our site." We want our customers to say this proudly and confidently with no hesitation.
---
---
9- Consistency and Quality
CALLAHEAD has developed an excellent inspection system for our porcelain systems to ensure every customer's equipment is set up flawlessly. Once your equipment is delivered and installed by one of our professional installation technicians we will send a uniformed CALLAHEAD inspector to your jobsite in one of our signature VW Buggies.
Consistency is one of the most important elements to a company's success, a products success and the success of any service. It is very difficult to create perfect consistency in a corporation because it completely goes against the laws of physics and human nature. Time after time nature builds then destroys, man builds then destroys and at times they work together.
For example, there is 60 days of beautiful weather and during this time man may fix, build or clean and then a storm comes and destroys what man has accomplished. This is very similar to how business operates. Natural forces opposing each other to where perfect consistency is very difficult to achieve or you could even say impossible (remember we believe perfection exists).
A Quick Note on Our Perfection Theory:
One of CALLAHEAD's Account Executives went out on maternity leave for a couple of months and had a baby girl. Upon returning to work she strongly debated our perfection theory with me. I asked her to argue all her points and that I promise once she was done I would have her agree with my perfection theory with just one sentence. Once she was finished I looked at her and asked, "Is your baby girl perfect?" She stood up with a look of shock and then smiled and replied, "You are absolutely right perfection does exist."
At CALLAHEAD we've learned the best way to create consistency is to have a backup system for all of our systems. This is an extremely difficult task, however to be a great company it must be done. A few examples of CALLAHEAD's backup systems are: For every 4 route drivers we have one extra driver; for every 4 trucks there is one extra truck; for every piece of equipment in the field we keep matching equipment in our yards; if we need 10 Account Executives, we would have 15; if we need 15 phone lines we would have 25 and so on.
As you can see to be a great company that believes in being perfect, it is very expensive, but is truly the only way to be the best. Multiplying the systems above and beyond the company's needs is critical to secure great service and equipment to the customer with the highest level of consistency. A perfectly run company mimics a machine, as machines do not operate inconsistently. Therefore a business must be as consistent as possible, especially to succeed in a company's inherit goal which is to survive.
Business is essentially war where the strong and consistent survive and the weak and inconsistent perish. For example, Warren Buffet an American investor, industrialist and philanthropist who is widely regarded as one of the most successful investors in the world. Mr. Buffet has been going to work every day for over 60 years with his businesses and career built on his consistency. Would Warren Buffet ever invest in an inconsistent company? The same with the Big Mac, if every Big Mac wasn't exactly the same, McDonald's would not be the business it is today.