THE ECONO PORCELAIN TOILET SYSTEM
(Page 7)
×
10 - Automatic Fresh Water Pump
When CALLAHEAD began creating our Porcelain Systems back in 1986 our goal was to create a system that is exactly like a porcelain toilet system in your house if not, better. From the beginning we realized for us to construct the greatest water and sewer system it was essential to generate equivalent or greater water pressure than that of a home sewer system.
At CALLAHEAD we believe in doing more than what is necessary, so we chose a very overwhelming pump to create 50 pounds of water pressure to achieve our goal. When we considered that the average house has 40 pounds of water pressure or less, we knew we were off to a very good start to accomplish our objective.
Our Automatic Fresh Water Pump is made of stainless steel, has a one horse power motor with a motor speed of 3400 RPM, uses 110 volt electric and pumps an amazing 900 gallons of water per hour.
The purpose of this pump is to have a continuous 50 pounds of water pressure go to your toilet for exceptional flushing and operation.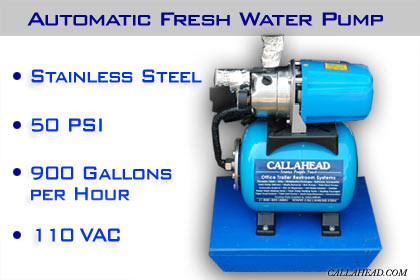 At installation, CALLAHEAD's uniformed technician will install the water pump on a small custom skid outside the trailer directly in-between the waste tank and fresh water tank.
Schedule 40 PVC plumbing lines are used to and from the pump which is heat traced on both sides of the pipe and wrapped with insulation to prevent freezing during the winter months.
The electric line is brought under the trailer and plugged into the exterior outlet or brought through the floor of the trailer to an outlet (also see Winterization Package).
Our technician will then mark the breaker box with a sticker stating that the breaker is being used for the automatic fresh water pump.
At CALLAHEAD we accept nothing less than perfection in every aspect of our business down to the smallest detail. It is evident that CALLAHEAD's Automatic Fresh Water Pump is the ideal pump for these systems as thousands of already satisfied clients would agree making our porcelain systems the greatest in the industry.
---
---
11 - Fleet of Trucks and VW Buggy
There is no doubt that CALLAHEAD has the newest, cleanest and most reliable trucks in the portable sanitation industry. We purchase our vehicles brand new and have them customized to specifically handle CALLAHEAD operations. All of our vehicles stay in service for a maximum of 3 years or 90,000 miles before we sell them to other portable sanitation companies throughout the country.
We have over 60 vehicles on the road day in and day out not only representing the CALLAHEAD brand but servicing our customer's equipment so it is a must for our vehicles to be in perfect condition at all times.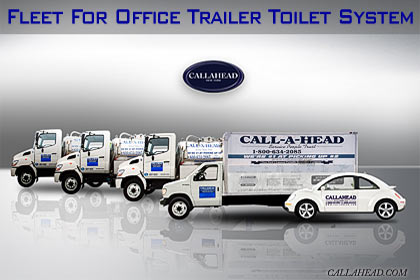 Having a fleet of brand new, perfectly clean and fully maintained vehicles at our equipment sites not only represents CALLAHEAD but our client's choice in portable sanitation equipment. Every one of our vehicles is fully equipped with GPS navigation systems which we update daily with each service technician's personal route.
When CALLAHEAD delivers, installs, inspects, maintains, services and repairs your porcelain system you will have 4 different CALLAHEAD signature vehicles come to service your site, 3 trucks and 1 Volkswagen Beetle (VW Buggy).
The first vehicle to arrive at your site is our shiny stainless steel signature delivery box truck transporting all the equipment to your site for installation. Our box truck will be driven by our uniformed installation technician delivering and installing your equipment.
A second vehicle to visit your job site will be CALLAHEAD's signature VW Buggy. Our white with navy blue signage VW Buggy will be driven to your site by our uniformed inspector who will be there to ensure your installation was completed perfectly.
A third vehicle to visit your job site is the CALLAHEAD fresh water delivery truck driven by our uniformed service technician. Our fresh water delivery truck has only one purpose, to deliver fresh water. Each of our fresh water delivery trucks have an enclosed stainless steel tank in which the fresh water is transported to your site and is clearly marked "Fresh Water Delivery" and has never carried anything but fresh water in its tank. Because CALLAHEAD purchases all of our vehicles brand new we can make this statement.
A fourth vehicle that will arrive at your job site will be our signature waste tank truck which is the most commonly seen of the CALLAHEAD fleet. Our stainless steel waste tank truck will be driven by a uniformed service technician with its purpose to clean out the waste from your waste tank.
CALLAHEAD's service technicians and inspectors will arrive in CALLAHEAD vehicles that are in like new condition, cleaned daily and serviced regularly. You will never see an old, dirty or beat up CALLAHEAD vehicle ever drive up to your jobsite or on the road for that matter.
At CALLAHEAD we are proud of the company we continue to build and it is important to us that our customers are proud to do business with CALLAHEAD. We understand that our equipment and vehicles on your jobsite not only represents CALLAHEAD but also our customers. It is our goal to give our customers the ability to say, "We have the best portable sanitation company on our site." We want our customers to say this proudly and confidently with no hesitation.
---
---