THE ECONO PORCELAIN TOILET SYSTEM
(Page 4)
×
4 - Winterization Process
The CALLAHEAD Winterization Package is by far the best in the industry. With thousands of systems out in the field CALLAHEAD's water and sewer systems continue to go year after year with absolutely no freeze-ups at all, which is an amazing stat. We would not make such a bold statement so confidently and proudly if it were not true. Developing and evolving the Winterization Package since 1986 is how we perfected this process.
We feel it is important for our customers to understand fully how we have accomplished such success with our Winterization Package to give you not only knowledge of how our systems work but also provide our clients confidence when choosing CALLAHEAD. We realize this will also give our competitors the blueprints to our creation however, we are certain as the developers of this Winterization Package that nothing can match the original (e.g. If KFC gave every chicken house its recipe they still couldn't be KFC).
To begin our winterization process, the first thing we do to eliminate freeze-ups is to treat the water. We do this by melting perfectly clean salt with the water at an amazing ratio of 2½ lbs of salt to 1 gallon of water. When the salt is completely melted you will have a strong albrine solution that will keep the water from freezing to about 6 degrees Fahrenheit, which is a very good start but not good enough.
After the water is initially treated, it is time to create a heating system in and around all of the contained water areas. Just like airplanes need back-up systems to stay in the air, our water Winterization Package needs many back-up systems to completely eliminate freeze-ups.
With this theory in mind we double up on all the heating components and even send the electric lines to different breakers so there is less chance of freeze-ups due to loss of electric power. Inside the holding tanks we place two electric heaters that lay at the bottom of the tank with built in thermostats. These heaters will keep the tank water temperature well above the freezing point.
We then use heat tracing along the plumbing lines from the fresh water tanks to the pump and follow the pump to the restroom floor of the trailer. Two lengths of heat trace are then used to go up and down and along both sides of the plumbing pipes.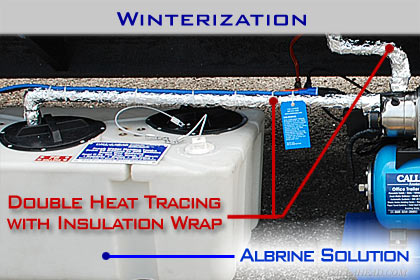 Finally, we wrap up all plumbing lines from the tank to the pump all the way through to the trailer floor with an insulation wrap to complete the Winterization Package installation. The secret to our success is our numerous back-up systems put into place at every installation. We have been developing and evolving this process since 1986 and as a result, freeze-ups at CALLAHEAD do not exist.
5 - Customer Requirements for CALLAHEAD's Porcelain Toilet Systems
As you have read thus far, CALLAHEAD's porcelain toilet system is designed to give users the same experience as if they were using a toilet in their own home.
We literally created our very own portable sewer system so that its operation is as if you had domestic running water. CALLAHEAD has achieved this feat with very few requirements from our client's job site trailer.
While there are some minimal requests, our decades of experience of not always having the perfect trailer set up have taught us well. Keep in mind if your job site trailer can't meet all of our listed requirements, all is not lost. Let the CALLAHEAD, "There is always a way" attitude work for you.
List of Customer Requirements:
Trailer with a bathroom intact.
120 volt electric hook-up to trailer.
Crawl space height beneath trailer of 24" to 36".
At least a 3 foot wide space running parallel in the back of the trailer for access during installation and service.
Ability for our service trucks to get within 15 to 25 feet of either side of the back corners of the trailer.
An open and accessible crawl space for technicians to install and service the system.
Now that you have had a chance to review our minimal requirements we would also like to advise you of a few things that are not required. The following is what you do not need to install and operate CALLAHEAD's porcelain toilet system.
Do Not Need
Do not need domestic running water.
Do not need skirting around your trailer.
Do not need a toilet bowl in your trailer.
Do not need a sewer or cesspool hook-up.
As you can see, our requirements to set up our porcelain toilet system are minor. Many of you may be even more surprised of what you do not need to achieve CALLAHEAD's homelike porcelain toilet system in your job site trailer.
At CALLAHEAD we believe anything is possible and resolvable. Throughout the years we have overcome numerous obstacles during thousands of installations of our systems. If your job site trailer does not meet all of our requirements give CALLAHEAD a call so we may work hard to remedy your obstacle so that you too may have the greatest porcelain toilet system in your trailer's restroom.
---
---