THE CONTRACTOR'S PORCELAIN TOILET SYSTEM
(Page 4)
×
4 - Waste Water Holding Tanks
CALLAHEAD's waste water holding tanks were designed specifically for our porcelain toilet systems. We began this process back in 1986 by researching blank black waste tanks. Once we found the thickest strongest polyethylene tanks available we purchased multiple sizes in both dimensions and gallonage (see size chart below).
With 10 size variations between height and gallonage, we began to customize each tank to fit our requirements for the porcelain toilet systems. These low profile tanks are designed to lay flat on the ground so they may fit under just about any office trailer's crawl spaces. However, when polyethylene tanks are laid flat in this position the top deck of the tank will naturally concave due to lack of upright support. To avoid this natural occurrence we customized the tanks by installing two 4" x 4" wooden supports to eliminate our tanks from collapsing. Next, we put a 3" PVC female thread fitting in each corner of the tank along with 3" caps with cables attached to the caps to prevent loss. This process allows plumbing hook-ups to the tanks.
Waste Water Holding Tank Chart

| Width | Length | Height | Gallons |
| --- | --- | --- | --- |
| 24 | 48 | 12 | 50 |
| 24 | 48 | 16 | 75 |
| 36 | 48 | 12 | 85 |
| 36 | 48 | 16 | 115 |
| 48 | 48 | 12 | 115 |
| 48 | 48 | 16 | 150 |
| 48 | 72 | 12 | 170 |
| 48 | 72 | 16 | 225 |
| 48 | 96 | 12 | 225 |
| 48 | 96 | 16 | 300 |
The next step is to turn our black waste holding tanks into a combination tank/bin. We call this the "bin effect". We installed 3 black 8" twists on the equipment covers so when all of 3 of the covers are open the holding tanks essentially becomes a bin.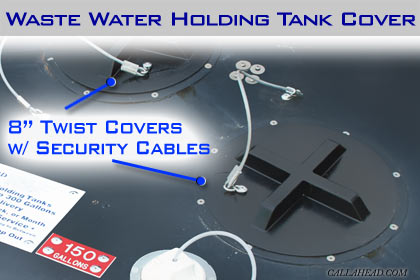 There are several benefits of having our tanks operate as a bin in addition to thorough cleanings which includes equipment installation inside the tanks of our heaters, filters, check valves, pumps etc. These 8" twist equipment covers also have cables attached to prevent loss.
The final install in the creation of our waste water holding tanks are the placement of CALLAHEAD's prominent aluminum plates on top of the tanks. One plate displays our contact information and the other the gallonage of the tank. A major feature of our waste water holding tanks is the fact that they are extremely low profile standing only 12" or 16" in height. These low profile tanks can fit under the majority of office trailers and essentially eliminate the need for sewer or cesspool hook-ups.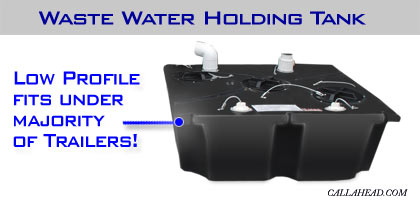 CALLAHEAD's design of our waste water holding tanks for the porcelain toilet system is like none other in the portable sanitation industry. We thought of every detail when creating these tanks from its operation, odor control, cleanliness and very importantly its ability to fit virtually under just about every trailer's crawl space. This allows nearly every office trailer to have the greatest porcelain toilet system in their restroom that is only available from CALLAHEAD.
---
5 - Inspection System
CALLAHEAD has developed an excellent inspection system for our porcelain systems to ensure every customer's equipment is set up flawlessly. Once your equipment is delivered and installed by one of our professional installation technicians we will send a uniformed CALLAHEAD inspector to your jobsite in one of our signature VW Buggies.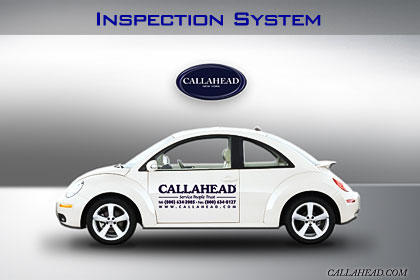 Fully equipped with a pad, pen and camera, the inspector will take detailed notes on the quality of work completed at your site. Next, the inspector will take photos in every possible angle of all the equipment delivered and installed by the installation technician.
Once the inspection is completed, the inspector will return to the CALLAHEAD office where we will examine his notes against his photos to check if there are any possible improvements to be made on the installation.
If by chance there are improvements needed, the installation technician will be given explicit details of the changes necessary utilizing the notes and photos taken by the inspector and return to your site to complete the job.
Upon completion of all required changes, we will have our inspector return to the jobsite to verify all the improvements by again taking detailed notes and photos.
At the point of completion of the installation of our perfected porcelain, water and sewer systems, all of the notes and photos will be put into the clients file for future reference if needed.
Most improvements on an installation may include, better placement of equipment, cleanliness of the job, electrical and plumbing lines neater and fastened more securely to walls and equipment etc.
At CALLAHEAD we are clearly perfectionists or we would not have thousands of sites with our equipment. We have been under the same ownership since we came into business and believe, "Perfection is a matter of opinion, therefore it exists."
Perfection is simply doing things you don't have to do which is also the concept that made Disney one of the world's greatest companies and is how CALLAHEAD operates on a daily basis.
At CALLAHEAD we want our customers to be as confident in our systems as we are so we also send our professional inspectors on demand of the customer to go over the installation, service and operation questions etc.
CALLAHEAD realizes in the portable sanitation industry you must have company inspectors to remain a perfectionist company and ensure we always have the greatest systems and equipment in the field.
---
---