---

This is it! This is the one! CALLAHEAD's is the world's most incredible hand sanitizing station ever designed to eliminate the spread of germs for the health and safety of society. A CALLAHEAD exclusive designed by award-winning builder and designer Charles W. Howard, President and CEO of CALLAHEAD. CALLAHEAD manufactured the , so it is unavailable anywhere else. The will help protect the public from spreading harmful germs, bacteria, viruses, fungi, food-borne illnesses, parasites, Coronavirus, SARS, H1N1, and other flu illnesses. The is an innovative design by Mr. Howard that will not only supply generous amounts of antibacterial gel and antibacterial wipes for large crowds, but it also looks spectacular in any location. Constructed of marine-grade materials and available in a variety of color options, the is available with two or four 27-ounce antiseptic gel dispensers in addition to an 11lb bucket of 800 disinfectant wipes to handle use by thousands of people. As a result, the is the superior antibacterial stand in the field, weighing nearly 150 pounds. It is the ideal antibacterial stand rental for any open area such as lobbies, hallways, sidewalks, entryways, parks, sports fields, parking lots, catering halls, or other high-traffic locations to promote a safer environment.
Charles W. Howard designed the to deliver a high-end hand sanitizing system to every business, stadium, arena, employer, school, university, private residence, government agency, emergency location, medical facility, nursing home, special event, or any public area to eliminate the spread of germ causing illnesses. Mr. Howard designed the using only premium heavy duty marine grade materials which keeps the in place without the worry of it being moved or tipped over even when in use. The is available in several colors: blue, green, orange, brown, indigo, arctic white, dolphin gray, and red. With so many color choices, CALLAHEAD gives the power to our customers to select the perfect color to match any location's setting and design. Such as a green for a park, orange for the construction site, white for a medical building or hospital, and a blue for a school to name a few. In addition, CALLAHEAD's delivers hospital-grade hand sanitizing capabilities to any long-term or short-term rental need while also looking stylish. The is a public health solution, killing 99.9% of germs and bacteria that can cause life-threatening illnesses when soap and water are not available. The can be placed in any public location, and the attractive and sturdy design promotes public use.
CALLAHEAD's is available in two size options. One stand includes four 800ml antibacterial gel dispensers plus the 11lb bucket of disinfectant wipes. Another option is the two 800ml antibacterial gel dispensers as well as the 11lb bucket of disinfectant wipes. Both stands feature gorgeous 8" X 8" stainless steel CALLAHEAD plaques on all four sides representing the best in portable antiseptic systems. The is constructed of marine-grade plastic and aluminum with stainless steel fasteners to ensure it can be easily cleaned always to remain sanitized. The 's two or four 22 fluid ounce antiseptic gel dispensers are mounted on two sides or all four sides of the stand.
When a dispenser is pressed, users receive .544 grams of hospital-grade hand sanitizing gel at each pump. Each antiseptic dispenser delivers approximately 1,300 uses. This delivers a substantial 5,200 uses with four antiseptic gel dispensers, and 2,600 uses with two antiseptic gel dispensers. Plus, in the center of both styles of the sits an 11lb/5kg bucket for an additional 800 disinfectant wipes supplying 6,000 antiseptic uses with the 's four antiseptic gel dispensers. CALLAHEAD's antiseptic gel and wipes kill germs and bacteria in 15 seconds and contains vitamin E. Wipes are easily pulled through the top of the , while the antiseptic gel is easily pumped from each dispenser. CALLAHEAD's antiseptic gel and wipes kill 99.9% of antibiotic bacteria, CA-MRSA, MRSA, VISA, VRE, HIV-1, Staph, E.Coli, Salmonella, COVID-19, and all the flu viruses.
---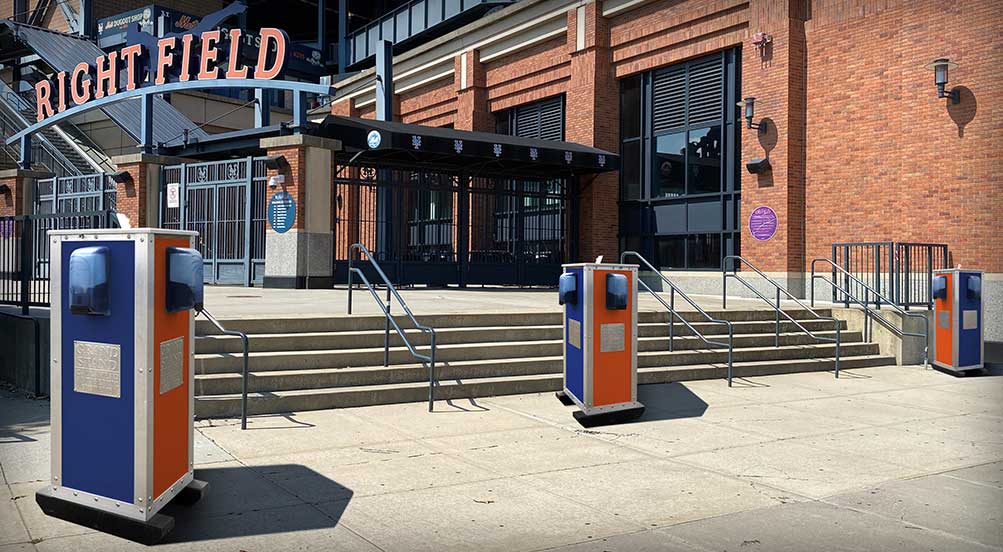 ---
The is made using only premium heavy-duty materials. With the you will not need to worry about mounting anything on a wall. Because it is so sturdy, the can be placed in any open area. In addition, the weight of the is more than impressive. The with four antiseptic dispensers weighs 145 pounds, and with two dispensers weighs 140 pounds. With this kind of weight, the will handle heavy force and not move around or tip over when used. The can be placed on a field, park, in the center of a room or hallway, near entry doors, on a sidewalk or construction site, throughout a stadium or venue, or any open area without worrying about it moving or falling over. This is the heaviest portable antibacterial stand on the market designed, manufactured, and available exclusively through CALLAHEAD. The allows you to put antibacterial dispensers front and center and in the middle of the action to promote use for health and safety.
The arrives filled and ready to use. For long-term rentals, the is maintained by CALLAHEAD so you will not have to worry about maintenance. Restaurants, shopping malls, gyms, sporting arenas, parking garages, hotels, subway and train stations, airports and office buildings are just a few of the locations where hand sanitizing capabilities are required to reduce the spread of germ causing illnesses. The portable hand sanitizing station delivers the greatest hygienic protection for locations with large crowds, not enough handwashing sinks, no sinks available, or when you want to encourage hand sanitizing to the public for a healthier environment. When you have substantially large crowds such as concerts and music festivals, marathons, parades, and fundraisers, the will provide the much-needed hygienic protection when placed throughout the crowd. Whether located at a door entry, by a public restroom, or near a food vendor, the delivers hospital-grade hand sanitizing that will protect you from the spread of germs when and where you need it.
Hand sanitizers are necessary given the significant health benefits of antibacterial gels to protect from colds, flu's, Coronavirus, H1N1, COVID-19, SARS, E-Coli, Salmonella, and other common illnesses often spread by the transfer of germs through touch and hand to hand contact. You will reduce the risk of illness considerably by washing your hands or using hand sanitizers frequently throughout the day. CALLAHEAD's is the perfect answer for every public location or private residences. When you rent the from CALLAHEAD you will never have to worry about maintenance. Not only is the easy to use, but it is also easy to maintain because CALLAHEAD provides the antiseptic gel and wipes that kills 99.9% of germs and bacteria. Refills are also available daily, weekly, monthly or upon request.
The is perfect for any public area, including valet stands, outside public restrooms, elevators and escalators, food courts, and transportation centers. Germs are easily transmitted from frequently touched surfaces such as doorknobs and handles, handrails, elevator buttons, and light switches. Bacteria and viruses can stay on metal, plastic, and cardboard for several days. These frequently touched surfaces can quickly spread viruses by your hands touching any contaminated surface. The will help you provide a healthy environment, whether long-term rental job-site or a short-term event such as a graduation, marathon, concert, or sporting event. Placing the by door entrances and exits of any business or public building can help eliminate the spread of germs inside. Supermarket entry and exit areas, check-out stands, and cashier stations will benefit from the antibacterial stand. For the public's hygienic protection, the is the answer for peace of mind for visitors, staff, and guests to know extra safety measures are in place for an overall healthy environment.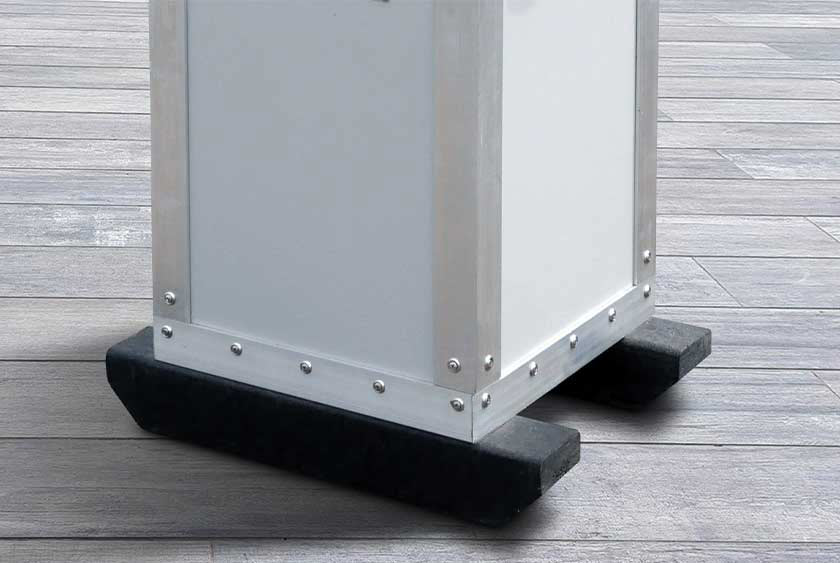 HEAVY DUTY, NON-SLIP SKIDS PREVENTS MOVING OR TIPPING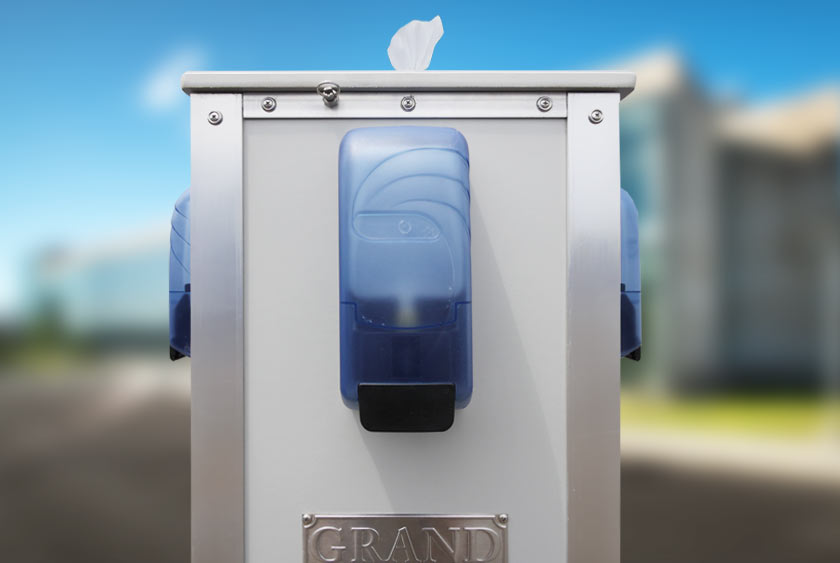 EACH OF THE FOUR ANTISEPTIC DISPENSERS DELIVER APPROXIMATELY 1,300 USES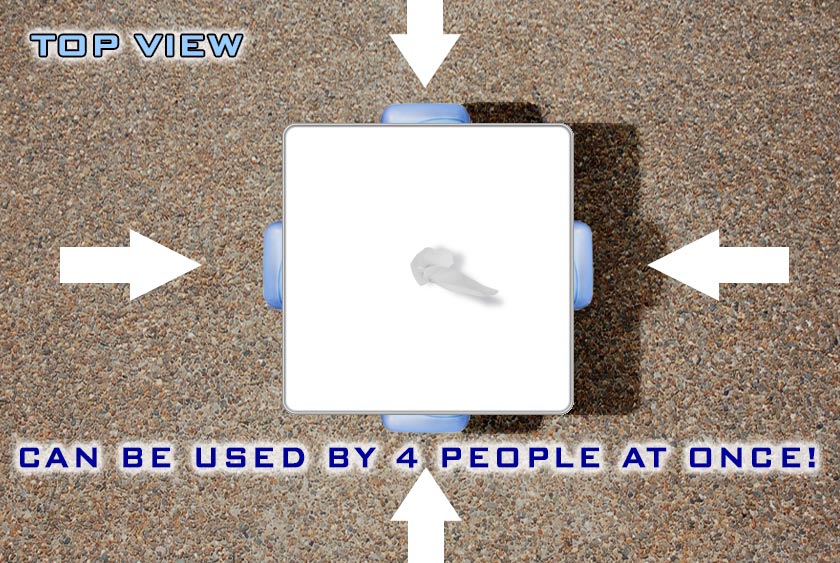 FOUR DISPENSERS ALLOWS USE FROM ANY ANGLE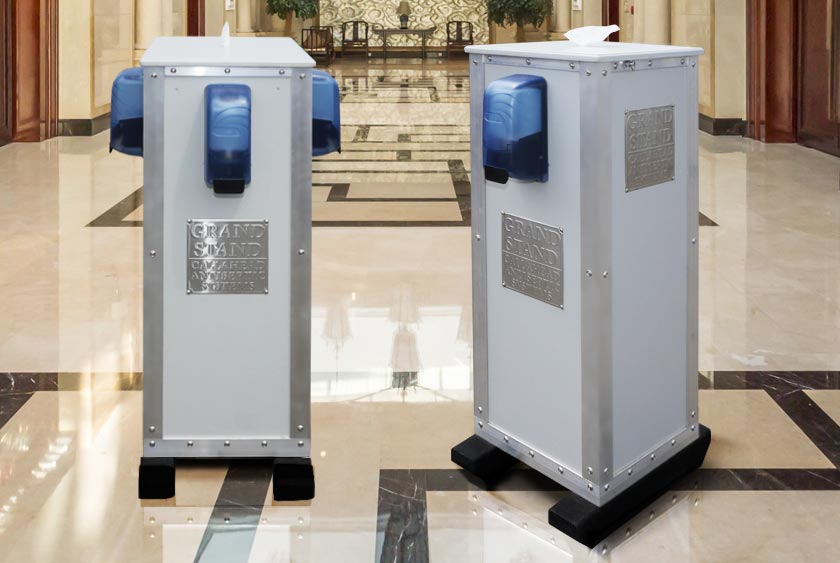 GRAND STAND IS ARCHITECTURALLY DESIGNED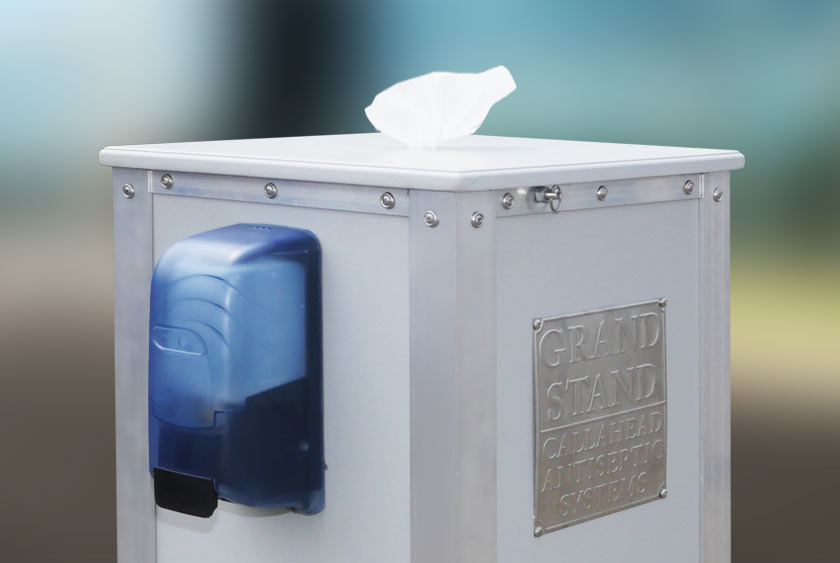 DISINFECTANT WIPES DISPENSE THROUGH TOP OF THE GRAND STAND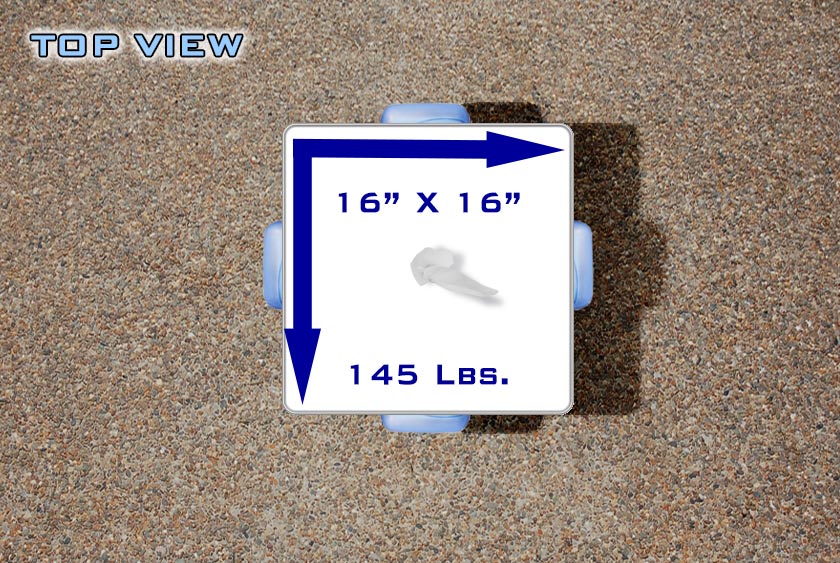 HEAVY 145 LBS WITH SMALL FOOTPRINT (16X16 INCHES)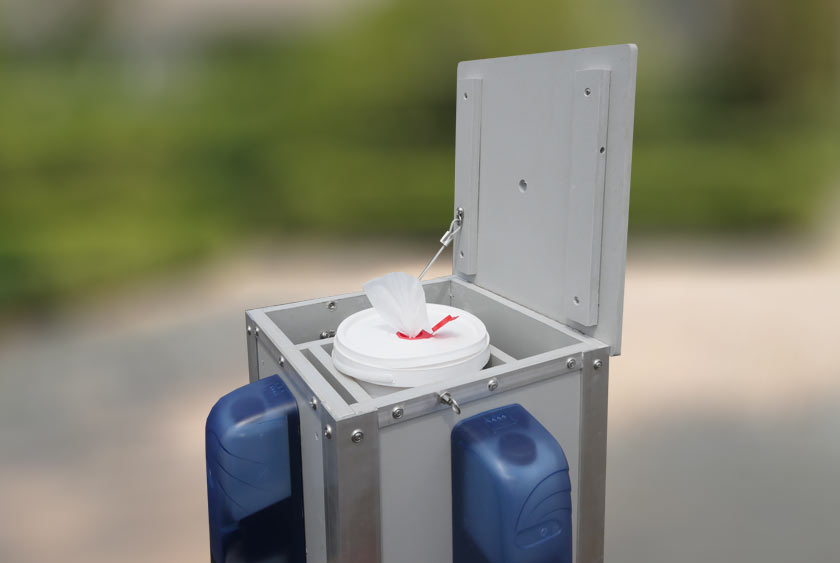 11 LB BUCKET CONTAINS 800 DISINFECTANT WIPES
GRAND STAND HAS UNIQUE STAINLESS STEEL SIGN
Previous
Next
HAND SANITIZER TECHNIQUE:
1. Make sure all organic matter is removed from hands. All visible organic matter (for example: dirt) should be removed from hands prior to applying waterless hand sanitizer. 2. Apply a dime sized amount of waterless hand sanitizer to the palm of one hand or use a waterless hand sanitizer wipe. 3. Rub hands together covering all surfaces of hands and fingers. 4. Rub until waterless hand sanitizer is absorbed.
BENEFITS OF CALLAHEAD'S :
More accessible than sinks • Portable antibacterial stand with on easy to use dispenser • Reduce bacterial counts on hands • Requires less time than hand washing • Acts quickly to kill microorganisms on hand • Less irritating to skin than soap and water • No sink, no water, no rinse, no towel & no mess • Meets OSHA and Health Department hand cleansing requirements • Soothing rich emollients such as Vitamin E help to keep hands soft even after repeated use The will benefit first responders and medical staff for emergency situations. Hand sanitizing is necessary to eliminate the spread of germs before serving the public.
---
Hand sanitizing is strongly recommended by the Center for Disease Control (CDC) for everyone every time you use the restroom, cough, sneeze, before and after eating, preparing food, and should be done periodically throughout the day to help avoid contact with harmful germs and bacteria that can cause serious illness. Publications by The Center for Disease Control (CDC) and The Occupational Safety and Health Act (OSHA) conclude that handwashing is proven protection from the spread of many serious illnesses. Presented with this information confirms handwashing or sanitizing equipment is essential for every business, construction job site, public setting, and special event. Just a pump of gel and rub your hands together, our quick drying sanitizer will protect users from harmful diseases and infections that are commonly spread through hand-to-hand contact. CALLAHEAD, along with the CDC recommends that hand sanitizers or handwashing facilities are a requirement for every business and public venue such as, construction job sites, sporting facilities, arenas, beaches, parks, parties, farmer's markets, carnivals, playgrounds, schools, daycare facilities, marathons, fundraisers etc.
IMPORTANT SAFETY AND HEALTH FACTS:
The Center for Disease Control (CDC) affirms, "Keeping hands clean is one of the most important steps we can take to avoid getting sick and spreading germs to others." • The Occupational Safety and Health Act (OSHA) require employers to provide adequate washing facilities for employees that work with contaminants that may be harmful. • The Association for professionals in Infection Control and Epidemiology (APCI) position, "Although people usually think that germs are spread through the air, the fact is that germs are most easily spread through HAND CONTACT." AND "One of the best ways to avoid getting sick or spreading illness is to wash OR to decontaminate your hands." • The Center for Construction Research and Training (CPWR) states, "Lack of cleaning facilities on construction job sites increases the likelihood of dermatitis, caustic burns from extended contact with wet cement, or acid burns from muriatic acid or other hazardous agents that come in contact with the skin, and infection." The result, additional workers compensation claims. • The Center for Disease Control (CDC) estimates that 36,000 people die from the flu or flu-like illness each year, and another 5,000 people die from food borne illness each year. And your best protection from this type of illness is frequent hand washing.
DESIGN FEATURES AND SPECIFICATIONS:
Height – 46" • Width- 16" • Color choices - blue, green, orange, brown, indigo, arctic white, dolphin gray and red • Four dispensers weight –145 pounds / Two dispensers weight – 140 pounds • Constructed marine grade plastic and aluminum with stainless steel fasteners • Dispenser Height (Bottom) – 40" • Sign Measurement – Four 8' x 8" plaques • Two or Four 800 ml hospital grade dispenser • Dispenser holds 27 fluid ounces of hospital grade hand sanitizer to kill 99.9% of germ causing illnesses • One filled dispenser provides approximately 1,300 uses • Dispenser has a large push button design for easy operation • Dispenser has a regulated push tube system allowing for approximately 1,300 single shot uses • Four dispenser stand provides approximately 5,200 uses of antibacterial gel plus 800 antibacterial wipes totaling 6,000 uses • Two dispenser stand provides approximately 2,600 uses of antibacterial gel plus 800 antibacterial wipes totaling 3,400 uses • Sealed dispensers to assure no contamination of antiseptic gel •11lb (5kg) bucket of 800 antibacterial wipes easily pulled through the top of stand • No soap or water needed to kill 99.9% of germs and bacteria that can cause serious illness • Maintained 100% by CALLAHEAD with antiseptic gel and wipes refilled daily, weekly, monthly or upon request • Available rental daily, weekly, or monthly
For public health and safety every business, special event, jobsite, public area, school, places of worship, and medical facility require hand sanitizing capabilities. Unfortunately, most businesses do not have the time or staff to maintain hand sanitizing systems. CALLAHEAD answers the call with dozens of hand sanitizing systems for every need to ensure a healthy environment. In today's society more than ever health and hygiene is of the utmost concern. CALLAHEAD has been in business since 1976 with a commitment to deliver only the highest quality innovative equipment and service available. For hospital grade cleanliness and service with the most advanced one-of-a-kind equipment in the industry CALLAHEAD!

The rental is available for same-day delivery to all of New York City's five boroughs of Manhattan, Brooklyn, Queens, the Bronx and Staten Island, Westchester County and all of Nassau and Suffolk Counties on Long Island to Montauk Point. We are a New York company serving only New York. We have over 250 employees in New York serving only New York for nearly five decades. Our dedication to New York residents and businesses means you will never have to compromise on service or equipment. Our equipment does not vary by location because we only service the New York area. We are the best in the industry due to our inventions, dedication, and our focus to serve our New York customers.