FEATURES:
Foot operated pump to provide immediate water stream for hands-free washing. • Ample space for hand to elbow washing. • Two large double fold towel lockable dispensers • Two high capacity spray soap dispensers. • Large cutout foot pumps, making it comfortable to fit even a heavy work boot. • Two hard-sided 24 gallon water tanks for fresh and gray water that are well sealed for peace of mind from contamination. • Fresh water tank is easily removed for regular sanitizing and allows you to use chlorine tablets to kill harmful bacteria for superior hygiene. • Small enough to maneuver into small spaces yet durable for tough jobs. • Vandal resistant design. • Available for Day, Week or Monthly Rental which includes fresh water, hand soap and hand towels with refills as needed. • No waterlines needed for fresh clean water.
SPECIFICATIONS:
Height: 49" • Width: 17" • Depth: 28" • Counter height: 36" • Counter area (each): 17"x12" • Box dimensions: 18.5"W x 30.75"L x 49.5"H • Weight: 70 lbs. • Fresh water capacity: 24 gallons • Gray water capacity: 24 gallons • Color: gray • Material: polyethylene • Approximate number of uses: 285
RECOMMENDED USE FOR:
Construction job sites. • Special events (party, wedding, school function, marathon, charity event, sporting event, festival, etc.). • Protects children in playgrounds. • Safeguards food for grocery stores, farmers' markets, and outdoor food vendors. • Provide sanitary hand washing for food preparation areas. • Quality portable wash station and sanitation solutions to compliment any CALLAHEAD portable toilet. • One (1) portable wash station is recommended by the Centers for Disease Control and Prevention for every four (4) portable toilets for proper hygiene. • One (1) portable wash station for every 20 construction workers on a job site is recommended by the Centers for Disease Control and Prevention for proper hygiene.
TO PROTECT FROM GERMS AND BACTERIA YOU MUST WASH YOUR HANDS BEFORE AND AFTER:
Using the bathroom • Blowing your nose, coughing or sneezing • Handling irritating substances such as acids, solvents or cement • Eating • Preparing food • Handling garbage • Treating wounds • Changing a diaper • Touch a sick or injured person • Inserting or removing contact lenses.
SANITARY FACTS:
Keeping hands clean is one of the most important ways to prevent the spread of infection and illness. Infectious diseases commonly spread through hand-to-hand contact include the common cold, flu, and other illnesses. • The U.S. Center for Disease Control and Prevention has concluded: "handwashing is the single most important means of preventing the spread of infection." • The hands are the most likely part of the body to come into contact with harmful substances. Failure to take basic precautions can lead to skin complaints such as dermatitis and eczema. You must avoid hand contact with any hazardous substance. • Inadequate hand hygiene contributes to food-related illnesses, such as salmonella and E. coli infection. According to the U.S. Center for Disease Control and Prevention, as many as 76 million Americans contract a food-borne illness each year. • For proper hygiene it is recommended to have a minimum of one (1) Washing Station per 4 restrooms. • "Handwashing" is a critical element in proper hygiene as germs can stay alive on hands for up to 3 hours.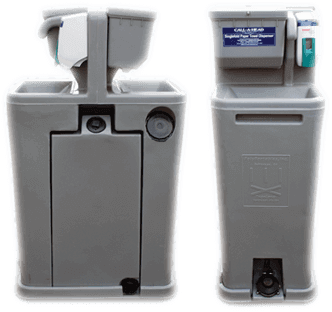 The Available in New York City, Long Island, Westchester, New York, NY
CallAHead Corporation at 1-800-634-2085 offers portable sinks and washbasins for rent when you want to offer a cleaner work environment for your construction site or special event. Callahead services all of New York City including NYC's five boroughs (Manhattan, Queens, Brooklyn, Bronx, Staten Island) as well as Westchester county and Nassau and Suffolk counties on Long Island.
The is CALLAHEAD's versatile stand-alone handwashing system which is the perfect solution for smaller job sites or special events. No matter how small your job or event, regulatory enforcement may require you to have handwashing capabilities even if you don't have running water available. The system offers all the features necessary for sanitary handwashing in a compact unit for those smaller jobs and events, or when limited space is available. Its lightweight but rugged construction makes this unit durable to handle tough jobs while still being easily transported to fit smaller spaces. The has a 24 gallon fresh water tank and a gray water tank, ideal to suit small jobs.
Each water tank is hard sided so there is absolutely no risk of bags or bladders that can break or leak offering you peace of mind from contamination. The 's fresh water compartment is also easily removed for regular sanitizing. CALLAHEAD's is simple to use with a foot pedal to fit even a heavy work boot that releases a steady stream of water with sufficient space to wash your entire forearm.
Equipped with high capacity spray soap dispensers and two double fold towel lockable dispensers, the HAND BASIN will provide all of the necessary amenities for perfect hand sanitizing. CALLAHEAD understands that our customers' requests change regularly and adding the to our already large variety of sink options guarantees your portable sink requirements can be fulfilled. It is our wide variety of quality products and superior service that makes CALLAHEAD the leader in the portable sanitation industry.
For more information about the or any of CALLAHEAD's state-of-the-art equipment, including our very own inventions, as well as the following:
CALLAHEAD's portable water and sewer system, high-rise portable toilets, luxury and short-term restroom trailers, special event portable toilets, standard port a pottys, portable handwashing sinks, porcelain toilet systems for office trailers, security guard booths, ticket booths, holding tanks, fresh water delivery, commercial portable sinks, antibacterial and hand sanitizing stations, long-term and short-term portable toilet rentals, long-term and short-term restroom trailer rentals, portable shower rentals, and portable storage shed rentals...
Please contact one of our expert sales specialists at 800-634-2085 or visit our website for full photos, details and videos of our equipment.