CALLAHEAD Corp. works hard to evolve and fit our consumers growing needs. We achieve this goal by upgrading our portable toilets and providing new ideas that no one else is offering. We have done it again! By improving our ever popular Jobsite Head portable restroom, we've created the ! This unit is proof that we are always ahead of the competition.
The Contractor's Head is the largest polyethylene plastic portable toilet available today. With an excessive amount of space it allows the user greater range of motion. Which, in turn, benefits construction job site workers (and contractors) encumbered with tools and bulky clothing during any season.
The is no doubt the next best thing in portable restroom design. Its twin sheet construction creates excellent strength and durability. Due to its modern venting system, a "chimney effect" is created. By pulling fresh air through the bottom floor vents and releasing the hot air through the vents located on the roof, fresh air is constant in these units. Designed to handle upwards of 12-15 people during a 40 hour work week, on a construction job site. This is a vast improvement when compared to the 8-10 people suggested for many basic units. Its 90 gallon holding tank is the largest ever designed in a portable toilet. With an art deco design, it sets itself apart from all other competition.
As a contractor, set yourself apart with Call-A-Head Corp. For your next construction job, show the world that your job site is the jobsite with Call-A-Head on site!
THE CONTRACTOR'S PORTABLE TOILET IS IDEALLY SUITED FOR THE FOLLOWING:
CONSTRUCTION SITES • JOB SITES • MOVIE & COMMERCIAL SET LOCATIONS • HOUSE (NEW CONSTRUCTION & RENOVATIONS) • BEACH LOCATIONS • PARK LOCATIONS • PARKING GARAGES • SPORTING EVENTS • FUND RAISERS • PARKING LOTS • LUMBER YARDS • RESTROOM REMODELING • TRUCK YARDS • MARINAS • CAR LOTS • MUNICIPALITIES • REMOTE LOCATIONS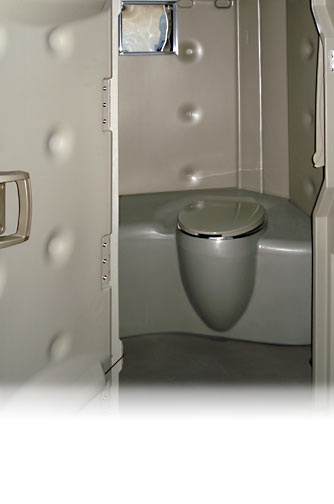 Modern Design with You in Mind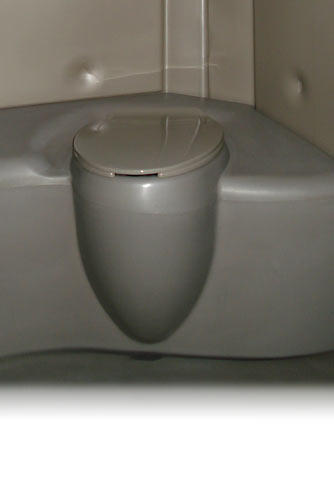 Comfortable Toilet!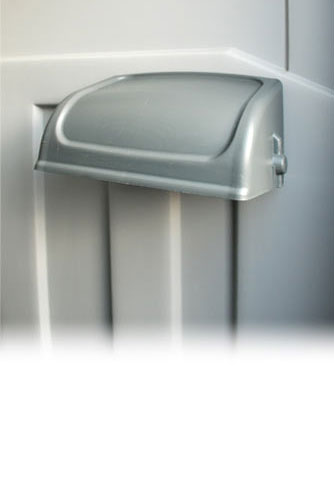 Dual Toilet Paper Holder
DESIGN SPECIFICATIONS:
• Material - Polyethylene • Color - Beige & Blue • Weight - 250 Lbs. Empty • Portable Toilet has a Tank Capacity of 90 Gallons • Ventilation - Wall Vents - Floor Vents - Roof Vents • Vent Stack - 4" Pvc Plastic • Engineered For Natural Light • Interior Dimensions 49"W X 44"D X 81"H • Exteriors Dimensions 52.5"W X 48"D X 91"H • Door Opening Dimensions 25"W X 75"H • Max. Door Range - 130 Degrees • Floor Space - 49.5"W X 29"D • Seat Height - 19.25" • Average Number Of Use Before Service - 150 • Recommended Use on Construction Job Sites: 12-15 People On An Average 40 Hour Work Week
DESIGN FEATURES:
• Coat & Hat Hook • Dual Roll Toilet Paper Holder • Exterior Door Hasp • Mirror • Twin Sheet Polyethylene Construction • Thermo Formed Construction • U.V Resistant Tinted Roof • Elongated - No Touch Seat • Non- Splash Urinal • No Wood (To Absorb Odor) • All Stainless Hardware • Convenience Shelves • Occupancy Sign • Check List Posted Inside, Dated And Signed At Each Service Call • Spacious Interior • Completely Ventilated (Using Chimney Effect) • Art Deco Design built into this Portable Toilet • 90 Gallon Holding Tank (Largest Available)
For more information about the or any of CALLAHEAD's state-of-the-art equipment, including our very own innovation
CALLAHEAD's portable water and sewer system, high-rise portable toilets, luxury and short-term restroom trailers, special event portable toilets, standard port a pottys, portable handwashing sinks, porcelain toilet systems for office trailers, security guard booths, ticket booths, holding tanks, fresh water delivery, commercial portable sinks, antibacterial and hand sanitizing stations, long-term and short-term portable toilet rentals, long-term and short-term restroom trailer rentals, portable shower rentals, and portable storage shed rentals.
Please contact one of our expert sales specialists at 800-634-2085 or visit our website for full photos, details and videos of our equipment.