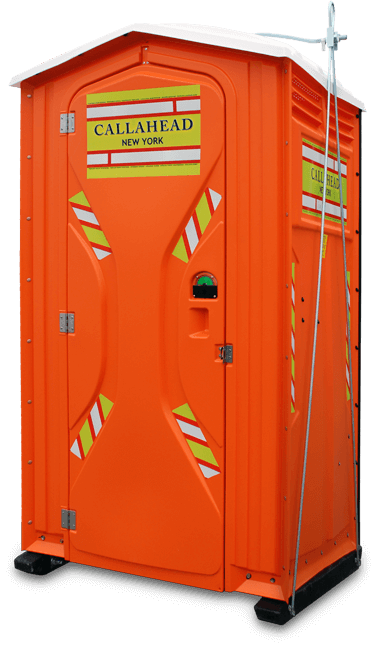 The is a full size portable toilet designed exclusively by CALLAHEAD to deliver a sanitary job-site porta potty as well as adding to job site safety. The bright orange coloring and exterior reflectors will add to highway and road construction safety equipment such as traffic cones, vests, signs and hard hats. A steel lifting hoist included is ideal for high rise building construction. A full sized toilet seat, covered toilet paper dispenser, separate urinal, and coat and hat hook are all included.
Another CALLAHEAD revolutionary design, the long term portable toilet rental for construction. It does more than just provide the utmost sanitary full sized porta potty.
The is designed and standout to provide job site safety adding value to New York construction sites. From its bright orange coloring, to its specialty designed reflective CALLAHEAD New York signage, people will immediately take notice of the at the job site. The vivid orange exterior is designed with yellow, white and red safety reflectors throughout to make this the ideal portable toilet rental for highway, road, tunnel and bridge construction jobs.
The is often placed on top of construction vehicles following construction crews along highway, bridge and tunnel construction jobs. This construction porta john rental saves valuable work time by eliminating the travel time to and from the portable restroom facilities at the job site. Its fluorescent orange color and reflective design creates the ultimate port a potty rental for job site safety for evening and overnight construction jobs.
The is also equipped with a steel lifting hoist that easily attaches to a crane making it an excellent portable toilet rental for high rise construction jobs too. The port a potty can be lifted safely and securely to any floor of a building, across the water onto a ship or barge or conveniently lowered underground. New York Airports are another popular rental location for the , where security and safety is the highest priority.
The rental was designed to match perfectly with construction safety equipment such as safety cones, vests, signs and hard hats. The at the job site will have a positive impact on the public, your employees and your clients. The looks incredible and shows that safety is a job site priority in conjunction with providing the most hygienic portable toilet for your workers sanitary protection.
The is constructed of high density polyethylene for superior durability. The interior is extremely spacious with a full sized comfortable toilet seat and a filled covered toilet paper dispenser. The extra-large open cavity tank can hold 70 gallons allowing for heavy usage at the construction site. The separate non splash urinal is located at the furthest point from the toilet seat away from user's direct site. The urinal is also connected to a vent pipe preventing any odors from lingering inside the porta potty. The portable toilet's steel gray smooth interior wipes easily clean and won't absorb any odors for maximum sanitation and comfort.
The port a potty has an interior lockable door which displays the exterior occupancy sign for added privacy. There is also a coat and hat hook on the interior door for convenience. The portable toilet's chimney stack along with combination floor and ceiling molded in wall vents will release any odors from previous users quickly and provide comfortable air flow inside the porta john. The 's bright white translucent roof will also provide plenty of natural light inside the port a potty.
The was designed by CALLAHEAD to supply New York job sites the best portable toilet experience while putting in protective additions to eliminate accidents at the job site. Only CALLAHEAD is continually developing new and innovative ways to advance and protect our customers. Delivering sanitary protection with CALLAHEAD's highly acclaimed hospital grade cleaning service and offering the largest selection of portable restrooms to accommodate any long-term outdoor restroom need.
The guarantees to provide your job-site the highest value for its rental. All of CALLAHEAD's portable toilets arrive at the job site in like new condition. Each cleaning service is conducted by a trained uniform service technician using only hospital grade cleaners and disinfectants.
At every cleaning service CALLAHEAD technician will sign in and date the sign in sheet installed in every one of our long term portable restroom for added peace of mind. We have like new service vehicles and shiny tank trucks that are cleaned daily and serviced regularly. The will provide the greatest portable toilet service with the priceless addition of job site safety.
The is available for same day delivery. CALLAHEAD services all of New York City's five boroughs of Manhattan, Brooklyn, Queens, Bronx and Staten Island, Westchester County and all of Long Island's Nassau and Suffolk Counties to Montauk Point.
CALLAHEAD has been in business since 1976 supplying New York construction sites with the best portable sanitation equipment and service in the industry. Don't risk using anything other than a CALLAHEAD NY for all of your portable sanitation needs.
DESIGN SPECIFICATIONS & FEATURES:
The following is the detailed design specifications for the port a john rental. If you have any additional questions regarding this port a potty's design specifications please contact us at 1-800-634-2085 to speak with a CALLAHEAD portable toilet specialist:
Portable Toilets Construction/Material - High Density Polyethylene • Translucent Roof • Port a Potty's Weight - 164 lbs. • Exterior Height - 88" • Portapotty's Interior Height - 85" • Porta John's Exterior Base 44" width x 48" depth • Portable Toilet's Door Opening - 73" x 24" • Portable Re stroom's Floor Space - 41" x 21" • Toilet Seat Height - 18" • Vent Stack - 4" PVC Plastic • Porta Potty's Holding Tank Volume - 70 Gallons • Color - Fluorescent Orange • Yellow, Red & White Exterior Safety Reflectors
IDEALLY SUITED FOR THE FOLLOWING:
Below is a list of locations and jobsites where the standard port a potty is most commonly rented and recommended for. However, this basic portable toilet is an ideal rental for just about any long-term rental location where temporary porta john restroom facilities are needed.
Construction Job Sites • Contractor Job-sites • Highway Construction • Parkways • Street and Road Construction Sites • Emergency and Disaster Locations • Bridge Construction • High Rise Building and Apartment Building Construction Job sites • Airport Locations • Tunnel Construction • Sewer Job sites • Over Water onto Barges, Ships and Aircraft Carriers • Movie and Commercial Set Locations • New Home Construction and House Renovations • Beach Locations • Park Locations • Parking Garages • Manufacturing Plants • Parking Lots • Lumber Yards • Bathroom and Restroom Remodeling • Truck Yards • Marinas • Car Lots • Municipalities • Remote Locations • Any Long-term Job-site Location in need of Portable Restroom Facilities

For more information about the or any of CALLAHEAD's state-of-the-art equipment, including our very own inventions, as well as the following:
CALLAHEAD's portable water and sewer system, high-rise portable toilets, luxury and short-term restroom trailers, special event portable toilets, standard port a pottys, portable handwashing sinks, porcelain toilet systems for office trailers, security guard booths, ticket booths, holding tanks, fresh water delivery, commercial portable sinks, antibacterial and hand sanitizing stations, long-term and short-term portable toilet rentals, long-term and short-term restroom trailer rentals, portable shower rentals, and portable storage shed rentals...
Please contact one of our expert sales specialists at 800-634-2085 or visit our website for full photos, details and videos of our equipment.