RESTROOM TRAILERS

Luxury Portable Restroom & Bathroom Trailer Rental in NYC, Long Island & Westchester, New York
CALLAHEAD offers many different portable restroom trailers. From black-tie events like wedding reception parties to running a construction job site; whether you need a luxury toilet rental for long term or short term, CALLAHEAD can provide you with the right portable restroom trailer to accommodate all of your needs.
---
---
---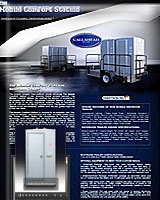 The Mobile Comfort Station is designed to be similar to the aero engineered lavatories used on commercial aircraft.
With each unit offering complete privacy, The Mobile Comfort Station is fully self-contained, outfitted much like your guests might find in their own home.
---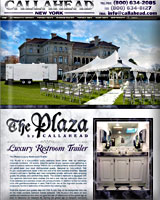 THE PLAZA epitomizes luxury in restroom trailers. Designed by CALLAHEAD, this restroom trailer is the perfect restroom rental for weddings, corporate functions, or any formal event.
THE PLAZA restroom trailer's fine decor mimics bathrooms of the gilded age as seen in mansions on Newport, RI. Combining innovation, function, and grandeur, THE PLAZA sets the standard for portable restroom trailer luxury.
---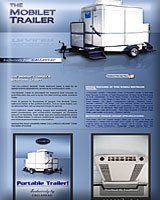 The CALLAHEAD Mobilet Trailer restroom trailer is ideal for all special events applications, as well as all construction sites.
From 10 people to thousands of people, The Mobilet Trailer bathroom trailer is the perfect solution. One or more trailers can be delivered fast, set up easy and simple to service.
---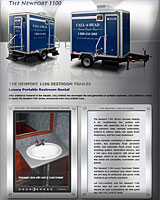 CALLAHEAD's Newport 1100 Series of restroom trailers offers the comfort of a permanent structure with the convenience of portable sanitation.
The Newport 1100 Series features finishes such as faux marble, stainless steel, white ceramic fixtures and faux mahogany wainscoting, together imitating the great catering halls of the New York area.
---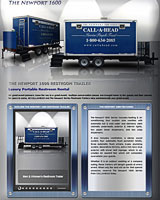 The Newport 1600 Series includes heating & air conditioning, four custom sink vanities with automatic hot & cold water and stainless steel cabinets underneath, exterior & interior lights, two paper towel dispensers, and two soap dispensers.
Whether it is an outdoor wedding or a company outing, these trailers will delight guests at every event.
---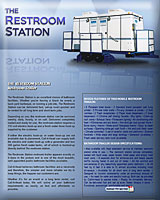 The Restroom Station is an excellent choice of bathroom facilities, whether you're having a black tie event, a back yard barbeque, or running a job-site.
The Restroom Station can be delivered fast, set-up even quicker and be rented for all long term and short term jobs.
---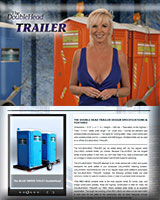 The DOUBLEHEAD TRAILER is a single trailer that was specifically developed and engineered to transport two standard sized porta potties simultaneously with minimal effort involved.
With the DOUBLEHEAD TRAILER porta potty transporter, it has never been easier to move two portable toilets at the same time.
---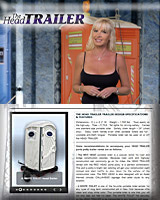 The HEAD TRAILER is a trailer that was specifically designed and engineered to transport standard sized porta potties with minimal effort.
With the HEAD TRAILER, you can have a full sized portable restroom towed by a simple golf cart, garden tractor or other small vehicle to protect the lands.
---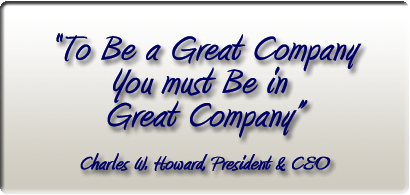 ---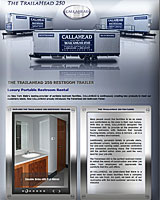 The TrailaHead 250 is a state-of-the-art solution to jobsite sanitation. Restrooms are a necessary part of any project plan which is why The TrailaHead 250 is the ideal choice for construction sites everywhere.
The TrailaHead 250 arrives on your job-site clean and ready for immediate use.
---
• LUXURY RESTROOM TRAILERS AVAILABLE YEAR ROUND FOR LONG-TERM OR SHORT-TERM RENTALS •
• TIMELY, EFFICIENT, & HYGIENIC SERVICE IS INCLUDED! •