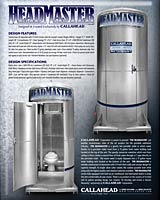 The HEADMASTER comes fully equipped with both an air conditioner and thermostat heater to keep the unit comfortable all year round.
There is no product in the country of its kind and its patent pending design was created, "To Develop and Evolve a Human Necessity" exclusively by CALLAHEAD® Corporation.
---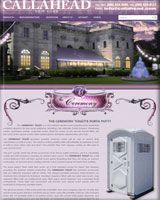 The CEREMONY TOILET is an elegant, full service premium portable restroom to rent for special events when you want a VIP porta potty.
The perfect portable toilet rental for weddings, christenings, bridal and baby showers, black tie and formal events, corporate parties, graduations and all special events that require luxurious portable toilets.
---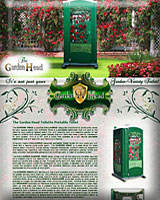 The GARDEN HEAD is an excellent porta potty for your special event when you want a full service porta potty that will add beautiful decor. This is a full service designer portable toilet that is affordably priced. Guests will not only enjoy the sight of beautiful roses on this portable restroom, they will enjoy using it too. CALLAHEAD supplies all the added accessories with this portapotty's rental, providing your guests the VIP treatment they'll appreciate.
---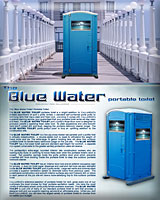 The BLUE HEAD is our Royal Blue colored standard portable toilet to rent that provides portable outdoor restroom facilities to the jobsite. Its design of clean fresh water will also give an uplifting look to your location. The roomy interior has a full sized toilet seat and non-splash urinal. This durable port a potty is virtually indestructible. The BLUE HEAD is another of our traditional portable toilet rentals that provides function, design, and the highest quality at an affordable price.
---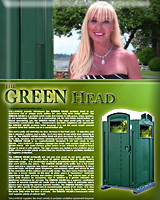 The GREEN HEAD is a self-contained portable toilet that adds a beautiful landscaped look to any jobsite.  Blending in at new home construction sites or any park like setting because of its color.  This portable toilet is perfectly designed along with its extra-large holding tank for heavy usage. A standard toilet bowl, separate urinal, double toilet paper dispenser, mirror, and shelf are just some of the conveniences of our nature lover's forest green portapotty.    
---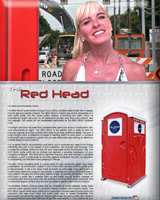 The RED HEAD is a traditional portable toilet interior with a designer exterior that is sure to attract attention to any location.  Everyone who sees the RED HEAD will take a second look at this one of a kind outdoor portable toilet.  A porta potty that is equipped with a full sized toilet seat, covered toilet paper dispenser, and separate urinal.  The RED HEAD will be turning heads while supplying the most sanitary portable toilet available anywhere.
---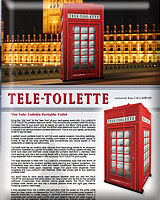 The TELE-TOILETTE is CALLAHEAD's VIP, luxury restroom that looks like a British telephone booth!
Complete with a stainless steel sink, vanity, and aviation-style vacuum flush toilet, you'll think that you've been instantly transported to London. Bring some of the "Old" York to your "New" York event with this unique portable restroom!
---
Get as much service as you need with one quick phone call!
When it comes to keeping your users happy, you can't go wrong with more service. When service is increased, the number of toilets can be decreased, saving you money.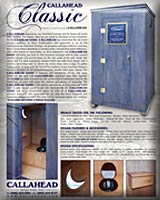 The CALLAHEAD CLASSIC is the perfect opportunity to bring back old world style to your special event or job site.
CALLAHEAD has reinvented the old world wooden outhouse for those traditionalists who appreciate, as we do, the nostalgia of our American heritage.
---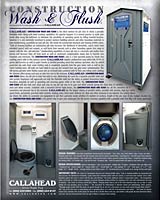 CALLAHEAD's CONSTRUCTION WASH AND FLUSH allows any job site to have two units in one, eliminating the need for a separate portable toilet and sink system.
Employees will appreciate not only the flushable toilet, but the ability to protect themselves from hazardous materials, as well as spreading and receiving germs while in the field.
---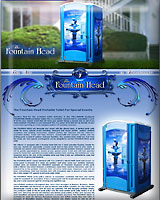 The FOUNTAIN HEAD is a porta potty rental for special events that is also a piece of art that's affordable. You will be amazed when your guests look twice to see if you have installed a fountain in your backyard. All the luxuries of an indoor restroom including a flushing toilet, hand washing sink with soap and paper towel dispensers, non splash urinal, Headliner toilet seat covers and our Headmist air freshener are all standard with this porta potty rental.
---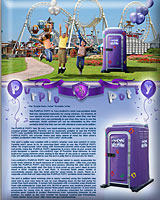 The PURPLE POTTY is a kid sized portable toilet for any event children will be in attendance.  The interior's step stool allows for easy access to the toilet seat and sink.  Equipped with all the extra amenities available at high end catering halls including, a hand washing sink, soap dispenser, paper towel dispenser, HEADLINER toilet seat covers, HEADMIST timed released air freshener, and flowers.  This portable toilet is colorful, convenient, and inviting. It is sure to delight both children and parents at your special event.
---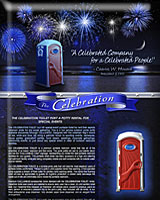 Show your American patriotism at your next special event with the CELEBRATION TOILET, a CALLAHEAD V.I.P. porta potty rental. This is a full service portable toilet with all the first-class accessories of an indoor bathroom included. The CELEBRATION TOILET's red, white and blue colors decorate with American pride. Our "CALLAHEAD USA" signage will tell your guests you provided them the greatest portable toilet equipment because you care. It is sure to make a big impression.
---
At CALLAHEAD, our quest for innovation never ends. Which is why, when searching for portable restrooms, you'll find everything you need... From the Ordinary to the Extraordinary!
Call-A-Head™ at 1-800-634-2085 has redefined the standard of excellence in the portable sanitation industry. Whether you need to rent a toilet short term or long term, Callahead has the right solution for your needs in Long Island & NYC, New York including the five boroughs of Manhattan, Brooklyn, Queens, Bronx, Staten Island as well as Nassau County and Suffolk County in Long Island and Westchester County in New York.