THE HOME PORCELAIN TOILET SYSTEM
(Page 3)
×
1- Odorless Operation (continued)
• Ideally, CALLAHEAD recommends to either having the entire area beneath the trailer be completely open or completely closed with lattice work, which we have found creates the greatest airflow beneath the trailer to allow for an odorless crawl space.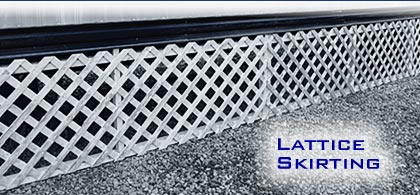 However, if enclosed skirting is a must for your trailer, we highly recommend a hinged door at our waste and water tank's equipment area as well as 6" circular holes every 4' to 6' feet at the midpoint height of the skirting, to create airflow beneath the trailer.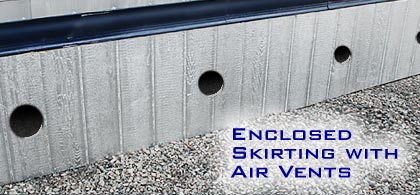 • An overflow of a waste tank would be a major problem that would put a large amount of waste in your trailers crawl space. Since trailers tend to have skirting as well as a lot of equipment such as tanks, pumps, axle, tires etc. clean up would not be an easy task. Furthermore, many trailers crawl space tend to be completely out of direct sunlight eliminating the possibility of the sun drying up the liquid waste naturally. With this information you can agree that overflows of your waste holding tank must be prevented at all costs. CALLAHEAD has created and installed an overflow alarm system which is placed inside of the waste tank that goes off before the tank ever has a chance to overflow. This alarm system when operated properly will eliminate overflows of your waste holding tank.
Another possible odor causing problem inside your bathroom and trailer could have to do with your porcelain toilet bowl. If your porcelain toilet is no longer holding water in the bowl itself this could create odor issues. For example, if you go to use your toilet bowl and there is no water in it you may decide to flush the toilet to refill it with fresh water before you use it. If this is happening to your toilet CALLAHEAD will need to replace your porcelain toilet. In this case the water is running out of your toilet due to the valve not sealing properly. Obviously if water can leak out of the toilet bowl then air from your waste tank will seep back into the trailer that would clearly have an odor. CALLAHEAD will solve this odor issue immediately by completely replacing your porcelain toilet.
CALLAHEAD's odorless operation of our porcelain toilet system has been developed entirely on our relentless pursuit to create the best porcelain toilet system for our customers. We utilized scientific factors as well as common sense and logic to perfect this system which has been developed and evolved over decades. We are proud to present our formula of our odorless operation to our customers in our goal to provide our clients with a worry-free porcelain toilet system. Understanding how our system works will offer you the peace of mind when choosing CALLAHEAD Porcelain Toilet Systems for your jobsite or office trailer.
---
---
2- Winterization Process
The CALLAHEAD Winterization Package is by far the best in the industry. With thousands of systems out in the field CALLAHEAD's water and sewer systems continue to go year after year with absolutely no freeze-ups at all, which is an amazing stat. We would not make such a bold statement so confidently and proudly if it were not true. Developing and evolving the Winterization Package since 1986 is how we perfected this process.
We feel it is important for our customers to understand fully how we have accomplished such success with our Winterization Package to give you not only knowledge of how our systems work but also provide our clients confidence when choosing CALLAHEAD. We realize this will also give our competitors the blueprints to our creation however, we are certain as the developers of this Winterization Package that nothing can match the original (e.g. If KFC gave every chicken house its recipe they still couldn't be KFC).
To begin our winterization process, the first thing we do to eliminate freeze-ups is to treat the water. We do this by melting perfectly clean salt with the water at an amazing ratio of 2½ lbs of salt to 1 gallon of water. When the salt is completely melted you will have a strong albrine solution that will keep the water from freezing to about 6 degrees Fahrenheit, which is a very good start but not good enough.
After the water is initially treated, it is time to create a heating system in and around all of the contained water areas. Just like airplanes need back-up systems to stay in the air, our water Winterization Package needs many back-up systems to completely eliminate freeze-ups. With this theory in mind we double up on all the heating components and even send the electric lines to different breakers so there is less chance of freeze-ups due to loss of electric power. Inside the holding tanks we place two electric heaters that lay at the bottom of the tank with built in thermostats. These heaters will keep the tank water temperature well above the freezing point.
We then use heat tracing along the plumbing lines from the fresh water tanks to the pump and follow the pump to the restroom floor of the trailer. Two lengths of heat trace are then used to go up and down and along both sides of the plumbing pipes.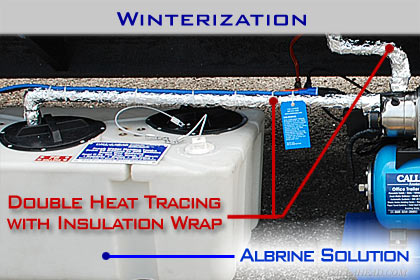 Finally, we wrap up all plumbing lines from the tank to the pump all the way through to the trailer floor with an insulation wrap to complete the Winterization Package installation. The secret to our success is our numerous back-up systems put into place at every installation. We have been developing and evolving this process since 1986 and as a result, freeze-ups at CALLAHEAD do not exist.
---
---
3- Fresh Water Holding Tanks
CALLAHEAD's fresh water holding tanks were designed exclusively for the portable sanitation industry. Our goal was to locate the best white colored polyethylene tanks that were also the thickest and strongest available. Another significant feature we required of these tanks was not only their durability but that you could also see the water level through the wall of the tanks. As a perfectionist company we did not settle until we found exactly what we wanted.
Once we located the best blank tanks available meeting all of our requirements we began to customize each tank.
Our first step in our customization process was to support the top deck of the tank from naturally concaving which is essential. We achieved this by putting 4" wooden upright supports to support the top deck of the tank. The top part of the flat displaced polyethylene tank will always have the top deck of the tank collapsing into the tank due to weight and the natural forces of gravity.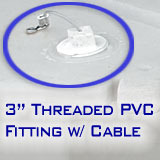 Next we will put four 3" PVC female threaded fittings into each corner of the tank which is required specifically for the plumbing hook-ups.
Each of the 3" fittings will be equipped with a 3" PVC cap with a cable attached to prevent loss.